Garden retreats like outdoor hot tubs add instant luxury to backyards. However, investing in one can cost so much, not to mention its ongoing maintenance.
Before you dismiss the idea due to budget constraints, there's an alternative you may not have thought of. Have you heard about inflatable hot tubs? One offers an affordable way to experience a spa indulgence right in your backyard. Imagine ordering it today and unwinding in its soothing bubbles as early as tomorrow!
Here, we've put together the best inflatable hot tub ideas you can consider. Keep reading!
---
Enclosure Ideas
An enclosed inflatable hot tub can provide more privacy, allowing you to enjoy all its perks. Be it an actual Jacuzzi or an inflatable one, it can last much longer than if exposed to the elements.
Most importantly, you may get more seasonal use out of it! Your hot tub becomes a delightful retreat, even during chilly evenings or rainy days.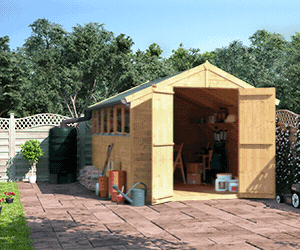 ---
1. Shelter it with a pergola tent
Embrace the beauty of your garden while enjoying privacy by housing your hot tub in a pergola tent. This airy structure allows for year-round use of your inflatable hot tub. And the best part? It provides an unobstructed view of your surroundings. Consider adding weather-resistant curtains for additional privacy and a touch of charm.
2. Put it inside a garden building
Convert a multi-room log cabin into a paradise of relaxation and entertainment. Dedicate one room to host gatherings and another to house your Jacuzzi. The outdoor structure offers both privacy and protection from harsh weather elements.

3. Beachside retreat
Beachside pools and hot tubs are the perfect combos to lounge in during hot days. Take your coverings to the next level and stick to a theme that inspires an escape you look forward to. A thatched gazebo screams the perfect summer getaway – even when you're just in the comfort of your garden!
4. Floating deck with cover
Elevate your hot tub experience with a floating deck featuring a motorised cover. This unique setup adds a touch of luxury and keeps your inflatable spa protected when not in use. The convenience of a sliding cover with a gate motor ensures easy access and keeps debris at bay.

5. Summer solstice in parasol
A practical garden parasol that can serve as a shelter for your compact hot tub. Choose the right size to provide adequate shade while avoiding harsh UV rays. This setup ensures you can bask in the hot tub's warmth without worrying about sunburns.

6. A simple corner
Even a small patio can transform into a private vacation spot with the right furniture. Consider having your simple corner retreat under an open post. Add a polyester fabric cover to protect it from the sun. Plus, hang string lights for a magical ambience during nighttime soaks.
7. Tucked in a wooden gazebo
Combine simplicity and sturdiness by housing your hot tub in a custom wooden gazebo. What we like about this rustic and homey setup is it provides protection from light rain. The natural charm it adds to the outdoor oasis is a bonus!

8. Thatched but make it unique
Dare to be different with a one-of-a-kind thatched enclosure for your hot tub. This innovative design gives the illusion of a space-like experience. It also comes functional, maintaining a simple and effective cover for your tub.
9. In a conservatory
Who says you can't use your conservatory for your outdoor hot tub? Enjoy the natural light and outdoor views while remaining protected from the elements. It's a delightful way to merge your garden and spa experience seamlessly.
10. Go rooftop
Elevate your relaxation with a rooftop hot tub setup. The location offers a picturesque view of sunsets and cityscape! To ensure a worry-free soak, add a canopy for cover during unexpected rain showers.

---
Dual Purpose Ideas
Why not make your Jacuzzi a part of your outdoor entertainment area? Make the space more functional, such as a hot tub in a gazebo with built-in bar seating.
You can enjoy a hot soak on a cold evening while enjoying your favourite beverage with your friends! Here are a few more ideas on how you can have a dual-purpose outdoor hot tub set-up.
---
11. Packed with amenities
Create the ultimate backyard retreat by incorporating various amenities into an enclosed space. Combine a dining area, fire pit, grill, and hot tub amidst lush greenery for a serene outdoor oasis.
Ensure privacy and comfort with carefully placed plants and cosy seating. That way, you can have a delightful spot to unwind and entertain guests.
12. Near the grill
Elevate your outdoor cooking experience by situating your inflatable tub near the BBQ! Enjoy the perfect summer day with a relaxing soak and delicious grilled foods. Top tip: Use the extra space available to integrate the tub into your outdoor kitchen layout.
13. Provide a spa experience
Treat yourself to a spa-like escape by installing a hot tub on the deck. Sink into the warm waters after a long, stressful day and let the worries melt away. Create a soothing ambience by adorning the deck with plants, candles, and incense. With this kind of setup, you can turn your hot tub into a tranquil sanctuary.

14. With deck for alfresco dining (picnic)
Optimise your outdoor space with a round hot tub area surrounded by a deck that doubles as a bench and a table. Embrace the joy of dining alfresco in your garden while relishing the comfort of a hot tub retreat. Gather loved ones for a relaxing picnic in the company of nature and the tub's therapeutic waters!

---
Decorating Ideas
Inflatable hot tubs are trendy and they can open up a world of possibilities. Here are a few design ideas to spruce up your inflatable hot tub, so it looks better in your outdoor space.
---
15. Put up decorative lights
Hang fairy lights above and around the poles of your tent or fence. Light them up whenever you use your at-home spa at night.
This creates a romantic ambience while setting the mood for relaxation. It's as if you're soaking under the starry night.

16. Go with lanterns and candles
If string lights aren't your style, lanterns and candles are great alternatives. Surround your hot tub area with warm lighting fixtures for a rustic appeal. Light the candles and play some jazz or calming music to set the mood.
Top tip: The more coordinated the lights are, the more luxurious the spa will look.

17. Extra seating is key
Add a couple of outdoor chairs or make a custom garden bench for the side of your inflatable spa. This will create a seating corner that helps make the space more functional. Add cushions covered with waterproof fabric for a nice decorative touch.

18. Potted plant decors
Consider adding more greens into the background. Line up some potted plants around the tub to make the space look more lively.
Use taller plants to add a sense of privacy. Opt for leafy or bushy plants that fan a gentle breeze when you're soaking during hot summer days.

19. Put a privacy screen
When it comes to garden privacy ideas, you can never go wrong with tall wooden fences. They offer an airy enclosure which you can also decorate with lights, bunting, flowers, etc.

20. Hang some curtains
Soften the ambience of your outdoor space by hanging light and airy curtains. You can do this with a tent, gazebo, or pergola. This adds a layer of privacy while blocking the light from seeping through.

21. Place a trellis
On top of adding privacy, trellises support climbing plants that would make a perfect fit for the spa. You can enjoy the hot steam bath and the comfort of your tub in a nice and healthy environment.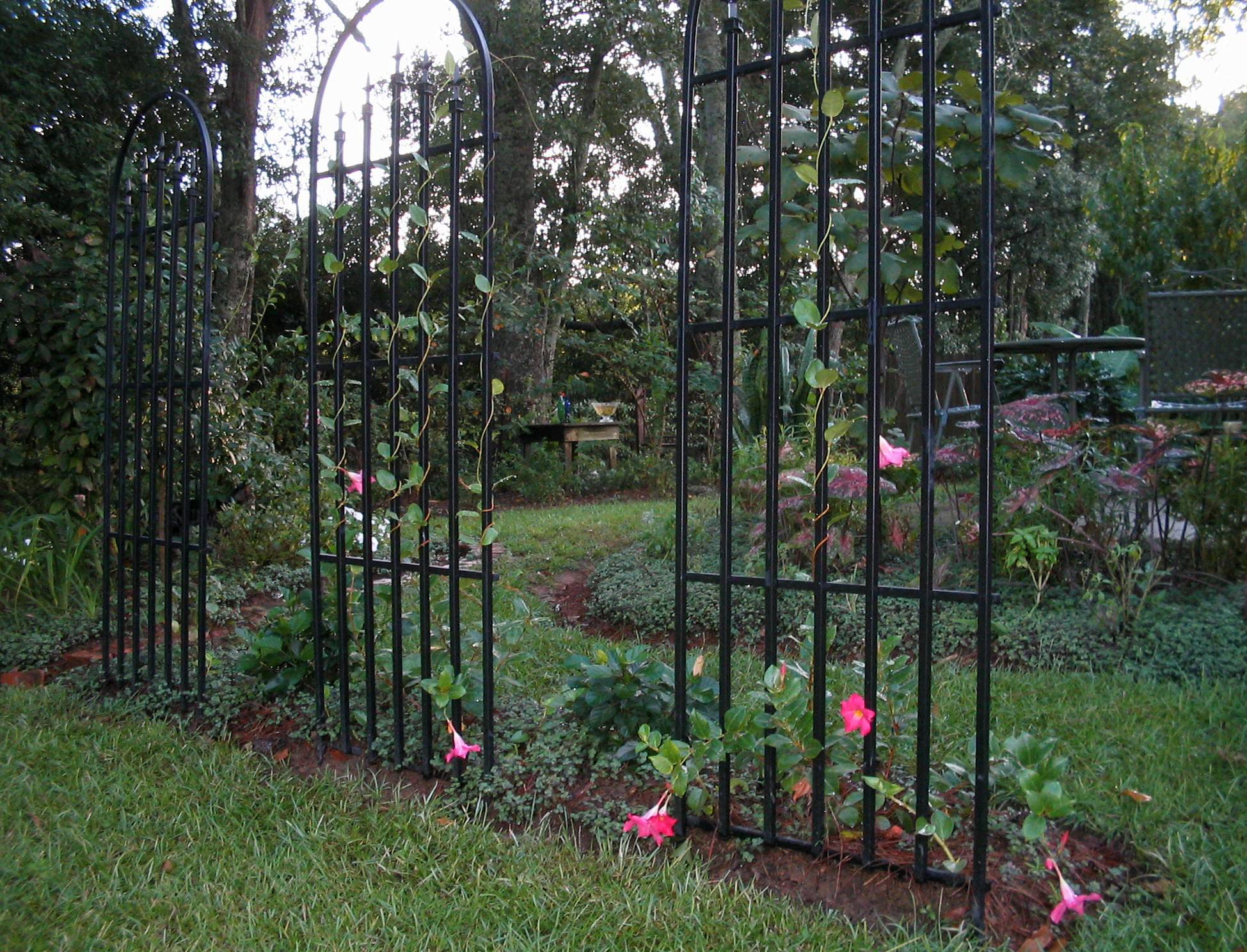 22. Add a green wall
Green walls, whether it's alive or faux, make an excellent privacy provider. Create a living wall using a set of planting pockets or scented herbs to add interest.
To skip the maintenance, opt for faux foliage, especially if your patio doesn't get much sun.

23. Surround the tub with trees
This idea will give you the sense of "forest bathing", soaking while zenning out amongst trees. A natural way to de-stress and boost your wellbeing.
To enjoy the experience in your own plot, place your tub near trees.

24. Alone time with candlelight
Candles are a real mood booster – even better when combined with an outdoor hot tub. It's always a treat to light candles with your bath for a solo-pamper session, especially if you do it outside.
Get that "me time" and enjoy a warm soak to take your mind off.
25. Create your own starry setting
Enjoying a lovely soak at night with a starry night is dreamlike. Unfortunately, the night sky can be a buzzkill.
But with the help of a patio cover nearby, you can have your own starry scene using LED lighting! Or use string lights and hang them on your pergola.

26. The addition of patio heaters
To make the most out of your outdoor hot tub experience, think of getting a patio heater. And the BillyOh Aurora could be the missing piece to the setting. It's a brilliant heat source and doubles as a stylish ornament for your at-night soaks.

27. Add decorative crystals
Crystals are popular 'new age' tools that heal the chakras and boot the bad aura in your surroundings. To think that you're surrounded by them while bathing outdoors sounds healing.
Hang some crystals at the sides of your inflatable hot tub, or set it up around the gazebo or on the walls.

28. Under the solarium
Solariums are typically used for gardens, but you may also use one to create a luxurious space for your inflatable spa. Thanks to their wide glass windows, you'll essentially enjoy your garden view.
And when you're done with your spa, you can use the solarium as a potting shed idea, or she shed.
36. Winter bliss
Hot tubs are an amazing commodity for winter use. They provide a peaceful retreat where you can make the most of the cold season without having to bundle up.
Find a portable unit that's tough enough to survive outdoors in winter.

29. On the balcony
No rooftop? Your balcony makes the perfect alternative to enjoying a spa-like experience outdoors. Find a spot for your inflatable tub and take delight in warm soaks in a private setting.

30. Take advantage of the lake dock
Take advantage of your pond or lake dock to take your outdoor bathing to another level. A stationary dock is more capable of supporting an inflatable tub than an actual hot tub.
You can enjoy the sunset and beautiful views while soaking in!

Round-up
So, you think you want a hot tub, but your budget is limited? Then, an inflatable one is the perfect solution for you! You can enjoy hydrotherapy in your own backyard without spending too much money.
We hope our various ideas will help you make your hot tub area an oasis! And if you haven't found the right one for you, browse our amazing inflatable hot tubs by clicking the button below:
Shop Inflatable Hot Tubs
FAQs