Garden buildings like sheds and outdoor hot tubs add instant luxury to backyards. However, many think that buying one (installation and maintenance to boot) can cost so much.
Sure, it may charge you upfront, but that investment can be worthwhile, and you can benefit from it in the long run. Then again, if you look the other way, you'll find great alternatives to premium hot tubs.
Have you heard about inflatable hot tubs? As the name suggests, they're inflatable, meaning you could order one today and be enjoying it the next day!
Here, we've put together the best inflatable hot tub ideas you can consider. Let's check them out!
---
Enclosure Ideas
An enclosed outdoor hot tub can provide more privacy, allowing you to enjoy all the perks the tub has. Be it an actual Jacuzzi or an inflatable one; it can last much longer than if left exposed to the elements.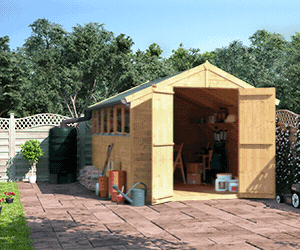 Most importantly, you may get more seasonal use out of it!
---
1. Shelter it with a pergola tent
Sheltered in a pergola, the airy design provides you with an uninterrupted view of the garden. Most of all, it offers both privacy and protection from the elements. This allows the inflatable hot tub easy accessibility all year round.
2. Put it inside a garden building
In a multi-room log cabin, you can create two separate and unique spaces. You could set up the first room for relaxing and entertaining guests and the other one for your Jacuzzi.

3. Beachside retreat
Beachside pools and hot tubs are the perfect combos to lounge in during hot days. Take your coverings to the next level and stick to a theme that inspires an escape you look forward to. A thatched gazebo screams the perfect summer getaway – even when you're only in the comfort of your own backyard!
4. Floating deck with cover
This inflatable spa is housed in a floating deck with a motorised cover. The owner of this tub made an elevated terrace, which includes an inflatable 4-seater hot tub. When not in use, the sliding cover designed with a gate motor does its job.

5. Summer solstice in parasol
Garden parasols are a budget-friendly way to keep a garden protected from the harsh UV rays. With the right size, it can provide the perfect shelter for a small hot tub while offering shade.

6. A simple corner
Even the smallest patio can become a coy and private vacation. This is especially true when you know what furniture and accessories to put!
Take inspiration from the owner of this humble hot tub area under an open post. Place a polyester fabric at the top to block the sun. Hang string lights to enjoy a hot steam bath into the late evening.
7. Tucked in a wooden gazebo
Simple yet sturdy, this customised wooden shelter provides a stylish home for the tub. Rustic and homely, the setup offers protection from light rain.

8. Thatched but make it unique
Move away from the status quo and create something different like this one! The design makes it look like you're going on for a space, but it's just a simple thatched enclosure for the tub.
9. In a conservatory
Want to bring your spa in the garden but somehow enclosed?  A conservatory can be a great place to enjoy your hot tub. You can enjoy the natural light without the fear of being rained on.
10. Go rooftop
Don't you love to relax in a rooftop Jacuzzi while overlooking the sun setting over the horizon? Even an inflatable hot tub can give you a romantic bath high up on the roof!
Make sure it's completely protected from all sides. Plus, consider adding retractable doors for cover in case of rain.

---
Dual Purpose Ideas
Why not make your Jacuzzi a part of your outdoor entertainment area? Make the space more functional, such as a hot tub in a gazebo with built-in bar seating.
You can enjoy a hot soak on a cold evening while enjoying your favourite beverage with your friends! Here are a few more ideas on how you can have a dual-purpose outdoor hot tub set-up.
---
11. Packed with amenities
A dining area, fire pit, grill, hot tub, and seating area are all packed into this enclosed backyard. Surround the spa area with lush greenery to create a simple outdoor oasis.
12. Near the grill
Nothing beats a summer soak with BBQ and cold beverages nearby. Interject your inflatable hot tub into your outdoor kitchen layout. This is a great idea, especially if you have extra space for the tub to fit in.
13. Provide a spa experience
After a long, stressful day, a hot tub spa built on the deck is the perfect must-have luxury for relaxing soaks. Add some plants, candles and incense to soften the vibe.

14. With deck for alfresco dining (picnic)
This rounded hot tub area is encased with a customised decking that serves as a bench, at the same time, as a table. Imagine relaxing in your own garden while having a simple picnic with your loved ones!

---
Decorating Ideas
Inflatable hot tubs are trendy and they can open up a world of possibilities. Here are a few design ideas to spruce up your inflatable hot tub, so it looks better in your outdoor space.
---
16. Put up decorative lights
Hang fairy lights above and around the poles of your tent or fence. Light them up whenever you use your at-home spa at night.
This creates a romantic ambience while setting the mood for relaxation. It's as if you're soaking under the starry night.

17. Go with lanterns and candles
If string lights aren't your style, lanterns and candles are great alternatives. Surround your hot tub area with warm lighting fixtures for a rustic appeal. Light the candles and play some jazz or calming music to set the mood.
Top tip: The more coordinated the lights are, the more luxurious the spa will look.

18. Extra seating is key
Add a couple of outdoor chairs or make a custom garden bench for the side of your inflatable spa. This will create a seating corner that helps make the space more functional. Add cushions covered with waterproof fabric for a nice decorative touch.

19. Potted plant decors
Consider adding more greens into the background. Line up some potted plants around the tub to make the space look more lively.
Use taller plants to add a sense of privacy. Opt for leafy or bushy plants that fan a gentle breeze when you're soaking during hot summer days.

20. Put a privacy screen
When it comes to garden privacy ideas, you can never go wrong with tall wooden fences. They offer an airy enclosure which you can also decorate with lights, bunting, flowers, etc.

21. Hang some curtains
Soften the ambience of your outdoor space by hanging light and airy curtains. You can do this with a tent, gazebo, or pergola. This adds a layer of privacy while blocking the light from seeping through.

22. Place a trellis
On top of adding privacy, trellises support climbing plants that would make a perfect fit for the spa. You can enjoy the hot steam bath and the comfort of your tub in a nice and healthy environment.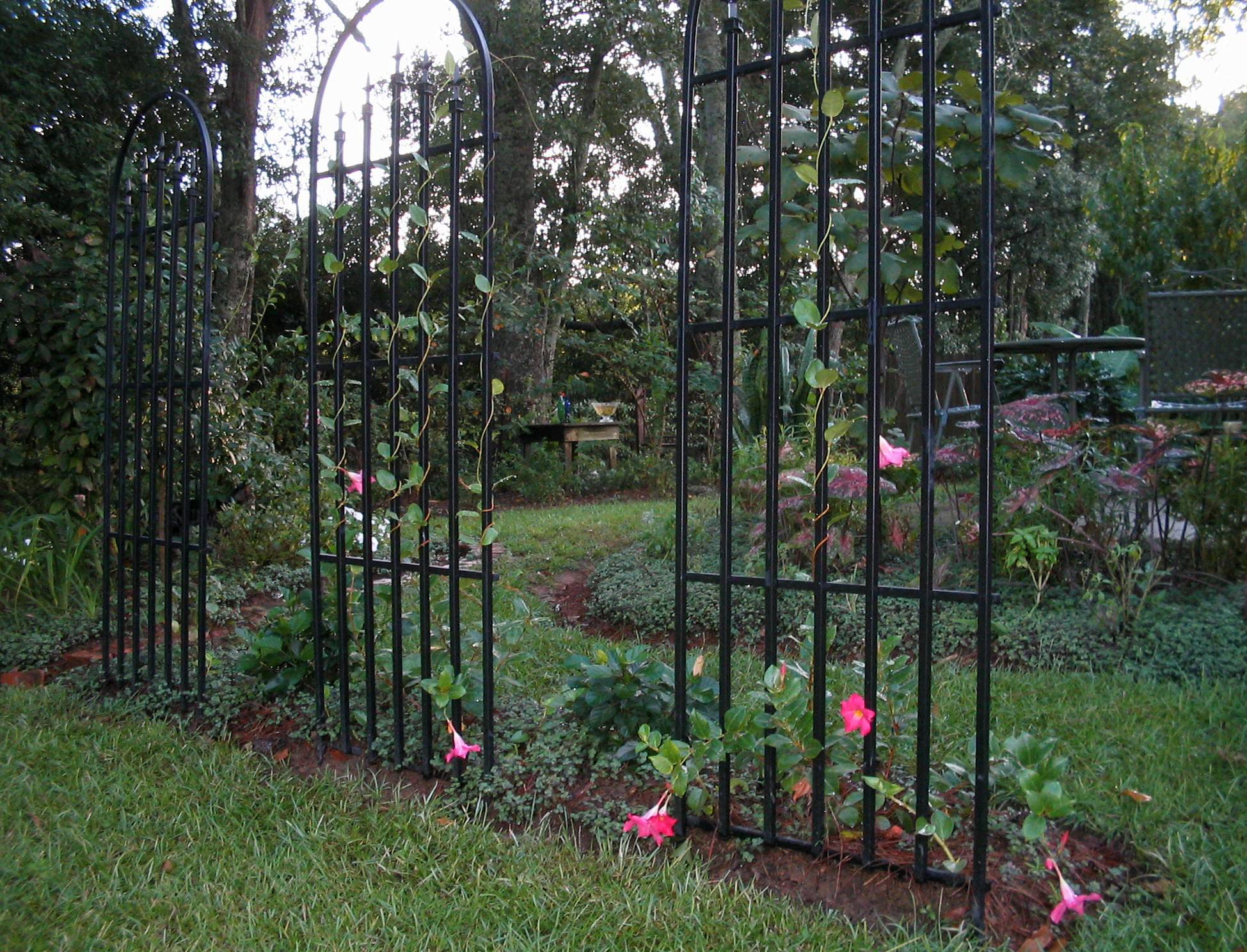 23. Add a green wall
Green walls, whether it's alive or faux, make an excellent privacy provider. Create a living wall using a set of planting pockets or scented herbs to add interest.
To skip the maintenance, opt for faux foliage, especially if your patio doesn't get much sun.

24. Super-sized spa experience
Inflatable hot tubs come in a range of sizes, and a super-sized one deserves a spot in your must-buy items this summer! Bigger than traditional models, it can provide you with a superb spa-like experience.
Set it atop a sleek garden decking idea to have more space to spread out your sun loungers to tan and relax.
25. Surround the tub with trees
This idea will give you the sense of "forest bathing", soaking while zenning out amongst trees. A natural way to de-stress and boost your wellbeing.
To enjoy the experience in your own plot, place your tub near trees.

26. Alone time with candlelight
Candles are a real mood booster – even better when combined with an outdoor hot tub. It's always a treat to light candles with your bath for a solo-pamper session, especially if you do it outside.
Get that "me time" and enjoy a warm soak to take your mind off.
27. Create your own starry setting
Enjoying a lovely soak at night with a starry night is dreamlike. Unfortunately, the night sky can be a buzzkill.
But with the help of a patio cover nearby, you can have your own starry scene using LED lighting! Or use string lights and hang them on your pergola.

28. Side decking
Another great way to introduce decking to your hot tub is by installing it on the side. Decking to the side provides easy access and is a useful place to store your belongings or even a place to sit.
The design below is a combo of dreams if you have a rustic backyard.
29. The Roman spa treat
Roman spas inspire this majestic outdoor hot tub creation. Glorious arches and columns are a surefire way to make a statement. Billowing curtains and twirling tendrils of ivy all add to the Roman drama.
30. A dedicated space
The owner of this garden spa retreat wanted a real tub but didn't want to spend much, so they opted for inflatables. They paved a dedicated area with tiling and pebbles to have a pool vibe. Simple yet creative and cost-effective!
31. The addition of patio heaters
To make the most out of your outdoor hot tub experience, think of getting a patio heater. And the BillyOh Aurora could be the missing piece to the setting. It's a brilliant heat source and doubles as a stylish ornament for your at-night soaks.

32. Buntings for a small celebration
Thinking of hosting a small party event for your kid this summer? Even without a pool, an inflatable hot tub makes the perfect alternative! Hang some buntings around to add a touch of festivity and with string lights to enhance the appeal.

33. Add decorative crystals
Crystals are popular 'new age' tools that heal the chakras and boot the bad aura in your surroundings. To think that you're surrounded by them while bathing outdoors sounds healing.
Hang some crystals at the sides of your inflatable hot tub, or set it up around the gazebo or on the walls.

34. Under the solarium
Solariums are typically used for gardens, but you may also use one to create a luxurious space for your inflatable spa. Thanks to their wide glass windows, you'll essentially enjoy your garden view.
And when you're done with your spa, you can use the solarium as a potting shed idea, or she shed.
35. Functional shape route
The size of this inflatable tub is small, yet it offers so much functionality. There, you'll find a mini decking serving as a platform.
On each side, there's a mini table on the right for holding drinks, as well as a planter box. While the left occupies the built-in seating area.
36. Winter bliss
Hot tubs are an amazing commodity for winter use. They provide a peaceful retreat where you can make the most of the cold season without having to bundle up.
Find a portable unit that's tough enough to survive outdoors in winter.

37. Bathroom upgrade
Yes, you can use inflatable hot tubs indoors! The inset tub is perfectly placed to take advantage of the space between the shower and sauna. Ventilation also plays a major role in this setup.
38. On the balcony
No rooftop? Your balcony makes the perfect alternative to enjoying a spa-like experience outdoors. Find a spot for your inflatable tub and take delight in warm soaks in a private setting.

39. The ultimate outdoor soak and movie night experience
With a screen and a projector, you can create a cinema in your backyard and watch a movie while relaxing in the hot tub. Hang fairy lighting and LED mood lighting under you and savour the 40°C bubbling water around you.
40. Take advantage of the lake dock
Take advantage of your pond or lake dock to take your outdoor bathing to another level. A stationary dock is more capable of supporting an inflatable tub than an actual hot tub.
You can enjoy the sunset and beautiful views while soaking in!

41. In the steaming room
The thing we like about inflatable hot tubs is you can install them pretty much wherever you like. And this includes saunas or steam rooms.
Here, whether you want a steam bath or a long soak, everything you could possibly want is included.
42. A simple addition
No built-in benches or decking – just keep everything simple. Lay the ideal foundation for the tub, such as waterproof fabric, and let the comforting Jacuzzi experience do the work.
43. Near the garden bar
This hot tub deck design sits near a garden pub, creating an amazing outdoor oasis no matter how small the space is. Take a cue from it and picture your inflatable hot tub to where the tub is placed. 
It's time to make your dream small garden retreat come true!
44. Add pillows for extra comfort
Always make comfort your top priority. The addition of inflatable headrests, for one, allows you and your guests to rest your heads and relax.
These accessories elevate the spa experience! Some units already come with it, but others sell it separately.
45. Inflatable seat cushions
Inflatable seat cushions are an inexpensive extra that goes a long way. They're the perfect add-on to keep your posterior comfy. Plus, one can even help improve your posture.
Round-up
So, you think you want a hot tub, but your budget is limited? Then, an inflatable hot tub is the perfect solution for you!
You can enjoy hydrotherapy in your own backyard without spending too much money. We hope our wide variety of ideas will help you make your inflatable hot tub area into an oasis!
Shop Inflatable Hot Tubs
FAQs