Garden buildings like sheds and outdoor hot tubs add instant luxury to backyards. However, many think that buying one (installation and maintenance to boot) can cost so much.
Sure, it may charge you upfront, but that investment can be worthwhile, which you can benefit from in the long run. Then again, if you look the other way, you'll find great alternatives to premium hot tubs.
Have you heard about inflatable hot tubs? As the name suggests, they're inflatable, meaning you could order one today and be enjoying it the next day!
Here, we've put together the best inflatable hot tub ideas you can consider. Let's check them out!
---
Enclosure Ideas
An enclosed outdoor hot tub can provide more privacy, allowing you to enjoy all the perks the tub has. Be it an actual Jacuzzi or an inflatable one, it can last much longer than if left exposed to the elements.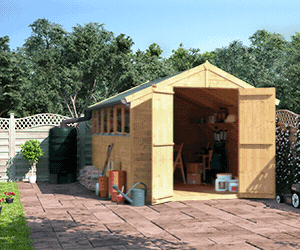 Most importantly, you may get more seasonal use out of it!
---
1. Shelter it with a pergola tent
Sheltered in a pergola, the airy design provides you with an uninterrupted view of the garden. Most of all, it offers both privacy and protection from the elements. This allows the inflatable hot tub easy accessibility all year round.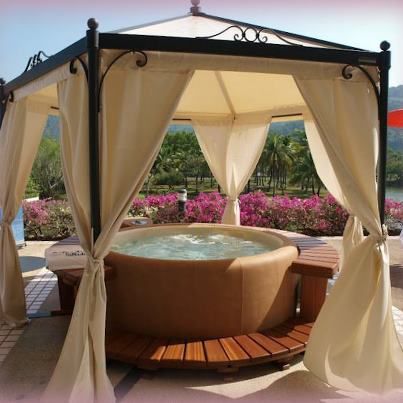 2. Put it inside a garden building
In a multi-room log cabin, you can create two separate and unique spaces. You could set up the first room for relaxing and entertaining guests and the other one for your Jacuzzi.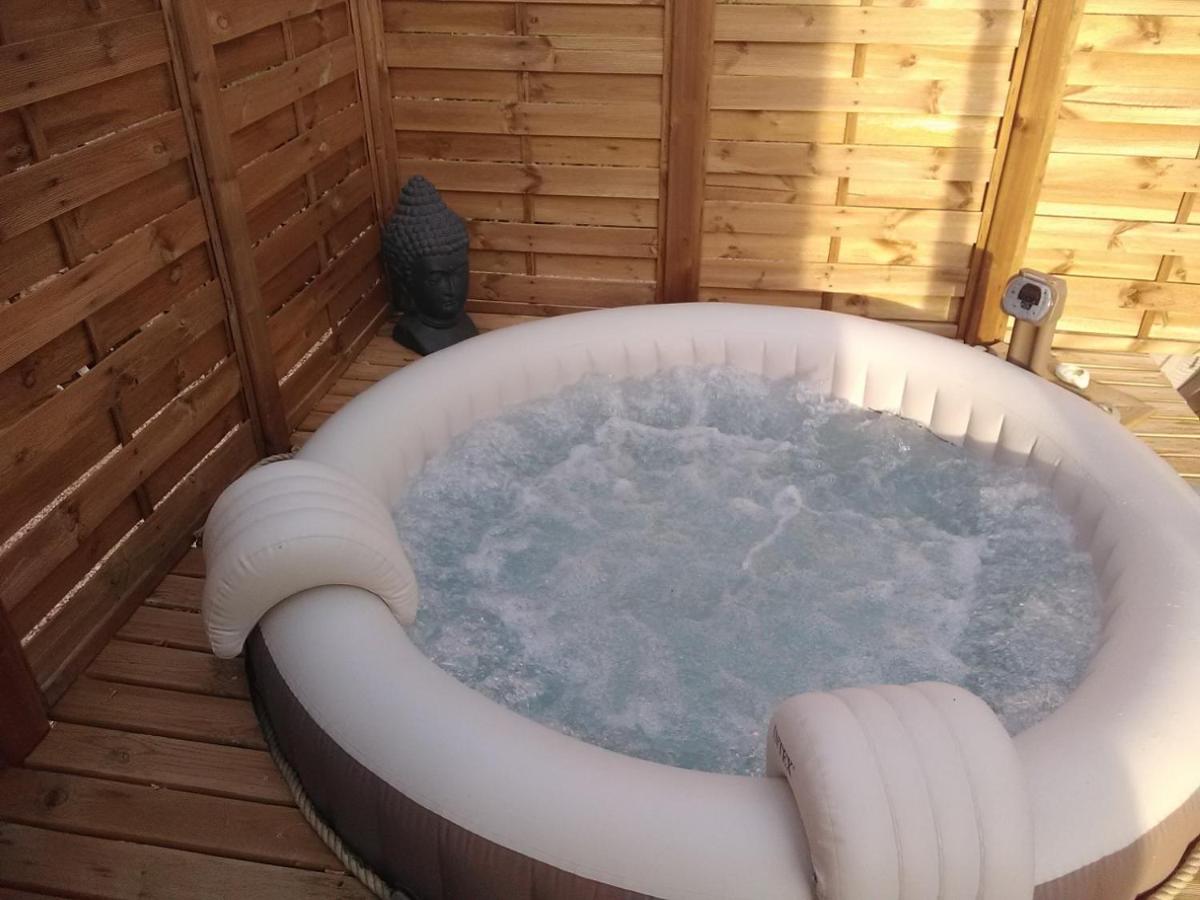 3. Beachside retreat
Beachside pools and hot tubs are the perfect combos to lounge in during hot days. Take your coverings to the next level and stick to a theme that inspires an escape you look forward to. A thatched gazebo screams the perfect summer getaway – even when you're only in the comfort of your own backyard!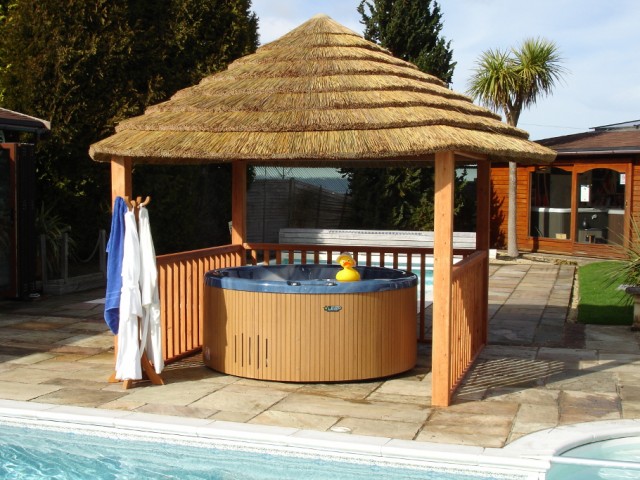 4. Floating deck with cover
This inflatable spa is housed in a floating deck with a motorised cover. The owner of this tub made an elevated terrace, which includes an inflatable 4-seater hot tub. When not in use, the sliding cover designed with a gate motor does its job.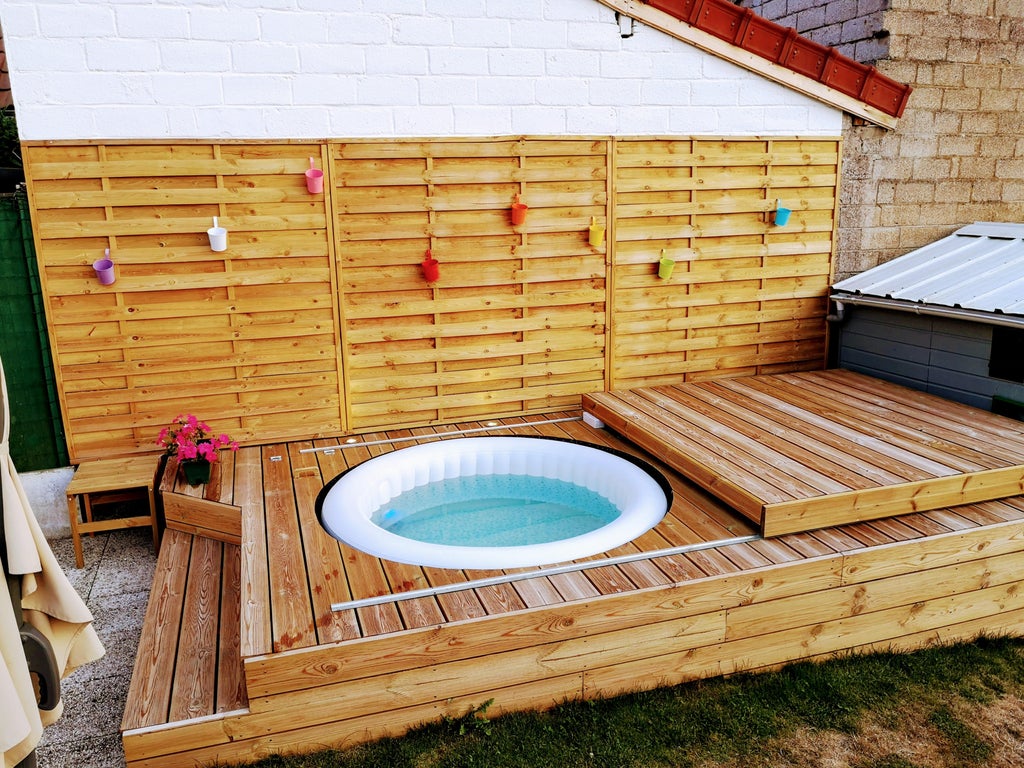 5. Summer solstice in parasol
Garden parasols are a budget-friendly way to keep a garden protected from the harsh UV rays. With the right size, it can provide the perfect shelter for a small hot tub while offering shade.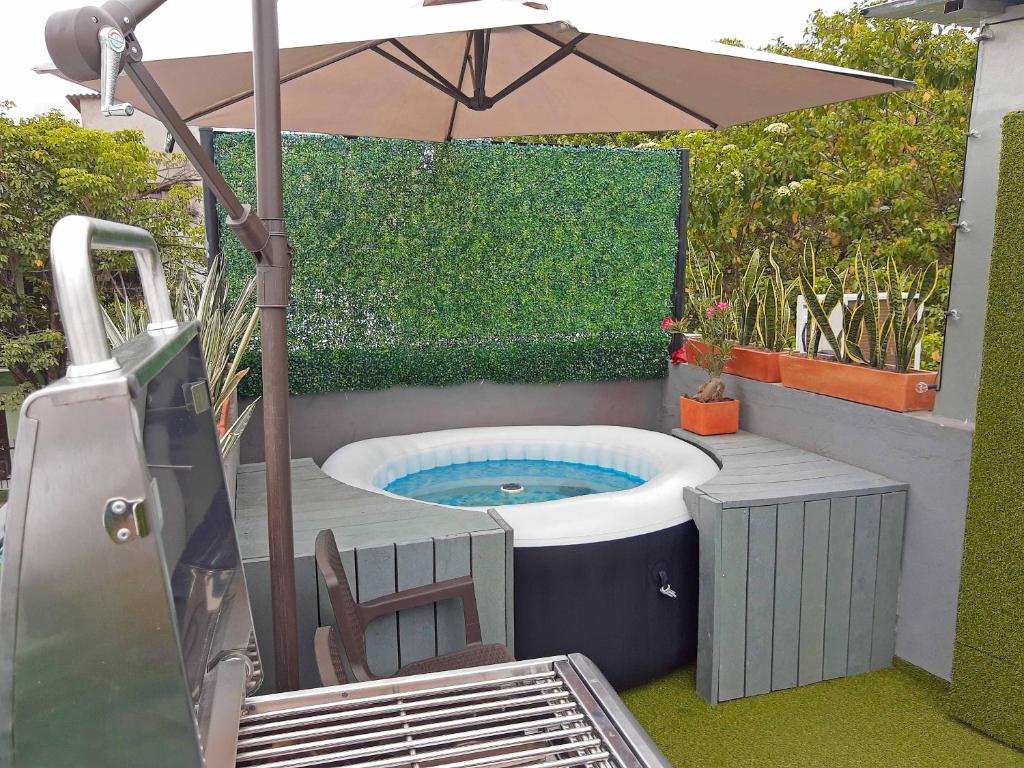 6. A simple corner
Even the smallest patio can become a coy and private vacation. This is especially true when you know what furniture and accessories to put!
Take inspiration from the owner of this humble hot tub area under an open post. Place a polyester fabric at the top to block the sun. Hang string lights to enjoy a hot steam bath into the late evening.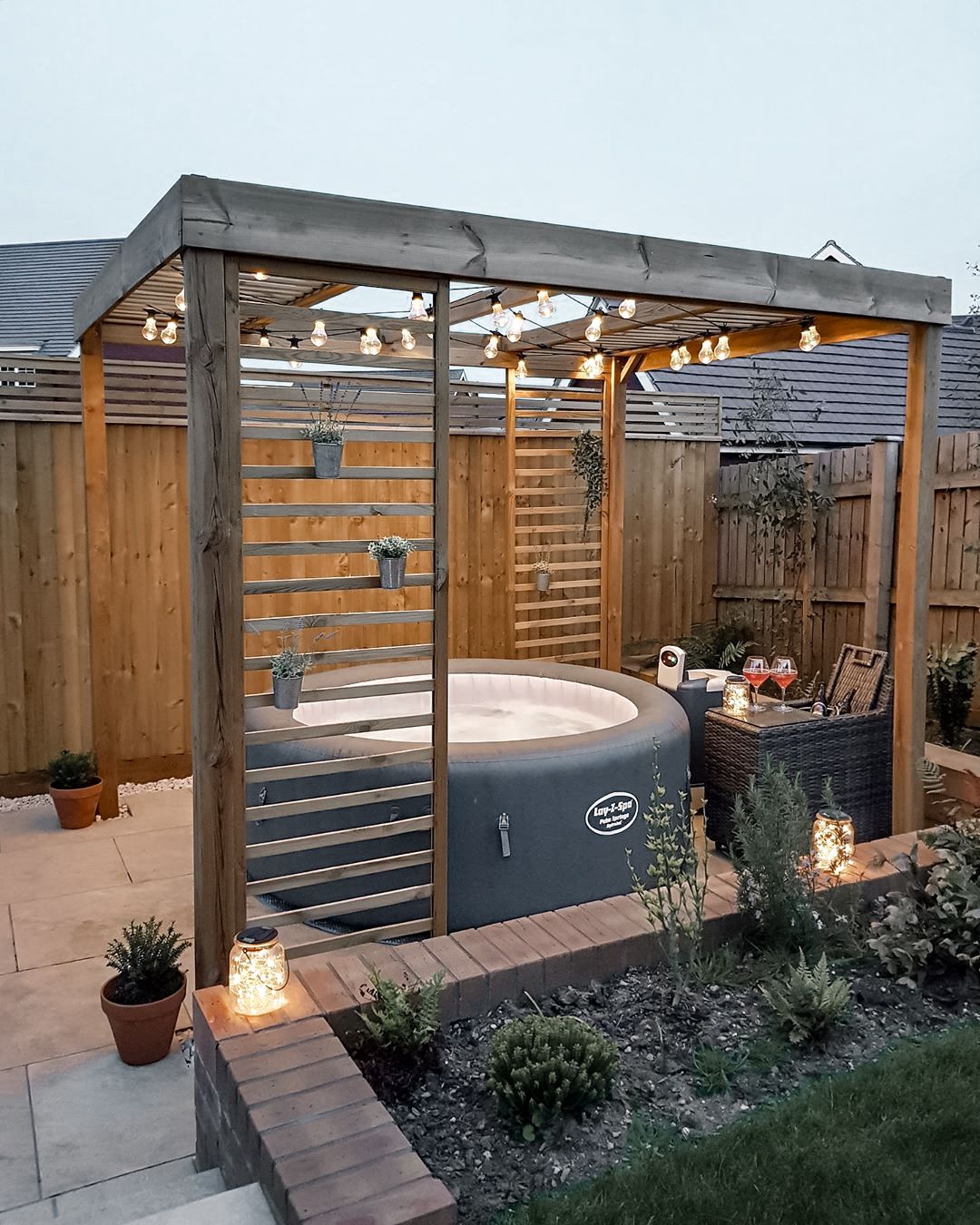 7. Tucked in a wooden gazebo
Simple yet sturdy, this customised wooden shelter provides a stylish home for the tub. Rustic and homely, the setup offers protection from light rain.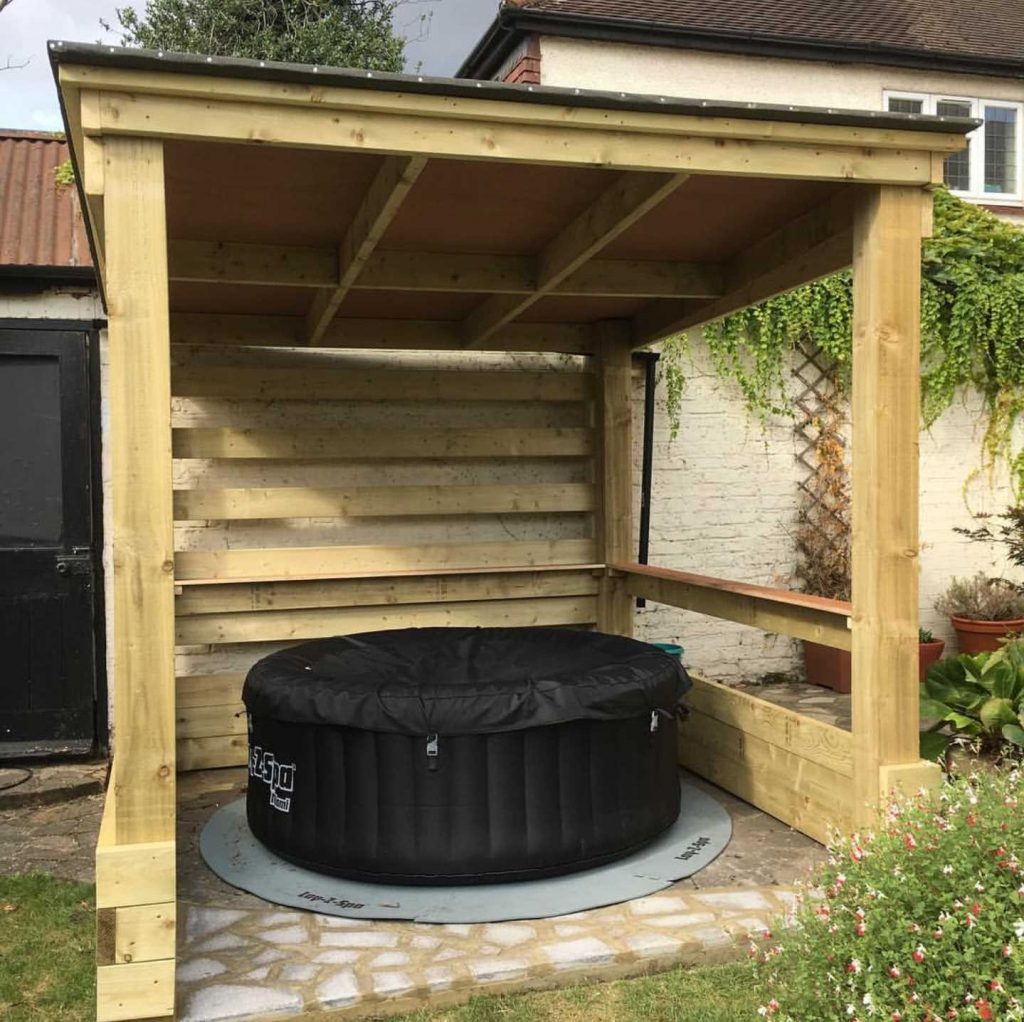 8. Thatched but make it unique
Move away from the status quo and create something different like this one! The design makes it look like you're going on for a space, but it's just a simple thatched enclosure for the tub.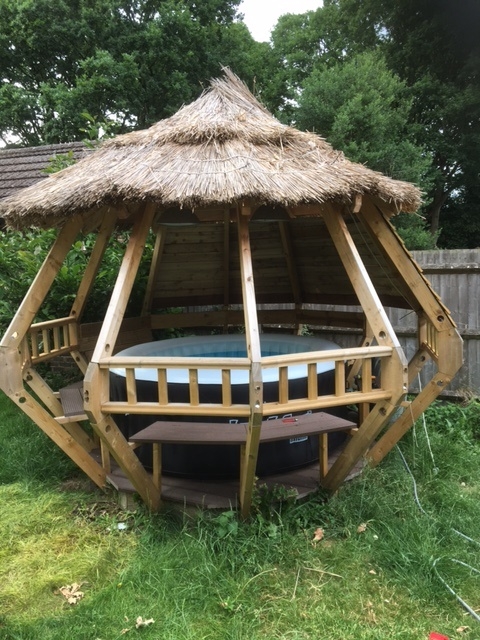 9. In a conservatory
Want to bring your spa in the garden but somehow enclosed?  A conservatory can be a great place to enjoy your hot tub. You can enjoy the natural light without the fear of being rained on.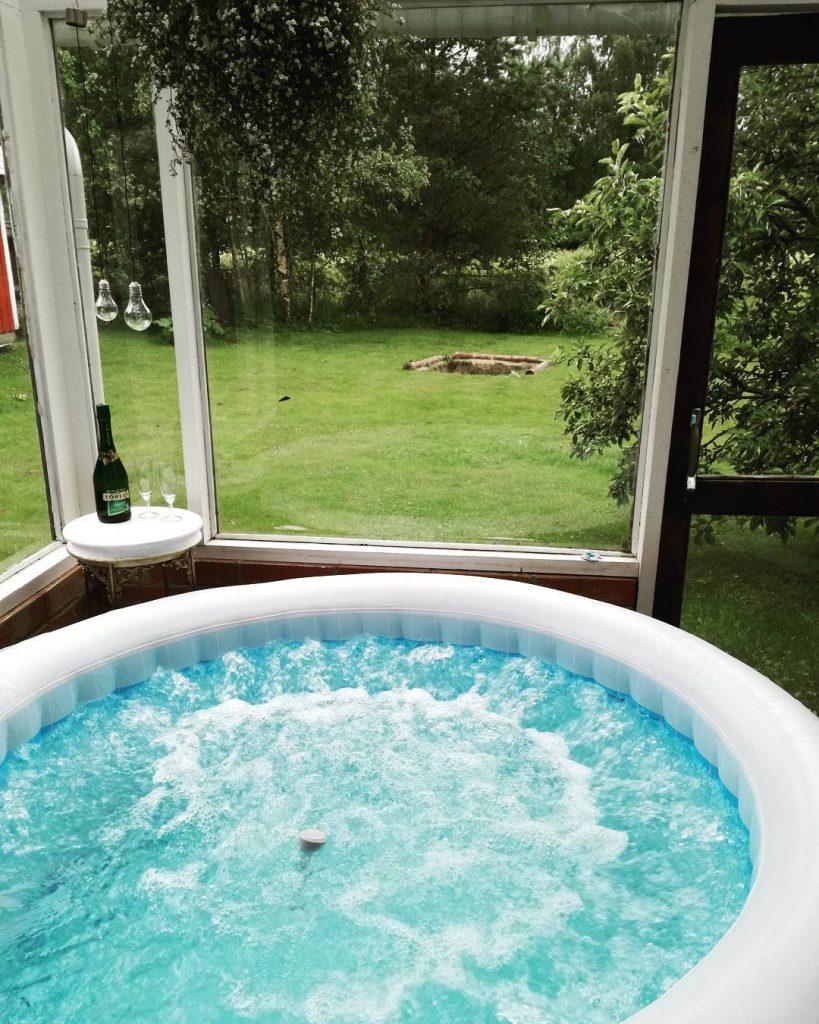 10. Go rooftop
Don't you love to relax in a rooftop Jacuzzi while overlooking the sun setting over the horizon? Even an inflatable hot tub can give you a romantic bath high up on the roof!
Make sure it's completely protected from all sides. Plus, consider adding retractable doors for cover in case of rain.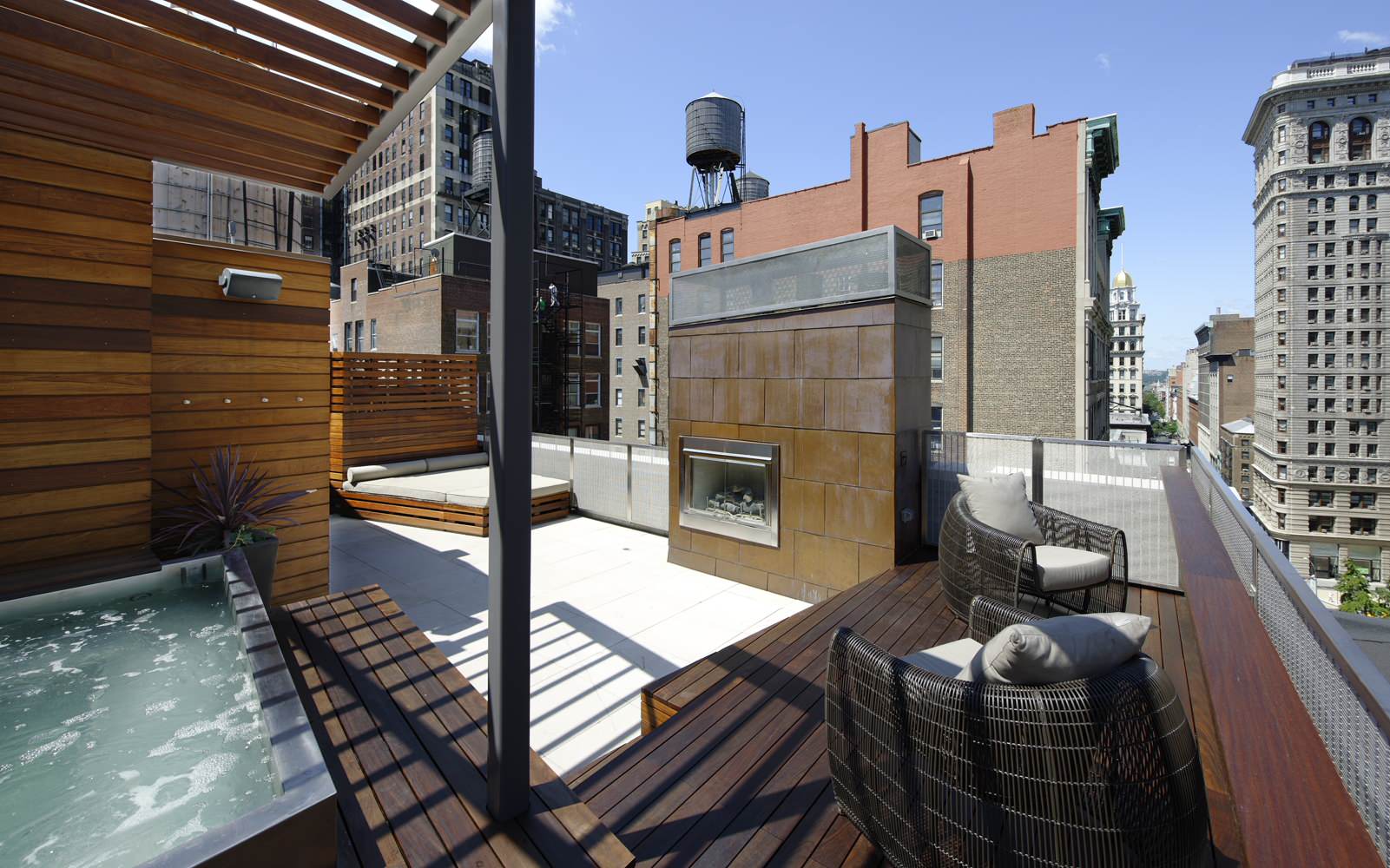 ---
Dual Purpose Ideas
Why not make your Jacuzzi a part of your outdoor entertainment area? Make the space more functional, such as a hot tub in a gazebo with built-in bar seating.
You can enjoy a hot soak in a cold evening while enjoying your favourite beverage with your friends! Here are a few more ideas on how you can have a dual-purpose outdoor hot tub set-up.
---
11. Packed with amenities
A dining area, fire pit, grill, hot tub, and seating area are all packed into this enclosed backyard. Surround the spa area with lush greenery to create a simple outdoor oasis.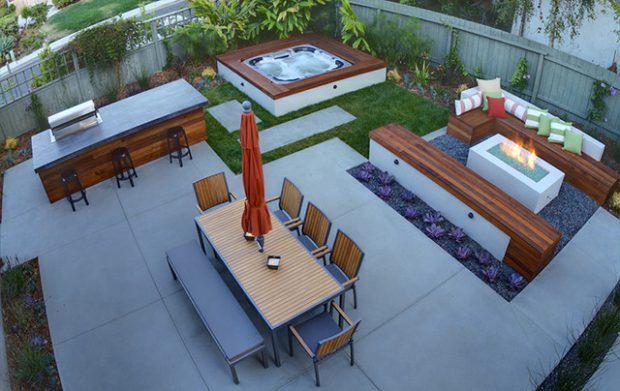 12. Near the grill
Nothing beats a summer soak with BBQ and cold beverages nearby. Interject your inflatable hot tub into your outdoor kitchen layout. This is a great idea, especially if you have extra space for the tub to fit in.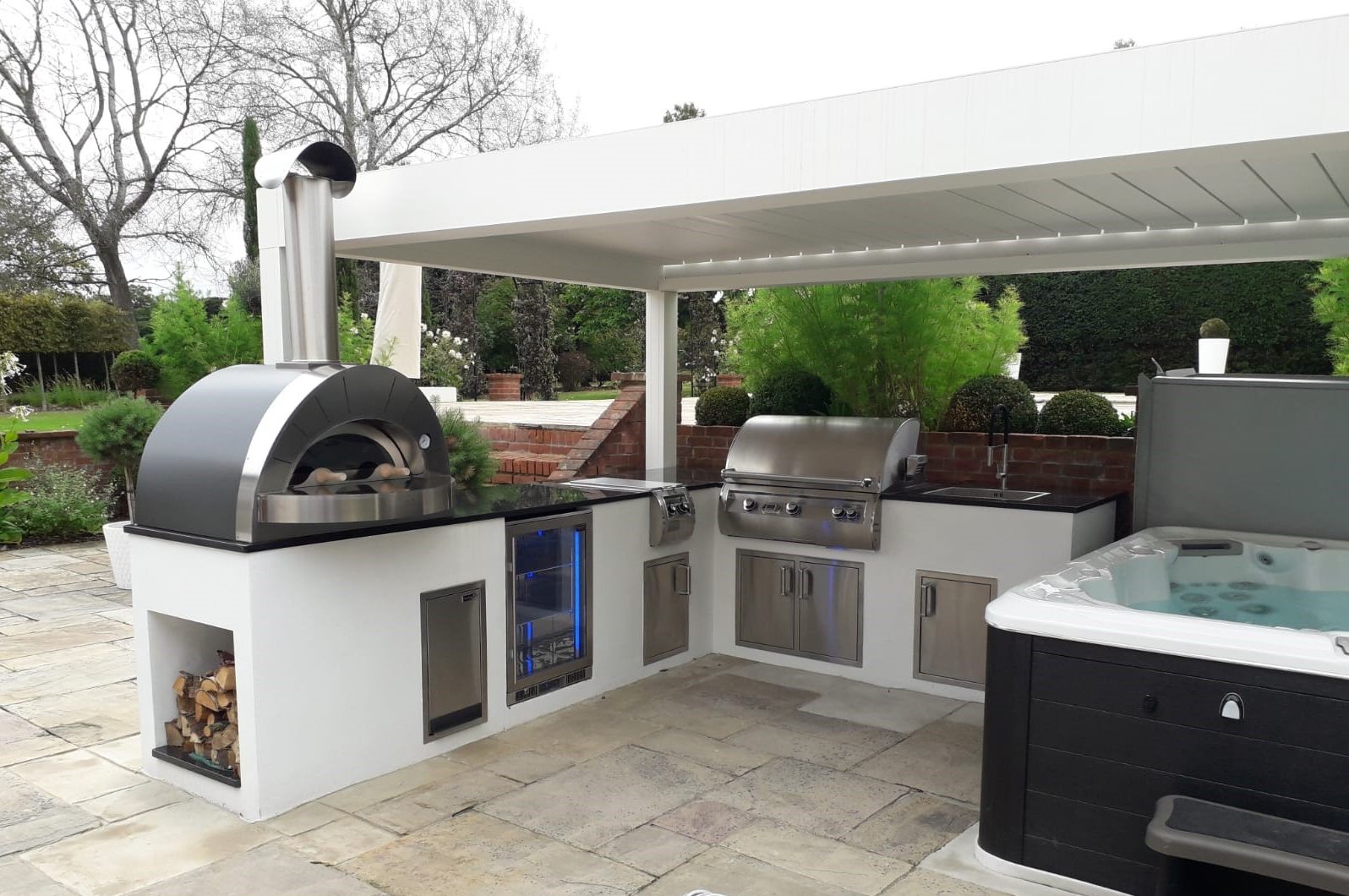 13. Provide a spa experience
After a long, stressful day, a hot tub spa built into the deck is the perfect must-have luxury for relaxing soaks. Add some plants, candles and incense to soften the vibe.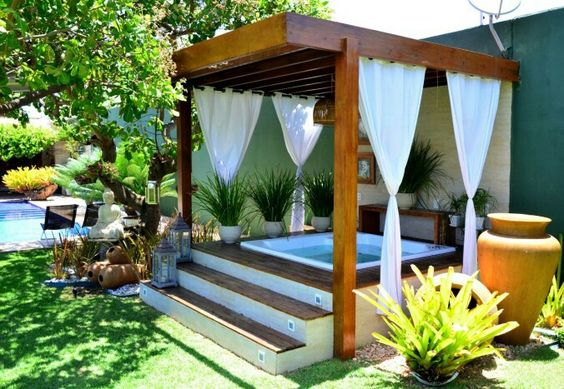 14. With deck for alfresco dining (picnic)
This rounded hot tub area is encased with a customised decking that serves as a bench, at the same time, as a table. Imagine relaxing in your own garden while having a simple picnic with your loved ones!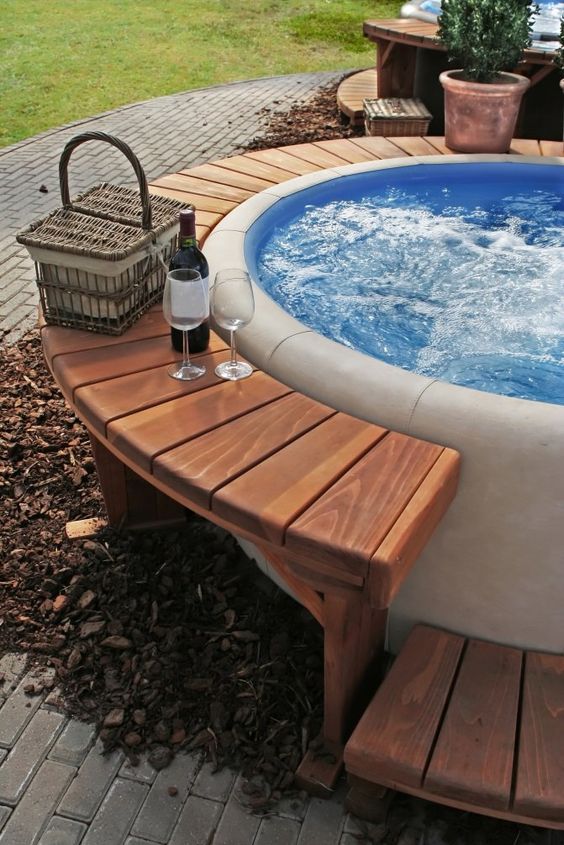 ---
Decorating Ideas
Inflatable hot tubs are trendy and they can open up a world of possibilities. Here are a few design ideas to spruce up your inflatable hot tub so it looks better in your outdoor space.
---
16. Put up decorative lights
Hang fairy lights above and around the poles of your tent or fence. Light them up whenever you use your at-home spa at night.
This creates a romantic ambience while setting the mood for relaxation. It's as if you're soaking under the starry night.
17. Go with lanterns and candles
If string lights aren't your style, lanterns and candles are great alternatives. Surround your hot tub area with warm lighting fixtures for a rustic appeal. Light the candles and play some jazz or calming music to set the mood.
Top tip: The more coordinated the lights are, the more luxurious the spa will look.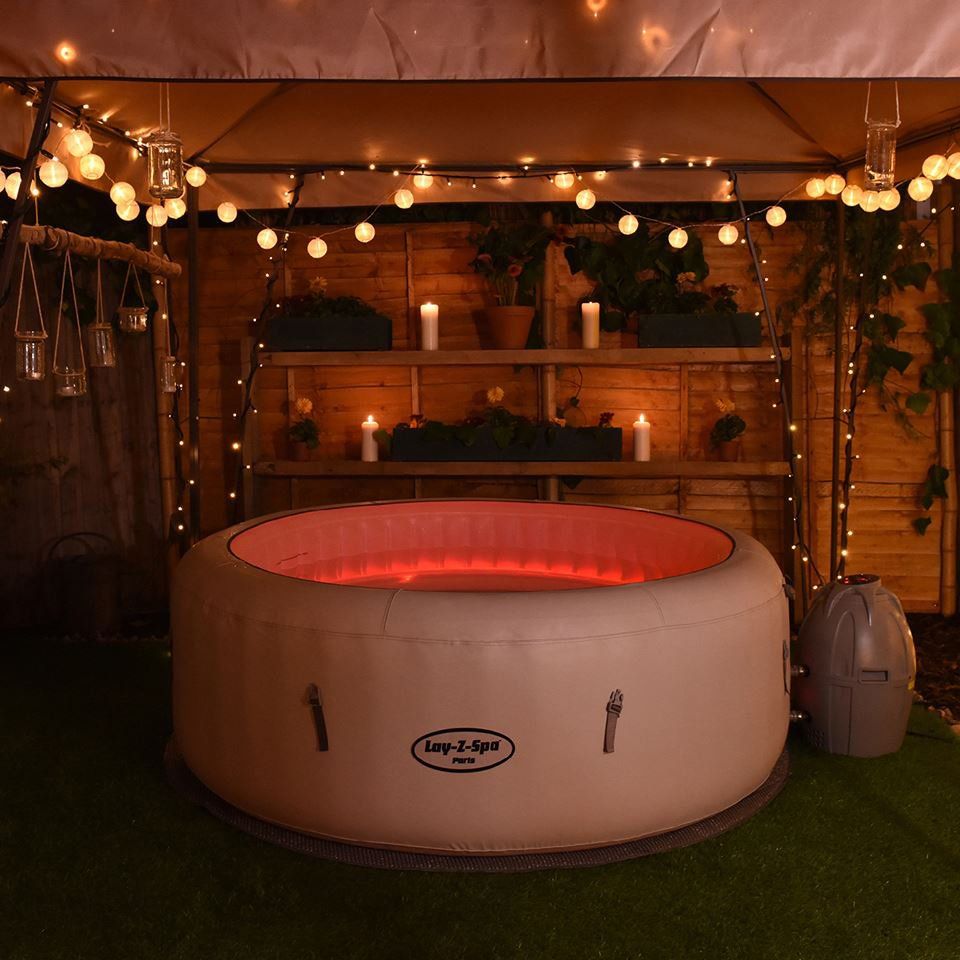 18. Extra seating is key
Add a couple of outdoor chairs or make a custom garden bench for the side of your inflatable spa. This will create a seating corner that helps make the space more functional. Add cushions covered with waterproof fabric for a nice decorative touch.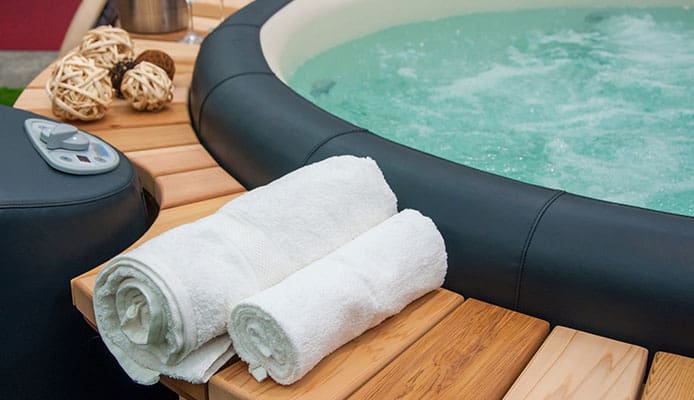 19. Potted plant decors
Consider adding more greens into the background. Line up some potted plants around the tub to make the space look more lively.
Use taller plants to add a sense of privacy. Opt for leafy or bushy plants that fan a gentle breeze when you're soaking during hot summer days.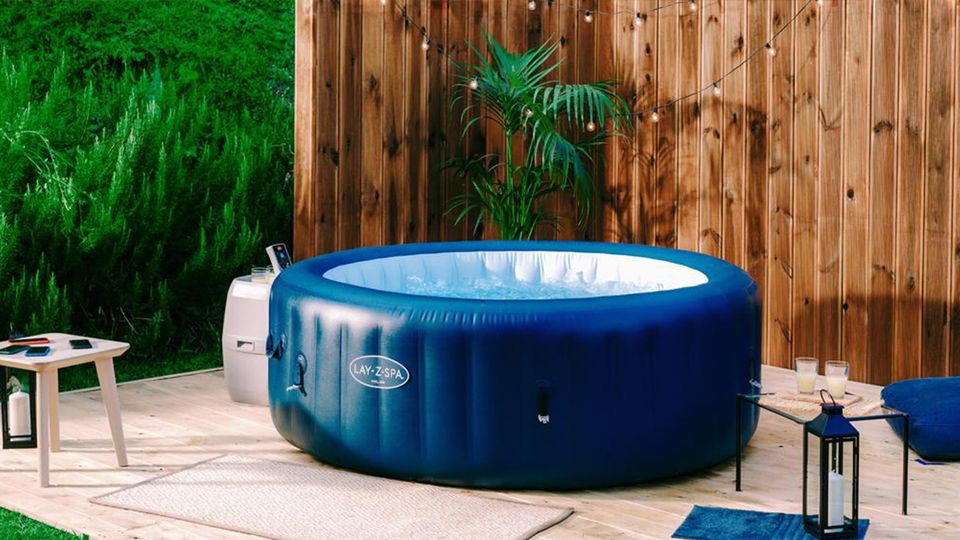 20. Put a privacy screen
When it comes to garden privacy ideas, you can never go wrong with tall wooden fences. They offer an airy enclosure which you can also decorate with lights, bunting, flowers, etc.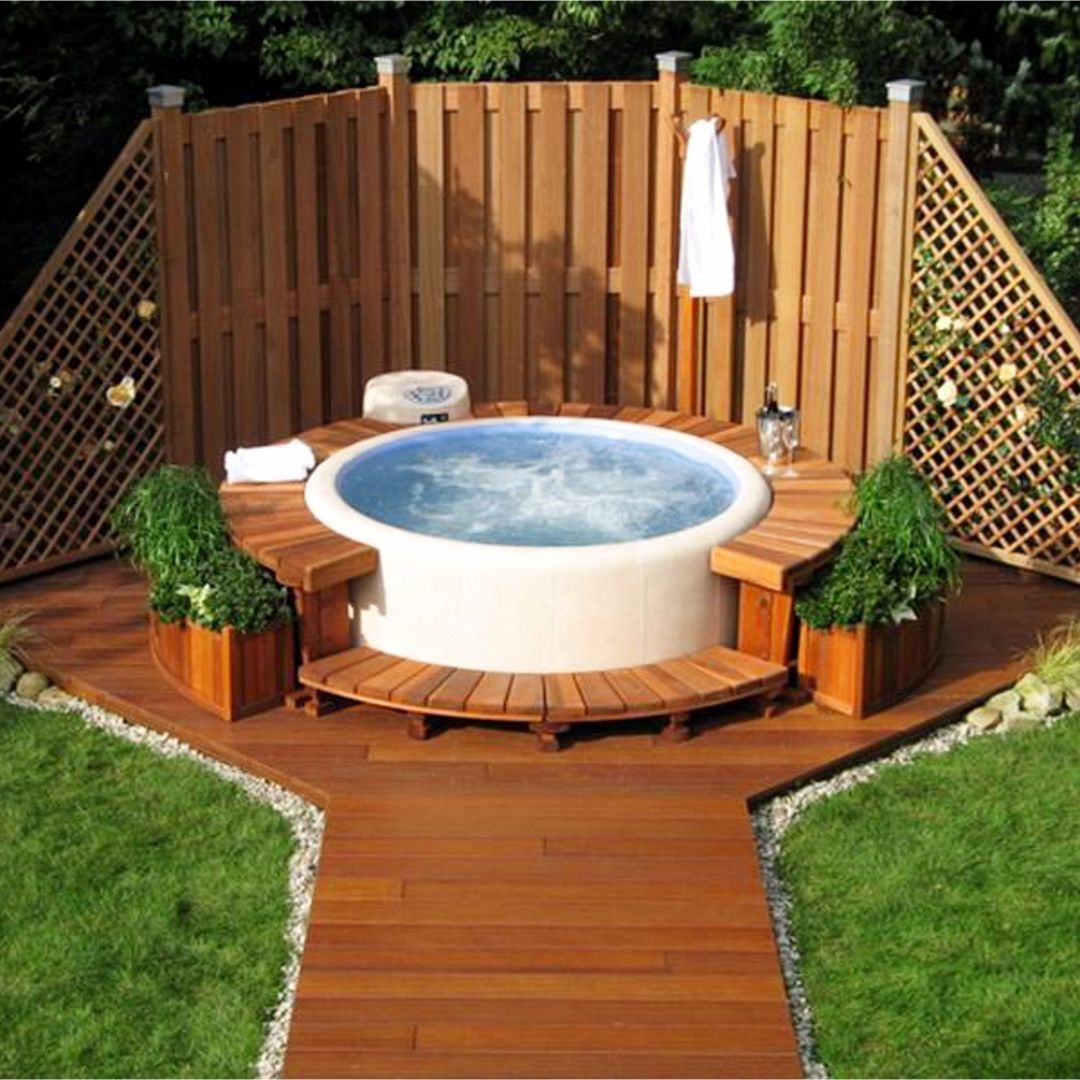 21. Hang some curtains
Soften the ambience of your outdoor space by hanging light and airy curtains. You can do this with a tent, gazebo, or pergola. This adds a layer of privacy while blocking the light from seeping through.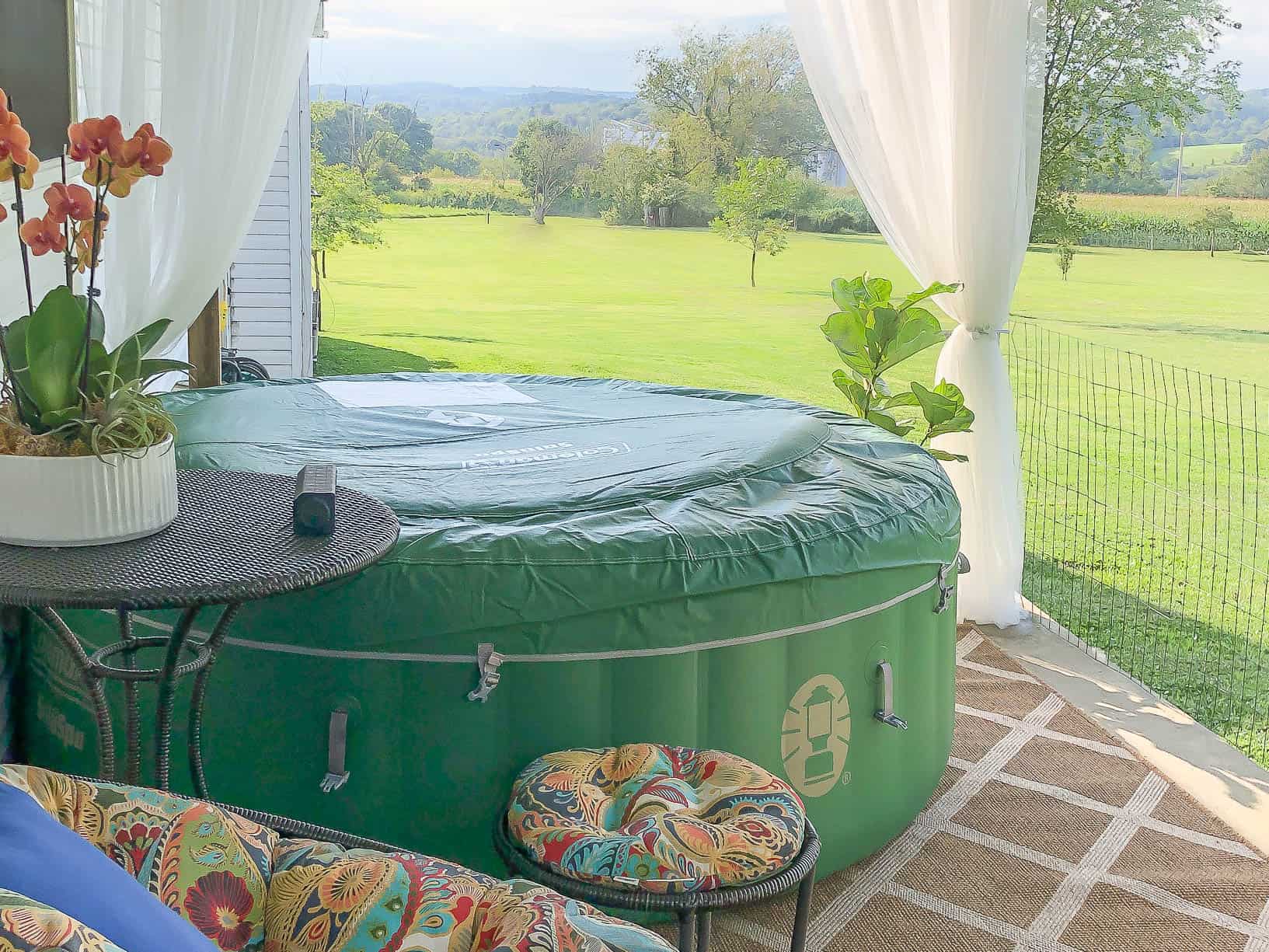 22. Place a trellis
On top of adding privacy, trellises support climbing plants that would make a perfect fit for the spa. You can enjoy the hot steam bath and the comfort of your tub in a nice and healthy environment.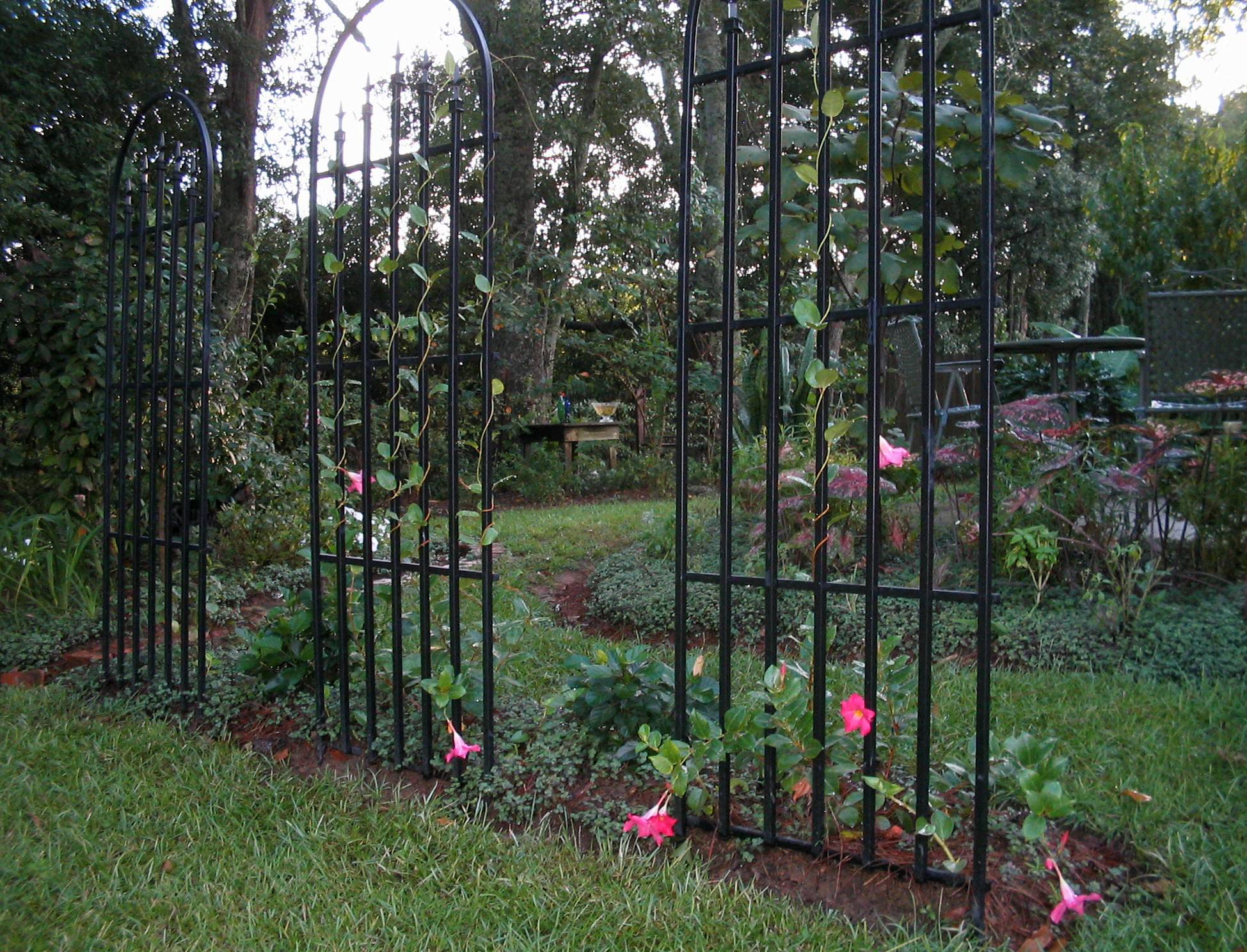 Round-up
So, you think you want a hot tub, but your budget is limited? Then, an inflatable hot tub is the perfect solution for you!
You can enjoy hydrotherapy in your own backyard without spending too much money. We hope our wide variety of ideas will help you make your inflatable hot tub area into an oasis!
Shop Inflatable Hot Tubs
FAQs