Your Garden Furniture Sets Need to Have a Cover Now
There are a lot of garden furniture available out there. Plus tons more you can DIY to suit your taste. Click here to find inspiration and ideas on how you can start your project today.
But the main point is that no matter the price of the furniture, the ones in the garden or the patio get the most beating. It is because these are set outdoors.
And we know that the weather conditions in the UK vary over the season, which is why we ought to be extra-vigilant in protecting our investments. especially because these pieces are the ones that make our patios look fancier. One thing you can do is store them away especially when not in use.
And I'm not only talking about the amount of rain nor the weather during the winter season, but also the heat of summer that could go up the highs.
Even if you buy waterproof or weatherproof furniture (but getting high-quality items although pricier is the way to go) that vary from different materials such as rattan, wood, or metal, they would only go as far. But unless you do something that would take care of them, they wouldn't live up to expectation.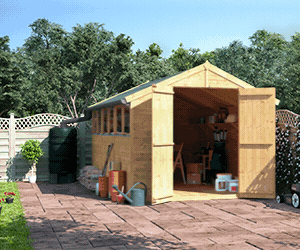 Every household knows that furniture, no matter how big and clunky, still needs TLC from owners.
So during bad weather, if you cannot carry the chairs, tables, and even the umbrella indoors because either for lack of space or they're too heavy, you better cover them.
Covering is the old school of doing things, I get that. But in this light, it is the way to go.
Compared to the new ways of "protecting" the furniture in your garden, there's no contest to making a little shield for your furniture.
There are a few reasons we vouch for covering your garden furniture. But that is not to say that you don't do anything else to protect them. What we are saying, there is just no alternative like covering. Maybe that is yet to happen. We'd just wonder what people could invent as an alternative to covering the furniture. But while scientists are still discovering that, here are a couple of things you ought to know you get when you cover your furniture.
Save Lots of Money
Quality does not last if we don't take care of it. Wear and tear will happen, we all know that. But we can always postpone it with a little prevention. Covering them, especially in harsh weather can elongate the lifespan and service of your patio furniture.
There are many suggestions that to protect the garden furniture, you should spray them with some chemicals or wax to make it water resistant, but that will not be entirely practical. Because over time these would either dry out or get washed when you clean it.
If you have a cover, then you know that you will own that and can use it over and over again. That is just straight-up practical and will save you money in the long run.
Also, you don't risk missing the spot unlike when you spray, where you leave some spots. Because you know where your cover falls, then you know which one gets protection.
Do Less Maintenance
You are more likely to maintain the furniture less if you make it a habit of covering them when not in use.
Rust, mould, and stains or fading are the most common outdoor furniture disasters. You can delay these with covering. As simple as it sounds, it still stand as the great solution to the quick aging of the garden fixture.
Rust come from oxidation of the metal. If your garden furniture has metal components and is exposed to rain or even the sun, rust would appear. You can prevent this from happening in the long run if you know how to cover your furniture.
Mould also comes from moisture. While it may appear everywhere, you can avert it by simply regularly covering your garden and patio furniture, especially if they have upholstered materials. Covering will keep them from exposure to the weather.
Stains and fading are effects we like on our Instagram filters but not on our furniture. These are a terrible disaster because when these start taking effect on our furniture, we lose inspiration and interest. And that's just not how things should be. But thankfully, that can be easily addressed by covering them.
Conclusion
Are you convinced enough that covering your furniture should be part of your mantra in garden maintenance? It pays to double the protection you do for your investments. The cover may be old school, but sometimes, old school is cool (and awesome).