The ever-changing weather conditions make garden furniture hunting a challenging task. With so many types available on the market, which one truly can withstand the test of time?
That's why it helps to understand each variety and its weatherproof qualities. Not all can be safely left outside year-round, after all, for the most part.
In this guide, we'll cover the three main types of outdoor furniture:
Wood

Synthetic rattan

Metal
We'll take a closer look at each material's characteristics, durability, aesthetic, and maintenance. Keep reading!
Wood Furniture

When it comes to garden furniture, few materials can match the timeless beauty and warmth of wood. The natural appeal of wood furniture effortlessly blends with the surrounding greenery. This creates a harmonious and inviting outdoor space.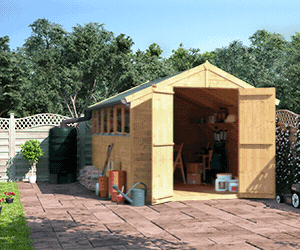 Types of wood
Wood garden furniture comes in various types, but some are better suited for outdoor use than others. Three commonly used woods for garden furniture are teak, cedar, and eucalyptus.
Teak:

Renowned for its exceptional durability. Teak is a popular choice for outdoor furniture. Its natural oils make it resistant to water, insects and rot. Overall, it can withstand harsh weather conditions with minimal maintenance.

Cedar:

Known for its natural resistance to decay and insect infestation. It possesses excellent stability and requires minimal maintenance. The distinct aroma of cedar adds a pleasant fragrance to your outdoor space.

Eucalyptus:

A hardwood that combines beauty and strength. It boasts natural oils that help protect against decay and insects. Eucalyptus furniture often features a warm, reddish-brown hue that matures gracefully over time.
The benefits of durable hardwoods
One of the key advantages of durable hardwood furniture is its weather resistance. These woods have natural oils and tight grains that enhance their knack for withstanding:
moisture

temperature fluctuations

wear and tear of outdoor environments
This makes them less prone to warping, cracking, or fading over time.
Maintenance requirements
To maximise the lifespan of your wood furniture, proper maintenance is essential. Regular sealing and staining help prevent moisture penetration and maintain its lustre. These treatments also prolong the life of the furniture.
Weather protection tips
To shield your wood furniture from harsh weather conditions, consider the following tips:
Cover or store furniture during extended periods of rain, snow, or extreme weather.

Use furniture covers when not in use to protect against UV rays, dust, and debris.

Clean the furniture regularly with a mild soap and water solution to remove dirt buildup.

Apply a coat of sealant or stain every few years to maintain the wood's weatherproof qualities.
Synthetic Rattan Furniture

Looking for an outdoor furniture option that combines style, durability, and weather resistance? Rattan furniture is a fantastic choice! As an alternative to natural rattan, this type offers several advantages that make it ideal for outdoor settings.
Types of synthetic rattan
Synthetic rattan is crafted from high-quality polyethene (PE) or polypropylene (PP) materials. These synthetic fibres are engineered to mimic the look and feel of natural rattan. At the same time, providing superior durability and weather resistance.
The production process involves weaving the synthetic fibres onto a sturdy frame. This results in furniture that can withstand outdoor conditions.
The benefits
Synthetic rattan is its exceptional weatherproof qualities. It is designed to withstand UV rays, moisture, and temperature fluctuations. Leave it outside year-round without worrying about fading, cracking, or warping.
Its resistance to impacts, stains, and wear and tear also make it ideal for high-traffic areas. And unlike natural rattan furniture, synthetic rattan is lightweight.
Many synthetic rattan materials are made from recyclable materials, making them eco-friendly.
Maintenance requirements
Maintaining synthetic rattan furniture is relatively simple. Regular cleaning with a mild soap and water solution is enough to remove dirt and keep it looking fresh. Avoid using abrasive cleaners or brushes that may damage the material.
Weather protection
Synthetic rattan garden furniture is designed to withstand various weather conditions. But taking some precautions can further extend its lifespan:
Use furniture covers when the furniture is not in use to protect it from direct sunlight, dust, and debris.

If extreme weather conditions are expected, store the furniture indoors.

In colder climates, consider extra protection, such as storing the furniture in a

shed

.
Metal Furniture

When it comes to garden furniture, metal brings robustness to your outdoor space. Metal furniture, in general, is known for its exceptional durability and strength. Common materials used are:
Wrought iron

Stainless steel
Such materials are designed to withstand elements and resist damage. The sturdy construction ensures it can endure heavy use. What's more, it remains stable even in challenging outdoor conditions.
The benefits
Metal furniture is highly resistant to weather conditions, such as rain, heat, and UV rays. It won't warp, fade, or crack under prolonged exposure to the elements.
Due to its durability, it often boasts a longer lifespan compared to other materials. With proper care, it can withstand years of use, providing excellent value.
Maintenance requirements
To preserve your metal furniture's appearance and longevity, consider these cleaning tips:
Regularly clean your metal furniture with a mild soap and water solution. Rinse thoroughly and dry it to prevent water spots or mineral buildup.

Check for any signs of rust or corrosion. If you notice any, use sandpaper to remove the rust. Apply a rust-resistant primer. Then, paint with a metal-specific paint to restore its protective coating.

Consider using furniture covers when the furniture is not in use. This is especially important during extended periods of inclement weather. Doing so helps protect it from moisture and debris.

Refrain from using abrasive cleaners that may damage the metal finish or paint.
Weather protection
Does your metal furniture come with a weather-resistant coating? If not, apply one to provide an extra layer of protection against the elements.

Do you live in an area with severe weather conditions, such as heavy snow or strong winds? If so, consider storing your metal furniture in a covered area or use furniture covers. This ensures it's protected from potential damage.

Periodically inspect your metal furniture for any signs of wear. These can include loose screws, rust spots, or peeling paint. Address any issues as soon as possible to prevent further damage.
Round-up
Choosing weatherproof garden furniture is essential for creating a long-lasting outdoor space. Throughout this blog, we've explored the weatherproof qualities:
Wood furniture

Synthetic rattan furniture

Metal furniture
Wood furniture offers natural beauty and warmth. Synthetic rattan, in contrast, provides a stylish and weather-resistant alternative to natural rattan. Metal furniture brings durability and strength to withstand outdoor conditions.
So, when it comes to furnishing your garden, invest in weatherproof materials. Go for a furniture piece that can withstand the elements and require minimal upkeep. This way, you can enjoy the beauty, comfort, and longevity of your investment.