When shopping for garden furniture, one of the qualities consumers look for is whether or not it's weatherproof. So if you're looking at rattan garden sets, then you might want to consider synthetic rattan furniture.
Here's the kicker.
Chances are, you've seen a lot of rattan garden furniture; in stores, in magazines, online, or at BBQs. But natural rattan can fade, wear, and split easily. Plus, with its natural materials, it's not particularly weatherproof.
That's why synthetic rattan – a counterpart that's resistant to weather conditions is so popular. Especially, in contrast with natural rattan that can get damaged when left out in bad weather.
If you already own rattan pieces, you might as well take some time now to read our guide on how to clean rattan furniture.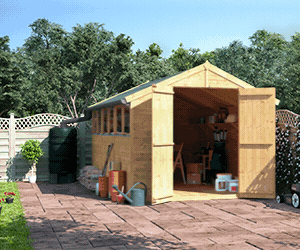 This is one of the reasons why the popularity of synthetic rattan has risen – it's easy to maintain. And there's a lot more going for rattan garden furniture than just being weatherproof.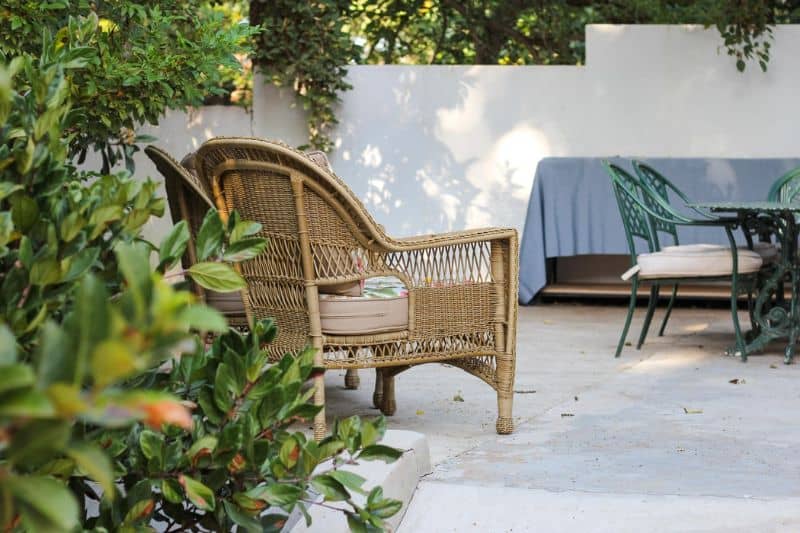 The Difference Between Weatherproof and Waterproof
You may be wondering if weatherproof and waterproof mean the same thing or not. 
Are they the same? The answer is no. It'd be helpful if you're aware of why they aren't the same.
Weatherproof rattan furniture means it's resistant to damage caused by weather conditions. This includes hot weather, as well as heavy rains, snow and frost.
For instance, it could stop frost from penetrating the material, leading to splitting, rotting and other forms of damage.
In contrast, waterproof materials offer protection against rain and other liquids only. This means that when moisture lands on the material, it won't absorb it.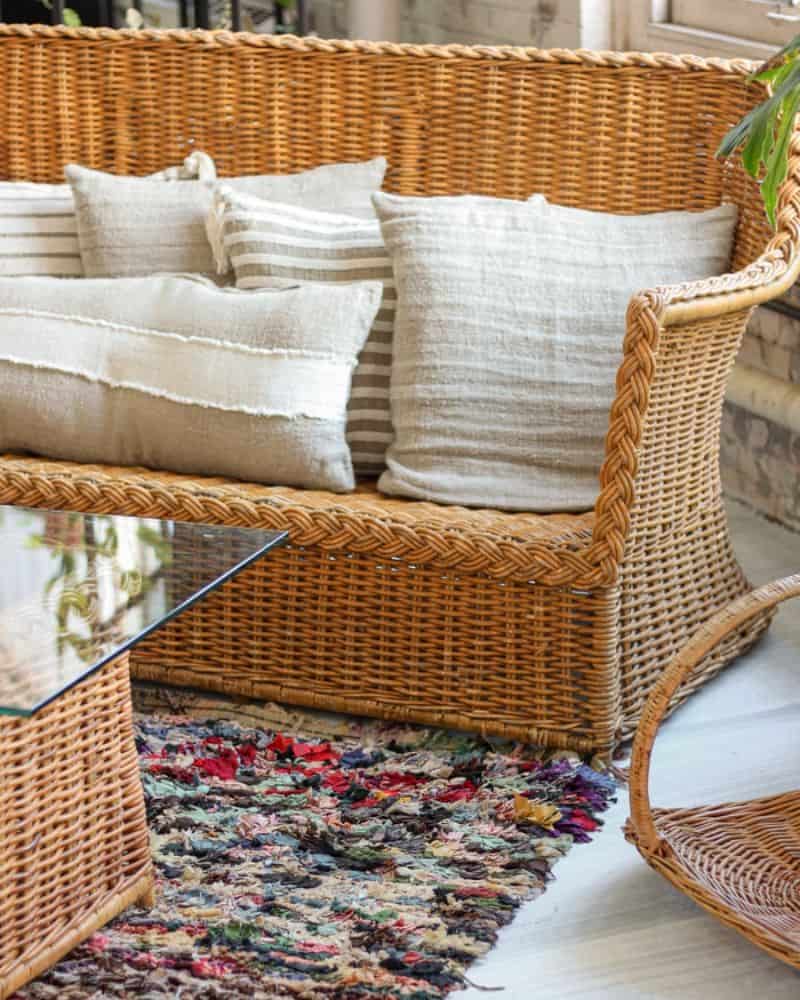 How to Know if Rattan Furniture Is Weatherproof
For your next rattan furniture purchase, the keyword to look out for is UV stabilised (on top of style and design).
When garden furniture is UV stabilised, it'll likely be weatherproof. And when the furniture has this feature, it means it can withstand harmful UV rays.
It'll be less susceptible to fading, rotting, and becoming brittle. And these are the common problems that natural rattan furniture experiences. 
But with synthetic rattan furniture, the keyword is already there; you don't have to look for it.
The power of a powder-coated steel framework
Rattan should be built on top of steel frames, but not just on ordinary frames. Be sure to look out for powder-coated steel.
Steel is a solid and robust metal that can support body weight for long periods. But powder-coating it (with charged paint) means that it'll be protected from not only weather conditions but rust and corrosion.
Now, imagine your rattan garden furniture without that support. Yikes!
Paired with garden furniture covers, this can all increase the lifespan of your rattan garden furniture.
Just take a look at our BillyOh Salerno Corner Sofa, for example. It's made from weather-resistant flat synthetic weaves woven around a powder-coated steel frame.
Designed with comfort and functionality in mind, the Salerno is perfect for outdoor use. It also comes with soft, inviting cushions you can just sink yourself into.
A large storage box with a glass top is also included, giving you much-needed space. For maintenance, a simple wash routine wash with warm soapy water will do.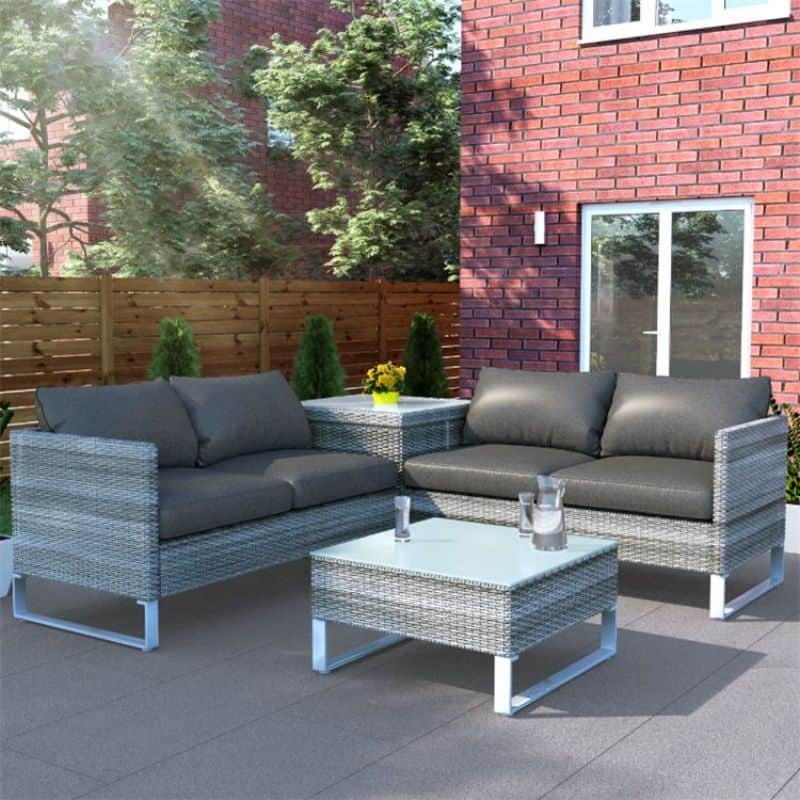 Rattan Furniture Maintenance: Rattan Furniture Covers
Covers and cushions
How can you protect your rattan furniture outside? Let's start with furniture covers.
To shield your rattan garden sets from moisture in the air, adding covers will do the trick. Garden furniture covers can keep the material dry, ensuring you get to enjoy the furniture even longer.
They mainly come in handy during the winter and are ideal for any rattan material.
When rain, frost, and snow arrive at various points of the year, they'll test your rattan furniture if left uncovered. Not to mention dust, leaves, and bird droppings.
Using a furniture cover also means you don't have to worry about finding a storage location for your rattan furniture set. You can leave your rattan pieces outside even during late autumn and winter.
The BillyOh Deluxe PE Round Cover is a great start and would work well to protect the table of our BillyOh Parma round table dining set.
Outdoor cushions are also perfect for unpredictable British weather. They add the ultimate comfort, making your rattan furniture usable even for people with bad backs.
They also can extend their lifespan by minimising scratches to the exposed material. Some cushion fabric is waterproof, which is likely to lose shape and colour over time.
But with a furniture cover, even the cushions are well protected.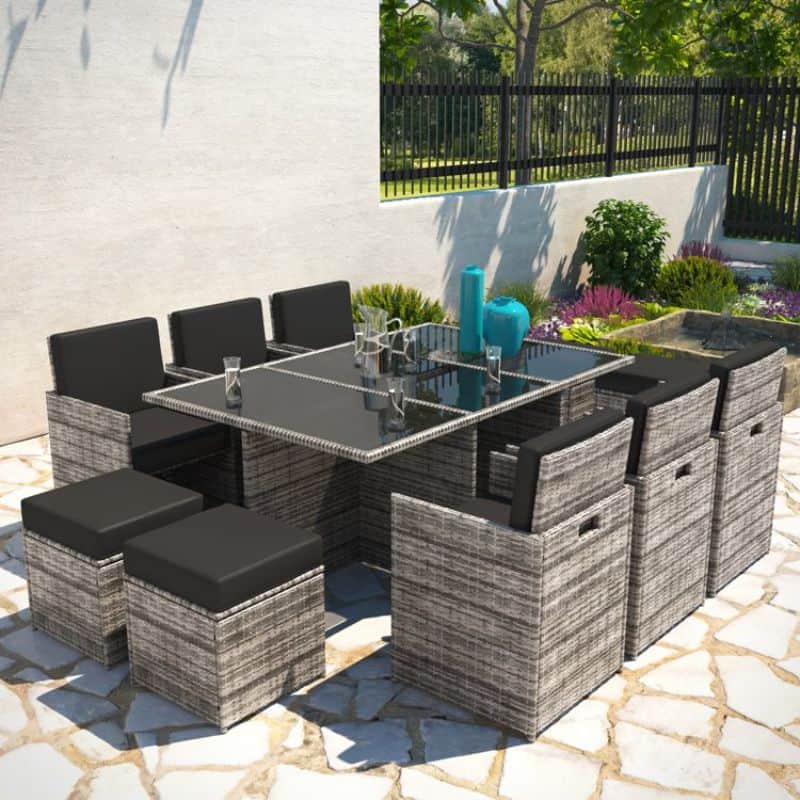 Maintenance
Having a simple cleaning routine for your rattan will also help protect and prolong its life.
Thanks to the weatherproof quality of synthetic rattan, it's a lot easier to maintain. You won't have to worry about it half as much as you would if you had an actual rattan furniture set.
You can clean it with warm water and a non-foaming cleaner. This will help to avoid residue in the gaps of the weave.
You won't have to wipe down the set every week, but doing so monthly will make a difference. Keep an eye out for mould or mildew which, although unlikely to, can develop anywhere, especially when overlooked.
Round-up
It turns out that not all rattan furniture has weatherproof qualities, namely natural rattan. Also, we discovered the fine line between weatherproof and waterproof.
But what makes synthetic rattan furniture a winner? It's weatherproof and also can be waterproof with furniture covers!
This means it's UV stabilised and fairly impervious to water. These are the qualities that 'real' rattan furniture doesn't have.
Considering it's artificial, it doesn't have natural fibres that tend to loosen in time. No loosening fibres like authentic rattan furniture.
Moreover, it's low-maintenance, less prone to damage, and lasts much longer. It's a win-win investment!
But even with rattan's fantastic benefits, you should still look after it to get the most out of it. Here are a few quick steps to maintain and extend your rattan furniture's life:
Opt for a powder-coated steel frame for your furniture's frame.

Invest in furniture covers and add cushions.

If there are any broken parts, such as the synthetic strips, repair them right away. Use super glue to glue the damaged strips or opt for resin epoxy.

Have a cleaning routine or maintenance checklist at least once a month.

And if you're looking for garden design ideas, check out how you can style rattan furniture in your garden.
Shop Rattan Garden Furniture
FAQs
Yes, but keep in mind that not all rattan materials own this quality. If you're looking for a fully waterproof garden furniture set, polypropylene material is your best bet!
This type of plastic material offers good resistance to rain and frost. It's lightweight and defiant to chemical degradation and heat as well.
Waterproof cushions are also available, offering high levels of protection against the rain.
Yes, but it depends on the material and how you look after your outdoor pieces.
For one, good quality synthetic rattan furniture can last for five years. If it comes with powder-coated frames and a robust flat weave, this can extend the lifespan up to 10 years or more!
Top tip: Proper maintenance is the key to extending the life of your rattan furniture.
Rattan garden furniture can be utilised outdoors. Still, if they're not weatherproof, you can't leave them outside.
But if you have high-quality synthetic rattan furniture, you can leave it outside all year round without weathering.
Another thing to consider is the cushions. Rattan pieces may be weatherproof, but most garden furniture cushions aren't.
The solution to this problem is simple. Get your rattan furniture some covers!