Not all gardens have enough room to fit hefty pieces of outdoor furniture. But this shouldn't stop you from having a cosy patio space and maximising your time spent outside.
We've rounded up the best space-saving range of garden furniture to weigh your options – and get started!
Choice of Garden Furniture: Space-savers
Space-saving outdoor pieces are compact, maximising the use of a given space in the garden. These refer to any type of furniture, such as garden chairs and dining tables. Most have a lightweight design and are portable and foldable for easy manoeuvring. Other popular items include hammocks and bistro sets for small corners or balconies.
So, what are some of the 5 best space-saving furniture options for your outdoor living space? Find out below:
1. Folding tables and chairs
A folding outdoor table is one of the most efficient space-saving wonders around. It only takes up a fraction of its original size once folded up. With one, you can store it virtually anywhere, e.g. your garden shed, when not in use. What's more, they're lightweight, so you can move them around into different layouts as needed.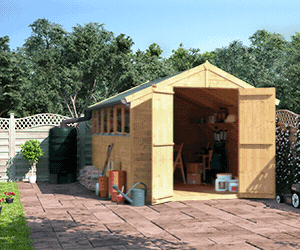 The same goes for chairs, such as the stackable models. They're easy to put away or bring out at a moment's notice. Their stacking and folding abilities also provide versatility. They can be stacked fairly high and placed against a wall too!
Have a look at our amazing pre-season clearance offers for folding tables and chairs:

Price: From £227.00 to £193.00
A dining table that enchants your garden and provides years of attractive use. Available in a variety of designs and sizes, from round to oval and rectangle.
It offers spacious seating for 4-6 people. Efficiently store this golden teak table away with its folding-leg hinge design. Use and reuse your garden space like never before!

Price: From £44.00 to £38.00
Don't worry about rain, rust, or inclement weather with this weatherproof chair. The foldable design works just as well for garden bars as for taking on camping trips.
The sleek design and light grey tones also work perfectly in modern gardens. What's more, enjoy comfort with the adjustable backrest of this metal chair!
Available in two distinct colours as either grey or black folding garden chairs.
2. Compact rocking chairs
Rocking chairs are the epitome of relaxation, and they can fit well in small patios or front porches. They have enough room for one person to sit comfortably. The bonus of the back-and-forth rocking motion increases relaxation.
Modern units combine the classic look of a traditional rocking chair. Plus, with contemporary features such as smaller frames and thinner armrests. This makes them perfect for your small outdoor living space.

This Lugano Textilene Rocking Sun Lounger with Pillow is a remarkable example. Unlike most sun loungers, the Lugano has a gentle rocking motion. The frame is made of high-quality steel, and the fabric is weather and UV-resistant. The black/grey finish will coordinate perfectly with your outdoor patio or poolside!
3. Bistro sets
The beauty of rattan furniture is that you have heaps of style and size options to choose from. One is the bistro set, consisting of a round table and two chairs.
They offer a perfect place for a quick bite to eat or somewhere to laze in the sun for those with limited space. Apart from classic rounds – a.k.a the 'egg chair', there are rectangular and square-shaped ones. This indoor-outdoor piece is also available in wooden and metal bistro.
If you plan to incorporate a set into your outdoor haven, a great spot would be on the porch or back patio. One of these worthwhile investment selections might be the one you're looking for:

Price: £329.00
Sit down and have a chat with a friend or simply curl up and disappear into your favourite book and relax. This 3-piece rattan garden set features a pair of comfy chairs in a lovely modern style. It comes with a glass-topped table that can be stored inside the chairs – a real space-saver!
Made from high-quality, durable PE rattan, and is fully weatherproof and UV resistant. The zipped cushion covers can also be removed and washed to keep them looking pristine.

Price: From £259.00 to £208.00
Get ready to entertain with this Scandi-inspired bistro set in graphite grey! Lightweight and easy to clean, it includes a table and two accompanying chairs. 
With the folding design of the Sölback, you can store the set away when you need more room. Plus, no assembly required! All you need to do is unpack it, set it up in your preferred location, and start using it!

Price: From £124.00 to £106.00
The set brings French bistro living to your garden thanks to its chic design. Made of durable Acacia hardwood – which is so dense that it's naturally water-resistant – this is wooden garden furniture you can rely on.
One of the best things about the Windsor is its foldable feature. You can easily fold the table and chairs away into a compact design, which makes for easy and clever storage. Even better, they can travel with you for outdoor adventures, such as picnics!
4. Hammocks
Hammocks offer an easy way to add extra seating to your outdoor area without taking up too much space. They require minimal setup and support as they only need two poles (or trees) from which to hang them. This makes them one of the most ideal pieces of space-saving garden furniture on the market today!
To make the most of your hammock, look for ones with detachable side pockets. Such extra features let you store books or other items while lounging outdoors. And if you want to get a great deal and save money, check out this hammock with folding stands below:

Price: From £129.00 to £104.00
Nothing beats being able to relax in the comfort of our own home. During the warmer months of the year, the garden is a great place to unwind in peace and quiet.
This folding double hammock lets you kick back in style, so all you have to worry about is how long you will sleep. It can hold up to two people with a maximum weight of 200 kg. You can either spread out yourself and enjoy the space or share it with a loved one on a long, lazy afternoon.
Use the adjustable hooks to the height you are most comfortable sitting at. When finished, it can easily fold away with the stand into a carry bag. Also available in Red colour.
5. Cube outdoor dining set
You don't have to own a courtyard garden to enjoy alfresco dining. Even a petite patio or a balcony can transform into an outdoor dining space. Invest in a cube rattan garden furniture set, which can make your dream happen!
The pieces are designed to fit together into a cube in a space-saving manner. They make the perfect choice for maximising space when not in use. Other models even include cube ottomans, adding a bit of decorative flair. At the same time, serving as extra seating and storage to keep outdoor essentials tucked away.
And you're lucky if you found an eight-seater rattan cube on the market that offers luxury and excellence! Take a look at this BillyOh Modica.

Designed for every piece to fit in a "cube" form, this rattan dining set is compact and convenient. In turn, you don't need to sacrifice so much valuable garden space if the Modica is out of use.
It features a modern, stylish mixed grey and synthetic rattan design. The set also comes with a luxury seat and back 10 cm cushion thickness and ottomans at no added cost.
In addition to the 4 armchairs, it also comes with 4 ottomans that can be used as either seats or footstools. What's more, the Modica includes a matching table with a tempered glass top. Also available in 10-seater, it's a must-have small outdoor living furniture!
Tips for Upgrading Your Outdoor Space
Soften the space
Pillows, throw blankets, and rugs are simple additions that can make your patio cosier. Such accents are a way to infuse colour, drama and personality. This trick especially works if you have simple and neutral furniture sets.
Light it up
The right outdoor lighting sets the perfect mood and ambience of a space. If you lack outdoor outlets, opt for battery-operated string lights. Or go sustainable with solar-powered lanterns.
Be practical
Practicality doesn't have to be boring. Pair it with a bit of creativity to turn the tables. A great example is investing in an outdoor furniture cushion. Even a plain one can make a difference to your terrace garden couch. Besides the added flair, covers ensure the seat cushions are protected from elements.
Round-up
No one should risk feeling cramped and uncomfortable outdoors. With space-saving garden furniture ideas, you can get the most out of your humble patio! For more affordable garden furniture, click the button below.
Shop Rattan Garden Furniture