It's nothing new, but cinder block furniture is making a comeback in gardens! These giant Lego-like blocks are cheap and easy to work with, making them perfect for DIY projects.
Fear not; a cement mixer and garden tools will not be needed. A bit of planning and lifting is enough to build furniture like cinderblock benches and tables.
With so many uses, we've compiled a list of cinder block garden ideas from the web. Browse through and see which concepts could add an industrial and modern look to your yard.
Creative Cinder Block Ideas
1. Painted planters
Cinder blocks have a great spot right in the middle for planting succulents and flowers. To brighten up the rather grey colour, add colour with good old acrylic paint.
Use painter's tape to outline where you want your colour blocking to make painting fun and easy.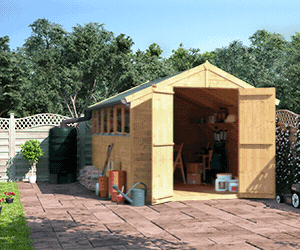 2. A potting station
There are limitless possibilities for cinder block projects, such as this multi-purpose gardening station. It serves as a potting bench, planter, and log holder. Use wooden boards to create a tiered effect.
3. Patio seating area
All you have to do is buy some cinder blocks and a few 4×4-long pieces of wood. Put the whole thing together using a simple stacking method.
Add cushions for comfort and paint the rest with a lively colour for a smart finish.
4. Half-square fire pit
This half-square cinder block fire pit looks like an indoor fireplace. We love how the pebbles surrounding it add interest. It's the perfect place to sit around on a summer evening while roasting marshmallows.
5. Table centrepiece
Centrepieces are a tricky element when it comes to setting the table. You don't want too many flowers, but you also don't want to stick with boring regular candles.
Here, a mini cinder block creates a centrepiece container full of lemons and a touch of greenery.
6. Box flower vases
Thanks to their hollow structure, cinder blocks make great flower vases. Paint them in bold colours, such as a shade of orange, to make them more attractive.

7. Stacked plant shelf
If you're looking for a dedicated shelf to display your green collection, this is the perfect DIY job for you! This project is easy to put together and, of course, is made from affordable cinder blocks.

8. Vegetable garden fencing
Here's a creative and cost-effective fencing alternative for your vegetable garden. Depending on how you install it, it could be temporary or adjustable to suit your needs.
Add chicken wire to prevent animals from destroying your crops!
9. Garden steps
Whether making temporary or permanent steps, cinder blocks are a functional building material. This idea simply requires backfilling the ground that will serve as the base.
Note: The cinderblock steps should be wide enough to be comfortable to walk up or down.

10. Rotisserie pit BBQ
Talk about the ultimate backyard BBQ! This cinder block rotisserie holds the heat for that smokey sear on burgers or steaks.
It's perfect for grilling and makes for a great BBQ area idea.

11. Garden bar countertop
Thinking of setting up your own pub in the garden? Take the idea one step further by making a bar counter using cinder blocks.
Use other salvaged materials like planks for the table, and you might add a few planters on the sides for decoration.
12. Outdoor fireplace
Build a simple patio fireplace from cinder blocks and a few materials like fire bricks and a lintel. If the space allows, consider adding a grill structure on the side – as seen in the photo below.
13. Firewood rack
You only need two cinder blocks and four planks, and you can store your kindling in a handy holder like this! Even better, it only takes about five minutes to assemble.
Lay the blocks next to each other. Stick the 2×4 planks into the outer opening on all four corners, then lay your kindling in the space in-between.
14. Raised garden bed
There's nothing like growing your own food! And a cinder block raised bed can get you started easily. They're inexpensive, widely available, durable, and allow flexible design.
For one, you can control how high or low you want the bed to be. Fill the space you create with soil and compost and start planting!

15. BBQ station
Unlike the rotisserie pit (see #10), this version involves a built-in BBQ. You could knock out this simple "built-in" look DIY grill station in less than an hour! Use this guide to get the job done!
16. Bug hotel
To attract bees and other beneficial insects into your garden, build a bug hotel using cinderblocks. Fill the holes with deadwood, logs, branches, and twigs. Straw, bark, pine cones, and pieces of bamboo also make a great filling and provide excellent homes for insects. Leave a little bowl of water nearby to keep your visitors hydrated!

17. A patio lounge
Turn your backyard into a 1960s-style lounge with a large seating arrangement. You already know what materials were used for this setup!
Arrange and stack the blocks into a bench-like structure. Then lay with planks or sheets to provide seating. Don't forget to hang some outdoor lighting ideas to set the mood.
18. Mini bird house
You can use half or both of the cinder block's hollow centres. These spots are perfect for creating roomy living spaces for birds to nest.
Add pine boards or acrylic boards to create walls and add a dowel for them to stand on.
19. Porch bench
Adding a cinder block bench on your porch takes a little time to craft. A coat of paint and some fabric cushions will doll up your finished project. This also makes a great spot for putting your shoes on or tying the laces!
20. Retaining wall
Prevent downhill movement in your front garden with a cinder block retaining wall. Grow drought-tolerant plants in the stones there for low-maintenance.
Note: This idea may need a bit of masonry work. If it's your first time, consult an expert.

21. Pumpkin display for fall
Cement blocks could be your next outdoor fall decoration inspiration! Arrange them as you like, mimicking a shelf unit. Add mini pumpkins, winter squash, and some candles for a cool and seasonal decoration!
22. Vertical planter wall
Another clever take on cinder block planters is this vertical planter wall. Perfect for a variety of flowers, this garden wall will also look great on balconies and rooftops.
Note: Avoid planting vegetables, fruits and herbs. Toxic materials found in fly ash can leak from the cinder blocks into the soil and crops.
23. As garden edges
Add a geometric feel to your edging with cinder blocks. Set the blocks in the furrow, keeping the tops visible from above. If the border is near the lawn, separate the edges with a few small rocks to make attractive trimming.
24. Greenhouse foundation
A level and sturdy foundation for the greenhouse to sit on is important. Using cinder blocks, you can provide your outbuilding with a surface to anchor.
A solid base like this can help prevent damage during harsh wind and weather.
25. Hooped protection
The hoops are used as canvas support for a cover cloth that keeps squash bugs off the plants. Meanwhile, the cinder blocks act as posts, supporting the hoops.
This idea is great for protecting tender plants and extending your growing season.
26. A keyhole garden
The idea of a keyhole garden is to have a small pathway into the centre. From the centre point, you should be able to reach either the middle of the bed or all the way across.
This gives you easy access to all your plants, including pesky weeds. And this makes cinder blocks an excellent material choice for this type of design.

27. Decorated with a mosaic
Give your cinder block garden a makeover by decorating each block with a mosaic pattern. Look how these designs add instant elegance to the outdoor space.
Plus, the colour matches the happy little succulents! Simply place the tiles where you want them and use liquid nails or glue to secure them.
28. Stackable with a Zen vibe
This Zen-looking cinder block sculpture will look amazing in your Zen garden setting. If you own a garden yoga studio, add this stackable planter to make a relaxing statement.
The design is also suitable for front porch or balcony corners.
29. Colourful patio end table
Cinder blocks make wonderful creative table bases. Here, the end table is painted in bright blue and yellow colours. Bold shades are great for adding an industrial-chic aesthetic and a happy springtime vibe!
30. A pyramid garden
Like the stacking technique, this concept builds up blocks on top of each other to create a pyramid look. Plant seasonal blooms in the holes for a lovely flower display.
Take advantage of the planting space to create your own dream succulent garden too!
Round-up
We love a good backyard hack, especially one that's simple, functional and affordable. Cinder blocks tick all these boxes, making them one of the best materials to use in gardens.
Among popular DIY projects are flower beds, planters, patio furniture, and decorations. Have fun with these cinder block garden ideas by stacking, adding curves, and then repeating! There's no limit to your creativity!
Shop Garden Furniture