You may be wondering what makes a garden 'English' and how it's different from other landscapes. Like Greek gardens, the English garden holds its own history.
Developed in the 18th century, it's presented as an idealised view of nature. The structure is typically relaxed, whimsical and meandering.
When designing your own, think about clipped hedges, defined edges, and lush lawns. Focus on natural-looking landscapes and paths that connect a series of areas.
To give you more design inspiration, look at our list of English garden ideas and set up your yard in a regal way.
1. Invest in a quality alfresco dining set
English gardens are meant to be savoured with scrumptious food. Enter alfresco dining. But an open-air feast wouldn't be complete without the perfect dining set, such as the Minerva.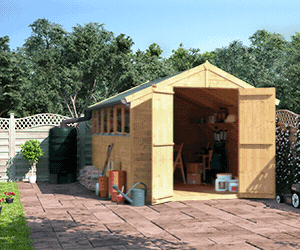 Giving off a rustic charm, the set will look majestic in a romantic, sweeping landscape design.

2. Introduce a variety of blooms
Short or tall, bright or dark colour flowers – place a variety of plants next to one another. A dense mix-and-match greenery display is key to achieving an opulent, magnificent manor.

3. Cover your garden building in foliage
When it comes to the garden rooms exterior, foliage and blooms can give your cabin a 'straight out of a fairy tale' look. All in all, you want your garden to have a whimsical touch, and this approach is a natural way to do it!
4. Brimming window boxes for front yards
Bring a little English charm to your front yard by potting up bursting window boxes. Grow colourful and quaint blossoms and have a thriller, fillers and spillers.
Container garden ideas have been an effective planting method for limited plots.

5. Leave space for meandering paths
Garden paths, no matter the courtyard scheme, always add a lovely touch. To break up your assortment of greenery, lay a path somewhere in the middle.
Not only you'll be afforded an easy route in and out of the space, but it also creates zones in different parts. Even better, with outdoor lighting ideas!

6. Welcome the guests with a gate
A gateway offers a huge visual impact on outdoor spaces. If you don't have a wall to attach to your entrance structure, opt for standalone designs.
Surround the gate with bushes and vines for a lush opening. Check our garden gate ideas for more design inspiration.

7. Keep the hedges well-trimmed
Large, well-trimmed garden hedge ideas are great for diving spaces. Also, for creating paths and walls and separating various parts of your yard.
Well-manicured hedges will give you more areas to fill with plants or space for entertainment.

8. Use unique shapes and clean lines
English gardens are known not only for their floral displays but also for their architectural designs. Apply more unique shapes, such as squares and circles, to create a sense of lively space.
A clean edging also defines spaces and keeps lawns from creeping out, improving the curb appeal.

9. Rosebush
A stunning rose bush is a beautiful pop of colour and will look perfect against a white exterior. It can double as a fence that provides privacy and magical touch.

10. Teapot pot alternatives
A few quirky containers for your flowers, like teapots, can make your garden feel more British. I mean, you can't get much more British than tea!
Vintage kettles also work wonders, and some little teacups for miniature gardening.

11. Secluded seating area
Create a tranquil and private seating retreat within your garden. Surround a cosy bench with lush trees and bushes. This will offer a secluded spot to unwind with a captivating book or enjoy a delightful picnic.
Embrace the serenity of nature and let this intimate seating scene be your haven for leisure.

12. Green and lush
Create a serene and well-groomed garden by encircling the area with trimmed hedges. To add a focal point, arrange a captivating hedge formation in the centre.
Regularly
tend to the hedges, ensuring they stay vibrant and verdant. To do so, provide ample watering for a vibrant display of lush green hues.
13. Think vertically and add climbing vines
Make your patio or shed quintessentially English with a cottage-like feel. Grow climbing vines up the side of the building, such as wisting ivy or draping wisteria. Or consider adding a trellis around the existing structure.

14. A fountain focal point
Elevate your garden with a captivating fountain as a striking centrepiece. Whether it's an elaborate design or a simpler water feature, one can bring an air of grandeur to your garden.
Embodying elegance and opulence, this focal point adds a touch of regality. Ready to transform your humble English yard into a space fit for royalty?

15. Decorative topiaries
Embrace the horticultural artistry of decorative topiaries. A beloved feature in English and royal gardens, indeed! These living sculptures can add a touch of elegance and charm to your outdoor space.
Appreciate the beauty of these
meticulously
pruned and shaped plants. Only then can you transform your outdoor space into a living work of art!

16. Install outdoor lighting for ambience
Determine the areas you want to highlight, such as pathways, trees, or focal points. Opt for lanterns or vintage-style lamps as they suit an English garden setting more. Choose warm white or amber-coloured bulbs to create a classic and cosy atmosphere.

17. Create a cosy fire pit area
Stone or brick designed fire pits go well with this theme. To complete the look, arrange furniture around the pit, such as Adirondack chairs. Place a small table or a sturdy tree stump next to the seating area to hold drinks or snacks.

18. Install a water feature
Consider options like a classic fountain, a pond with a waterfall, or a bubbling urn. Use natural elements like stone, brick, or pebbles to blend the water feature with the setting.
Top tip: Position a bench near the water feature to create a serene space for relaxation.

19. Build a pergola or arbour for shade
You can never go wrong with traditional elements like lattice or curved arches. Climbing plants can also help enhance the visual appeal and add up to the traditional vibe. Make sure to trim and manage any climbing plants or vines growing on the structure!

20. Add a hammock for relaxation
Position the hammock in a shaded area, under a tree or near tall plants. This will provide relief from the sun and create a secluded and tranquil space. Use wide straps or tree-friendly suspension systems to avoid damaging the tree bark.
Enhance comfort with soft pillows, blankets, or cushions in complementary colours and patterns.

(Image Credit: Wallpaper Flare)
21. Use decorative stepping stones for pathways
Natural stone, cobblestone, or mosaic tiles align with the English garden style. Place the stones at regular intervals along the pathway. Or, consider curving the path for a more organic and natural feel. Mix different types of stepping stones or incorporate patterns to add visual interest.

22. Bird feeders for wildlife
Consider tube feeders, platform feeders, or suet feeders to attract a variety of birds. Also, place a bird bath or shallow dish of water nearby for birds to drink and bathe.
Place the feeder and bird bath near trees or shrubs where your feathered friends can perch and feel safe.

23. Hang outdoor artwork or sculptures
This trick adds a unique and artistic touch, enhancing the overall beauty and charm of the space. Outdoor artwork can also interact with the natural elements of your garden. Over time, sculptures may acquire a beautiful patina, blending harmoniously with the surroundings.

24. Plant fruit trees for a fruitful harvest
Fruit trees add that beauty with their blossoms in spring and lush foliage year-round. Even better, they provide a bountiful supply of fresh, homegrown fruits!
By planting them in your English garden, you can also enjoy the joy of nurturing growth.

25. Create a bocce ball or croquet court for outdoor games
A bocce ball or croquet court can be a focal point for social gatherings in your English garden. It provides an opportunity for family and friends to come together, bond, and have fun!
Adding a court for this specific outdoor garden can also enhance the appeal of your yard. It's a worthwhile addition to both relaxation and entertainment.

Round-up
Creating English cottage garden ideas doesn't have to be complicated. Arrange plants in drifts to mimic nature and position them in colour blocks.
Set a breathtaking pond as a focal point, edged with deciduous trees. Display neatly trimmed hedges or topiaries, and build a gazebo or pergola for your garden.
Seating areas, such as ornate stone benches, throughout your yard, also add up to the look. The key here is to have each area beautifully maintained and, in short, a garden that The Queen approves of.