Should outdoor furniture have cushions? Why do you have to cover them?
Garden furniture covers and cushions are must-haves. But they aren't just there for aesthetic purposes.
Outdoor cushions are important as the furniture itself; the same goes for furniture covers. Without padded seating, it'd be uncomfortable to sit on bare rattan garden furniture.
If you want to know how you can prolong the life of your garden furniture with cushions and covers, keep reading.
Key takeaways:
Rattan garden furniture, particularly synthetic rattan, is weatherproof and built to last.
Pairing your rattan set with patio cushions and a cover can increase the usage life of lounge chairs.
Garden furniture cushions can make your outdoor experience more comfortable than ever. Without them, patio chairs just wouldn't be the same.
You can always rely on outdoor furniture covers no matter what the weather. They're affordable, but they offer a lot of protection for chairs and an outdoor sofa.
Cushions and covers can also play an important role in maintaining the shape and condition of outdoor patio furniture.

Garden Furniture Outdoor Cushions
When shopping for garden furniture, chances are your initial thoughts are focused on: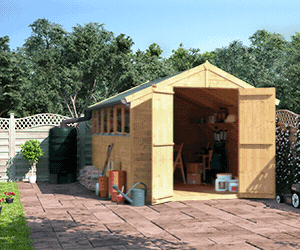 The furniture material itself
The framework
The overall size of the set/piece
While these are great to keep in mind, the furniture's comfort, beauty, and longevity are also determined by cushions. So it's worth giving them some serious thought.
Imagine sitting on bare rattan garden furniture for a prolonged period. Without patio furniture cushions it can be uncomfortable. But it can also indirectly lead to damage.
Rattan furniture without outdoor cushions can be hard and unforgiving. But if you consider placing a cushion or outdoor pillow on top, it could do you the world of good.
For one, outdoor cushions can act as a barrier between the solid surface of the furniture and your body. This can increase your comfort level, enabling you to remain seated for an extended time.
When cushions are placed on the furniture (back and seat), they also can help prevent wear and tear due to daily use of the set. (They're even great against wear and tear caused by fidgeters!).
Granted, spills and stains are easier to clean off of synthetic rattan. But when the spill occurs on the cushion, that's the only component you'll have to clean.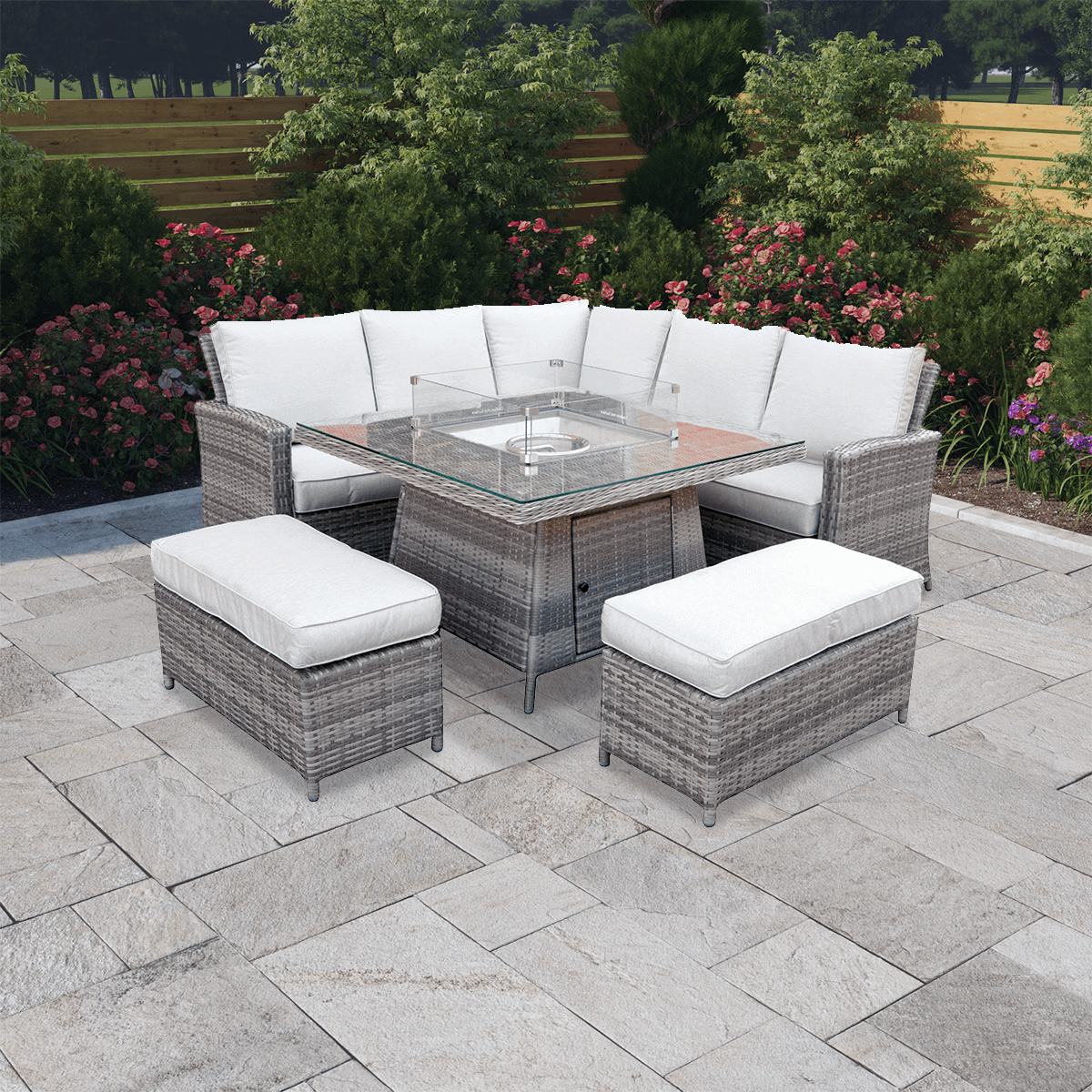 Garden furniture cushions add:
Maximum protection
Comfortable seating
Style to outdoor living spaces
Colourful fabrics can add a statement while enhancing the whole look of the set.
And with grey rattan garden furniture, you can style and blend furniture sets in with your plant and patio design.
Plus, most models already come with cushions for ultimate comfort. That's why our BillyOh Seville is equipped with comfortable and luxurious cushions.
Not only that, but the set includes:
A three-seater sofa
Two armchairs
Stools (all with back and seat cushions included at no added cost)

Other benefits of outdoor furniture cushions
Cushions are mould and mildew-resistant and can be waterproof. This is particularly true if your cushion cover is made from Textilene.
This type of material is a mesh woven made from polyester yarns, coated with PVC. It's waterproof, but it can fade when exposed to high temperatures and UV rays.
All in all, a cushion like this can assure you that it won't be subject to mould and mildew even if it absorbs some water over time.
Outdoor cushion designs
Lastly, cushions are changeable. This means you can change the look of your set and the vibe of your space from season to season.
For instance, in the summertime, brighter and tropical colours are perfect for your cushions. Subtle earth tones, meanwhile, look great in fall.
Garden furniture cushions can be the perfect solution for those who like to change their patio decor every season or for no particular reason at all!

Caring for your garden furniture cushions
A bit of maintenance can make a big difference. Every couple of weeks, you can have a cleaning routine for the cushions.
At least once a year, schedule a deep clean day for the whole set. Of course, it's best to also take care of all garden furniture crevices and covers, that means cleaning glass dining tables, too.
Note: Some cushion fabric is waterproof, but may lose shape and colour over time. With a furniture cover, even your cushions are well protected.
Our article about How to Clean Rattan Furniture is a perfect read for more rattan garden furniture cleaning tips.

Garden Furniture Covers
One of the more frequently asked questions we get is if it's necessary to put covers on their garden furniture. Our answer is simple, and it's always a yes.
Even if you own synthetic rattan furniture, which has great weatherproof qualities, it's best to cover it against the elements. But why?
Good quality garden rattan furniture doesn't necessarily need covering, especially in the winter. Thanks to the higher grade polyethene weave, the furniture is resistant to rain and frost.
But dust, fallen leaves, as well as snow and frost, can leave dirt and stain your set. It also can be a hassle to wipe down the furniture after rain.
Plus, if you want your furniture looking pristine for longer, we recommend keeping it covered. So if you own natural rattan or aluminium garden furniture without protective covers it can cause problems.
Everyone loves cushions! Credit: Unsplash
Unfortunately, genuine rattan furniture can't withstand extreme temperatures. In fact, it's not ideal for outdoor use; it's best to use it indoors or on a covered patio (or in hot, drier climates).
Metal sets are susceptible to rust and corrosion, too – unless buying a powder-coated aluminium set. But let's suppose you're storing furniture in your shed for the winter.
Adding garden furniture covers can keep your set dust-free. At the same time, they can add a protective layer against potential dampness.
Most importantly, your furniture pieces won't need to be cleaned when brought out again for the next season.
Covers can come in a range of sizes. They also can be specifically designed or custom made to fit your furniture.
If you're currently on the hunt for the best garden furniture covers on the market, look no further than the BillyOh Deluxe PE Cover.
Made from PE, this cover is guaranteed waterproof and UV-resistant. Not only that, but it can also help extend the lifespan of your set, ensuring its good shape lasts for years.
Other features include:
Made from durable woven polyethene
100% waterproof
UV-resistant
Rust-proof eyelets for a secure fit

Garden Furniture Covers: Things to Consider
1. Water resistant vs waterproof fabric
Not all garden furniture covers are waterproof. Some are water-resistant, which isn't quite waterproof.
Water-resistant cushion material means it's repellent. This means it's sufficient for repelling light rainfall.
Meanwhile, waterproof means the water won't penetrate the cover at all. This means that when moisture lands on the material, it won't absorb it.
It will keep the damp on the surface until it dries or slakes off, shielding the material and the furniture. Yet, the material can lose its breathability.
This can cause moisture and mildew underneath the cover. But if you check the condition from time to time, this shouldn't cause a problem.
2. Covers should be UV-stabilised
The sun and its harmful UV rays are one of the worst enemies of your garden furniture. Even when your set is under covers, UV radiation can cause fading, rusting and discolouration.
If you own synthetic rattan sets, this won't be a big deal. But it could be if you have natural rattan and metal furniture pieces.
But high-quality garden furniture covers have thicker material, blocking out any damaging rays from the sun. So look for a cover that's UV stabilised and has thick and durable material.
3. Check if the covers have vents
When covers don't have any vents, this creates a breeding ground for mildew and humidity. Luckily for you, there are loads on the market that have built-in vents.
This feature is great for allowing air to circulate under the cover. Plus, it's crucial for covers because, without ventilation, it could damage your set.
Round-up
It turns out that garden furniture cushions and covers can provide more than just aesthetics. They can increase your comfort level and protect your garden furniture, which is a major plus!
They can protect your furniture against wear and tear, including stains and scratches.
Garden furniture covers work wonders not only for shielding your outdoor pieces from harsh elements but also for keeping them dust-free. We hope this article answers your questions and you can check out our range of rattan garden furniture with cushions via the button below!
Shop Rattan Garden Furniture
FAQs