New bathing trends have been popping up, and this is a sign for you to jump on the hot tub sheds bandwagon!
The concept of the outdoor hot tub is one of the biggest hypes in garden trends 2021. So you know we had to help you out with the best hot tub ideas.
So whether you're looking for a gazebo or pergola to cover one, or you want to install a log cabin or shed to act as a changing room – we've got you covered.
There are a few considerations we thought would be helpful for you to know, though. So use this guide, and let's see how you can pull off this concept in your own backyard.
Key takeaways:
The versatility of a garden shed, log cabin, or summer house make it easy to see why some homeowners want to add a hot tub into the mix.
Having your own garden building lets you experience a hot tub holiday in the comfort of your yard!
You can also add an oasis of enjoyment and relaxation with BBQs and rattan outdoor furniture. The hot tub is just the jumping-off point!

Taking a Romantic Retreat in Hot Tub Cabins
Soaking in a luxurious outdoor hot tub in the comfort of your garden is a real luxury. Hot tub lodges are ideal for making the most of your time outdoors while drinking or relaxing near a fire pit with a view of the sunset or the night sky.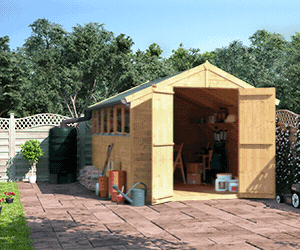 Basically, it allows you to maximise on summer nights (and beyond) with friends and family, with the use of your steam bath or Jacuzzi. So other than a log cabin, which garden building could you use in conjunction with a hot tub?
Luckily for you, there are a few great options to choose from here at BillyOh. Of course, the first one is a log cabin, which is a common choice.

Luxury log cabin
Our garden cabins are one of our best-selling products. Whether you have a small tropical garden or a long modern courtyard, you can find your dream outdoor room here!
A multi-room log cabin, such as the BillyOh Cove, allows you to create two separate and unique spaces. You could set up the first room for relaxing and entertaining guests and the other one for your Jacuzzi.
A luxury log cabin would also be pleasant to use in the winter months, especially when it's insulated. You can maximise the space and enjoy a warm steam bath during the colder months.

Garden summer house
Many think that summer houses can only be used during the warm season. Little did they know that a summer house can be as versatile as a garden shed or log cabin.
With the right set-up, you can enjoy hot tub breaks during the weekends or any time of the year in a summer house! Put up a lovely airy curtain, make the room as comfy and cosy as possible, and voila – you can have a romantic retreat.
A nice Pent design like the BillyOh Bella might be just the right structure for your garden. One of the many features that we like about this one is the wide double doors – great for dashing in and out to grab a towel!
Paired with long windows, the double doors provide ease of access in and out of the summerhouse. This is primarily a great perk if you want a changing room for your outdoor hot tub.
And if you don't own a pool, a hot tub will do the job. And thanks to the Bella's plentiful windows, you can open them to let in the breeze on a warm summer day.
Most importantly, you won't have to worry about the harsh UV rays of the sun while soaking. It's also a great option if you're looking for a unit that's a bit bigger than your average garden shed.

Garden shed
A shed is a quintessential feature of any British back garden. And here at BillyOh, we understand the importance of a garden shed that you can depend on all year round.
So whether you plan to use it as a storage unit, a home office, man cave or hot tub retreat, we have a unit that's bound to be suited to you! Just take the BillyOh Expert with dual entrance for example.
With its customisable sizes and two sets of double doors for ease of access, there's enough room for you to potentially place a tub. It also features raised headroom, giving you the ultimate space.
Storage cabins are also well suited if you have a small tub. Simply open the doors when in use to let the fresh air in and enjoy the view of your yard for ultimate garden leisure.
What Makes a Garden Building Suitable for Including a Hot Tub In?
There are a few things you should keep in mind before installing a hot tub in or outside of your luxury hot cabin.

1. The weight of the hot tub
The hot tub itself will probably be heavy, so it needs to sit on solid concrete slabs to hold out the weight. And don't forget the considerable heaviness when the water is finally added.
It'll be much heavier; thus, so you need to ensure your outbuilding has a solid base to hold it.

2. Ventilation
If you intend to use your tub lodge all year round, consider adding ventilation. It'd be pleasant if you could use it during the colder months.
Another possible solution here is opting for a fully insulated unit. Usually, an insulated garden room comes with double-glazed windows and an insulated roof, floor, and walls.
The perfect sample for this one is the BillyOh Outpost building. With EcoQuilt insulation in the roof, floor and walls and thick double-glazing, this luxury log cabin stays warm in winter and cool in the summer! And it's less likely to sweat from condensation.
Note: If no ventilation exists, the wooden structure will rot over time. A pressure-treated cabin or shed will also help ensure none of the moisture gets in and causes rot.
The need for proper and regular ventilation can't be underestimated.

3. Ample space available
Your garden building should also be able to house a tub with enough space around it. Check the measurement of the hot tub you want and check the clearance needs in each case.
See if the hot tub will fit into the building once it's built. Keep this in mind when you opt for any new outdoor structure – whether it's for tools or office equipment.
Just make sure the building is big enough, and everything should work fine.
Top tip: If you're building the log cabin yourself get the hot tub delivered right away. After creating the base and some of the cabin walls, place the tub in before installing the rest of the structure (like the room) around it.

4. Decide where you want to place the tub: inside or outside?
Think of how you want your tub lodge to look like. Do you want it to be inside or outside of the cabin? And is either even feasible?
If you want it inside, you'll be able to enjoy your tub lodge throughout the year, regardless of the weather. Whether it's sunny, raining, or even snowing, you can have a spa experience.
But if you decide to have your tub outside, that can work too! This will allow you to enjoy your garden, especially during those cool evenings.
The only downside is that there will be a threat from the weather. This is especially a risk if your outdoor hot tub isn't covered.
But the good news is there's a solution to this problem. And that's installing a canopy to the side of your garden room. 
This will give you and your tub protection against the elements and harsh weather conditions. You could also opt for a retractable cover, such as a large garden parasol.
5. Planning permission
As with other garden buildings, sheds are also subject to planning permission regulations. So before you get excited about erecting the tub lodge in your yard, it's always best to research the necessary planning provisions and building regulations in your area.
This is a great practice for you to know if you're able to install or build a shed, let alone with a hot tub, in your garden with or without a permit.
What You Can Do With Your Luxury Log Cabin
There are a variety of ways to ensure you're enjoying your luxury log cabin to the fullest. Check out below some of the designs so you can deliver the best tub lodge that works for you!
1. Hot tub gazebos
Perhaps you're thinking of combining your outdoor tub with a gazebo. The process can be a bit challenging as gazebos are free-standing.
This means it won't be easy to integrate a shower or a warm changing area for your hot tub. But if you're really keen to combine the luxury of your tub lodge with the elegance of a gazebo, here's a video tutorial, courtesy of Hampshire Garden Structures.
2. Tub lodge with a canopy cover
When you can't decide where to install your tub, adding a canopy cover makes an excellent solution. This can protect your tub from the weather, as well as provide a shield against the harsh sun.
Not only that, but also you can have a shaded spot where you can enjoy the open air of your garden. Don't worry about when the weather is less friendly; you can still relish a good soaking in the cover.
And speaking of garden shade, you might want to look at these 15 ideas for garden shade structures.
3. Garden spas
Why not combine your hot tub and garden building and go the whole hog? Turn the two into your very own spa at the bottom of the garden. And get a good excuse to be waited on hand and foot, to boot!
Top tip: For a customised garden room, make sure the structure can be up to 30 square metres in the area to accommodate your spa. This should be more than enough to fit any size of the Jacuzzi inside.
What are hot tub lodge covers for?
As much as we want to enjoy our outdoor bath, we don't want to get sunburnt. And other issues like having to clean out fallen leaves in the tub can also be a tedious job.
Hence why many people find hot tub covers very helpful, especially for those who have theirs outside. You can either buy a simple cover, install a canopy, or look for a gazebo that can be used for a tub cover.
Another alternative to gazebos is wooden pergolas. A pergola may be small, but a 3m x 3m size is enough to provide plenty of room for most hot tubs.
And if you want to gain some privacy and peace of mind, you might want to check out these garden gate ideas.
The Bottom Line
Keep in mind that not all garden buildings are suitable for hot tubs. Some units aren't capable of carrying a Jacuzzi's weight.
So we recommend using this guide in case you're planning to add a tub lodge to your own backyard space soon.
Whether you're using a log cabin, a shed, or a summer house, you'll want to make sure the tub is installed on concrete slabs to function well. They tend to be really heavy, too, not to mention that ventilation is a must, as well!
Take note of the space available, be it inside or outside of your outbuilding. And most importantly, don't overlook the importance of building permits.
Shop Summer Houses
FAQs