The best part about container gardens is you can plant anything. It can be plants for stress relief or you can even create your own little fairy garden in them.
Perfect for beginners, planters are low-maintenance and even creating one is fun! Discover ways to make unique planters with our curated garden planter ideas.
Spoiler alert: you can even make one using upcycled furniture pieces!
1. The ladder method
Tiered garden planters are a great choice if you have a small yard or balcony. The space-saving ladder-like design keeps the plants at arm's length.
You can make one from scratch using cedar wood or re-purpose your old wooden step ladder if you have any.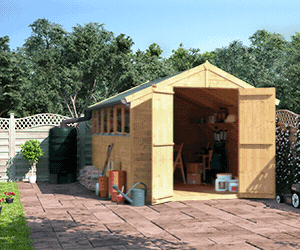 2. House number planter box
Simple, yet a genius way to introduce more plants to your space! Simply, upgrade the look of your house number and make a cool display of it by adding some foliage. What a lovely accessory to pair with some fun garden gate ideas.
3. Antique bannister wall
This DIY wall planter is cheaper and easier to create than it looks; trust us! Using old bannisters, attach planter hooks and fill the planters with chosen plants. Or even opt for cement plants to have a go at this fun project.
4. Lattice style
Elevate the look of your planter box with lattice patterns. Use cedar and stock lumber to build a tall privacy planter box. Skip the painting part to let its rustic character shine.
5. Wood raised with trellis
Simple yet functional, this farmhouse-style raised planter has room for all your plants. The trellis is a bonus as it offers space for ones that like to climb.

6. Made from a suitcase
An excellent way to make use of an old trunk is by turning it into a windowsill wonderland! Fill it with soil and thriving succulents (or any plants you love) to finish the look.
A small suitcase like this also makes a perfect home for compost!

7. Plastic bottle in vertical
The design is made by mounting matching painted bottles to a wooden beam. Cut openings lengthwise in the bottles and holes for strings or hooks. Don't forget the bottom for drainage and irrigation for the plants.

8. Strawberry tower made from buckets
Incorporating edible plants in your humble garden is a great way to use your space sustainably. Have a look at this strawberry tower made from nursery buckets. It's a tower of stacked gallon plastic nursery pots with drain holes on the bottom.
9. End table planter
This clever end table does there great uses. Use this idea to grow insect-repelling plants or herbs for cooking and cocktails. Utilise the side table for resting your half-finished beverage or other knick-knacks.
And a bonus: The flower box can be switched for an ice bucket to keep drinks cold while you relax in the sun.
10. Wine barrel
There's no more appropriate container in a garden than this wine barrel for wine lovers! Complete the look with your choice of perennial plants. What a nice way to combine the beauty of aged wood with the charm of nature, indeed!

11. Pots on pallets
Give your rosemary and basil a new home with these creative pots on a pallet planter. Attach the clay pots with nails and stainless steel cable ties to execute a living art display. Just remember to space out the pots, so your plants have room to grow.

12. Succulents on shutters
Take a cue from this artful arrangement of sprouting succulents in painted shutters. Old or new, lean the shutters against your bare garden or patio wall. Fill the slots with hearty plants – make sure to place them on the shady side to help them thrive for longer.
13. Macramé
Giving off a Bohemian vibe, small plants look divine suspended in a macramé planter. A creative way to maximise green space, particularly for small gardens. Opt for broad-leafed plants for a tropical feel or small leaves for more whimsy.

14. Wheelbarrow fairy garden
One of the best fairy garden ideas you can find on the web is this repurposed wheelbarrow! Add a fresh lick of paint to match it to your garden's exterior. Or leave it as it is for rustic charm.

15. Canvas shoe organiser
Hang an old shoe canvas organiser on a fence or wall and fill the compartments with dirt and plants. Voila – you just made your own hanging planter! A perfect container planting method for a small balcony garden.

16. Birdbath to planter
If you have an old and broken birdbath, give it a second chance to redeem its place in your garden. This time, try planting succulents in it! Instead of water, add pebbles to the soil to hold moisture for plants.

17. Wine bottle
If you have a great number of wine bottles in your wine racks, turn them into a vertical planter! Safely remove the bottom part and mount it upside onto a board or wall.
Or attach some sturdy strings or wires to hang them. Fill each bottle with your favourite small plants and enjoy!

18. Vintage teapot
Got a few old teapots that need to be jazzed up? Vintage teapot planters are the answer! Create a series of smaller container gardens on a rustic ladder. Next, find the perfect spot in your yard next to it for tea time.

19. Old toolbox
Basically, anything deep enough to house soil and a plant can be planters. A toolbox is a great example of; there's no need for major touch-ups. Drill holes at the bottom for drainage and start growing!

20. Hanging waggon wheel
This design aims to refurbish old waggon wheel rims, attach a hook and hang a planter inside. A stunning spherical display, indeed, that would look amazing in retro garden settings.
Round-up
Whether your garden is large or small, you can never go wrong with garden planters. Creative, cost-effective, and space-savers – our list of ideas is worth trying for.
So do you have an old desk, dresser, or chair you don't know what to do with? Add potting soil and plant your favourite flower for a unique porch decoration. And if you want to maximise your small yard space, try one of the hanging containers to save space. Stone or wood materials also offer a more rustic-looking space.
We hope you'll find inspiration to adapt things you have on hand and create the right plantings of your own!
Shop Rattan Garden Furniture
FAQs