For plots with vertical spaces, tiered garden designs are a great way to add intrigue and character to the yard. Tiers are also a must-have for defining zones and elevating your garden.
What's more, a multi-levelled design outdoor space makes a tremendous impact. And for homes built on hills, a tiered garden will not only make the plot more usable, but it also can increase the value of your property!
For one, you can have more space for a patio with furniture, pool, BBQ, or an extended outdoor living space area.
So, if you're on the lookout for amazing tiered garden ideas, we've got you covered! Level up your backyard and put your vertical space to good use. Get inspired with these cool design inspirations from the web.
Let's get started with the list!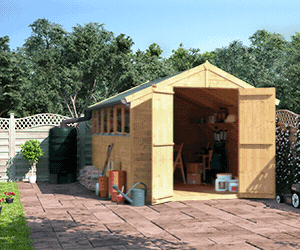 1. Industrial gabion
Rock gabion walls have added a major dose of textural interest to the landscape of this tiered garden. If you have an industrial themed backyard, this rock really works for spaces with steps.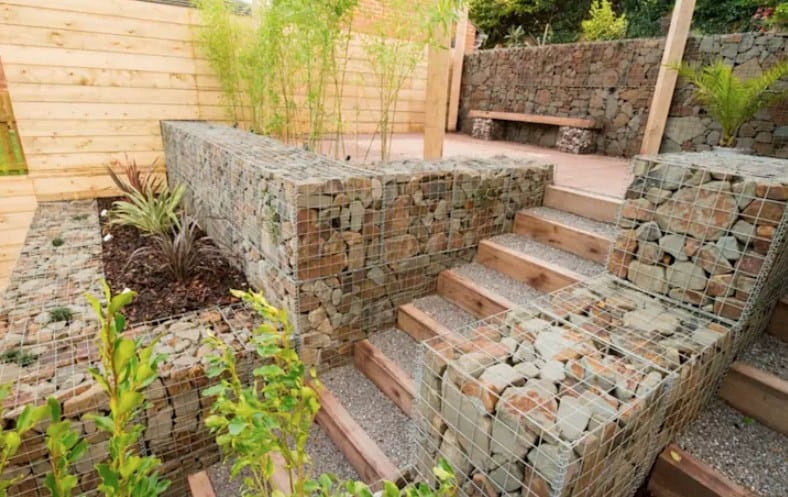 2. Several tiers on a sloped property
Multiple tiers on a sloped garden can help manage erosion. This also gives you the opportunity to layer different plants and landscaping elements.
Whether you use stone pavers or concrete to form the tiers, they'll make a dramatic impact.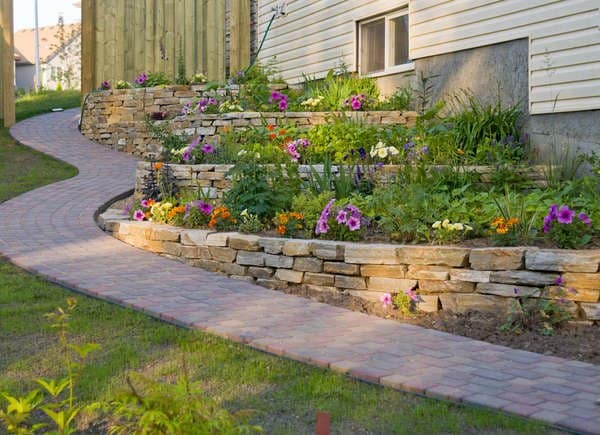 3. Wood rustic edge
Give multi-levelled beds an organic look and go for wood to add a rustic charm. Multi-levelled flowerbeds boarded with wooden edges feel laid-back, rustic, and organic.
This is great if you're after a more natural vibe for your garden.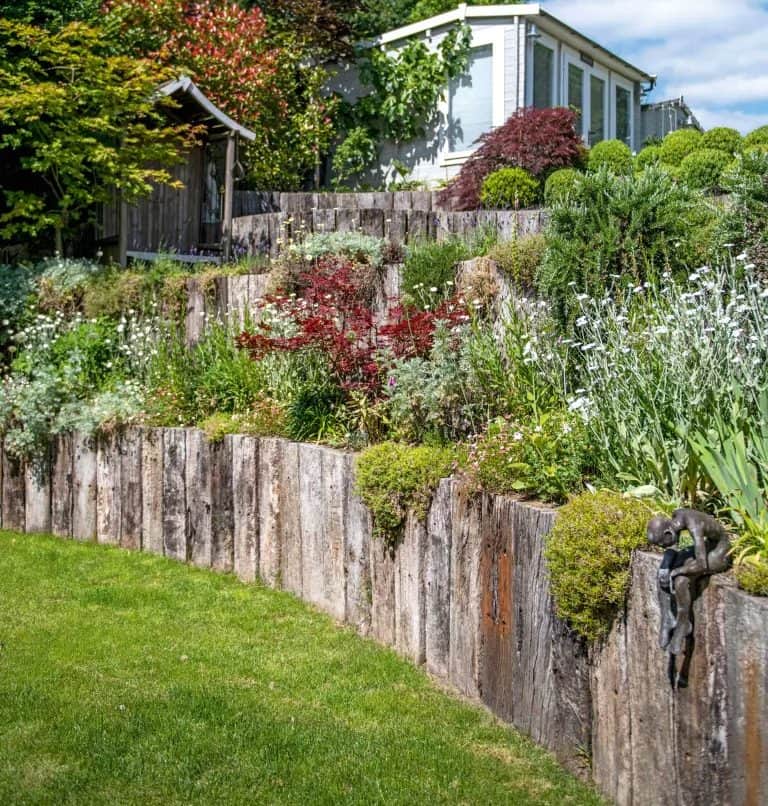 4. Multi level space for diversion
A tiered garden concept like this can help you see the potential of unused zones in your backyard. Set up the outdoor dining area in the first level, the pool in the middle, and the sun loungers with a pergola at the top.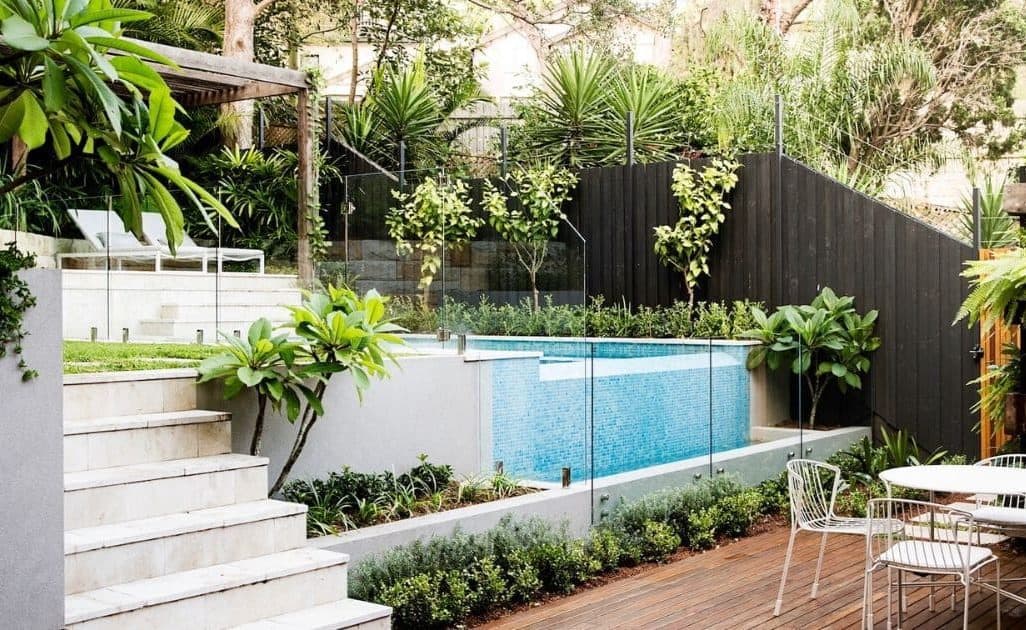 5. Uneven sloped backyard
The unevenness of a sloped plot is actually what makes it an asset! Take a look at this garden as an example; the homeowners were able to make the most out of those slopes and hills.
It gives the impression of flow and movement.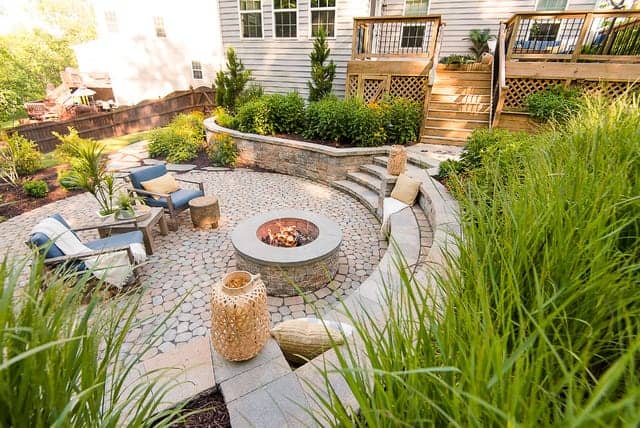 6. Opportunities for growing garden
A simple tiered garden setup like this can offer a lot of opportunities for growing greens. You're not limited to using the ground to plant your blooms.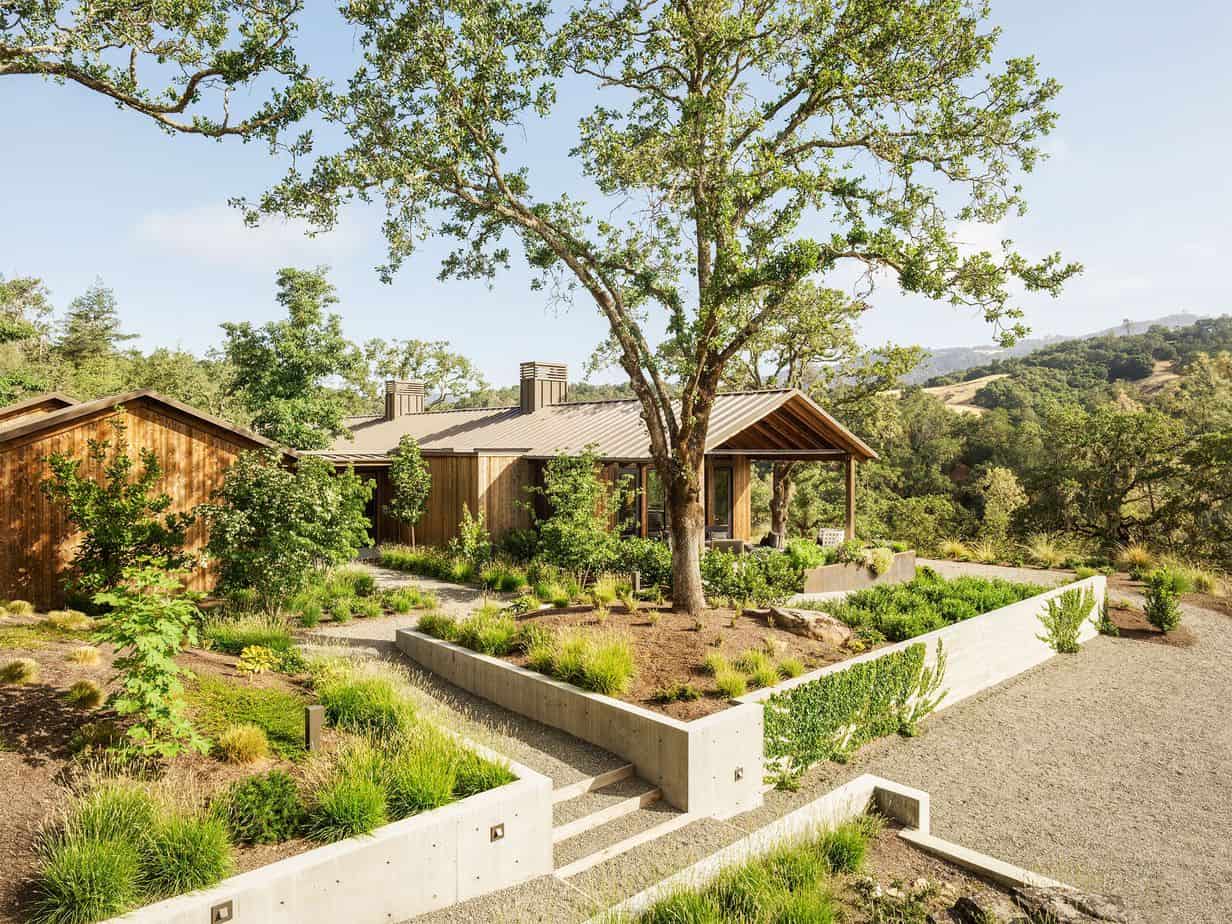 7. The contemporary landscape
The grey wooden decking and stairs with LED lighting are the highlight of this modern multi-level outdoor space. Surround the edges with plant materials, such as round bushes, to complete the look.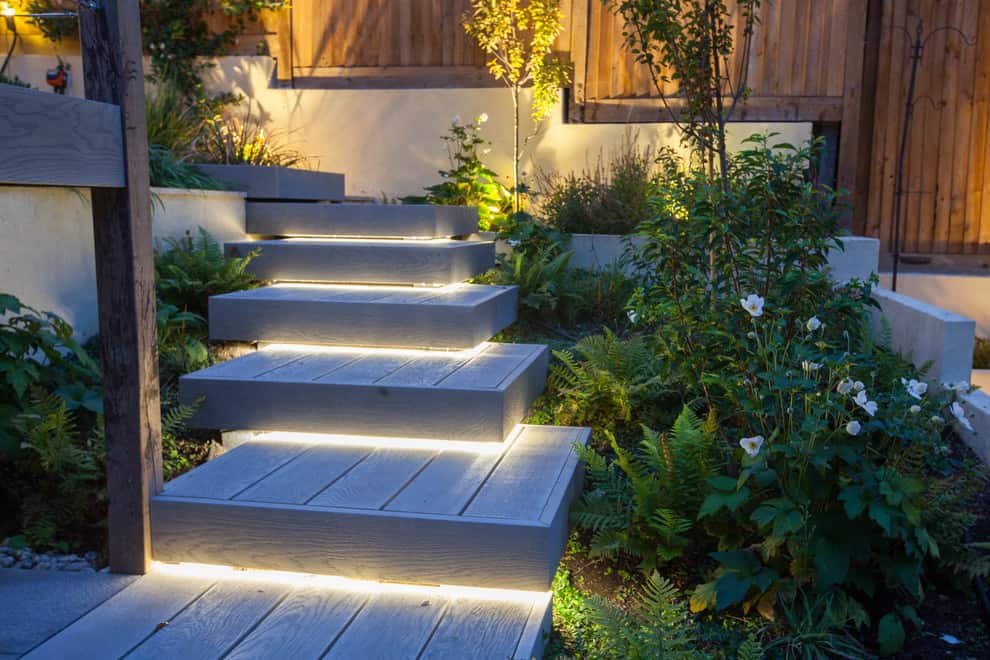 8. Play with boulder rocks
Boulder rocks complement the natural surroundings and it works well with casual or country homes. The playful rock concept in this tiered yard can reflect a cleaner and more modern look.
Tip: Design a stairway if your tiers run the full width of your yard.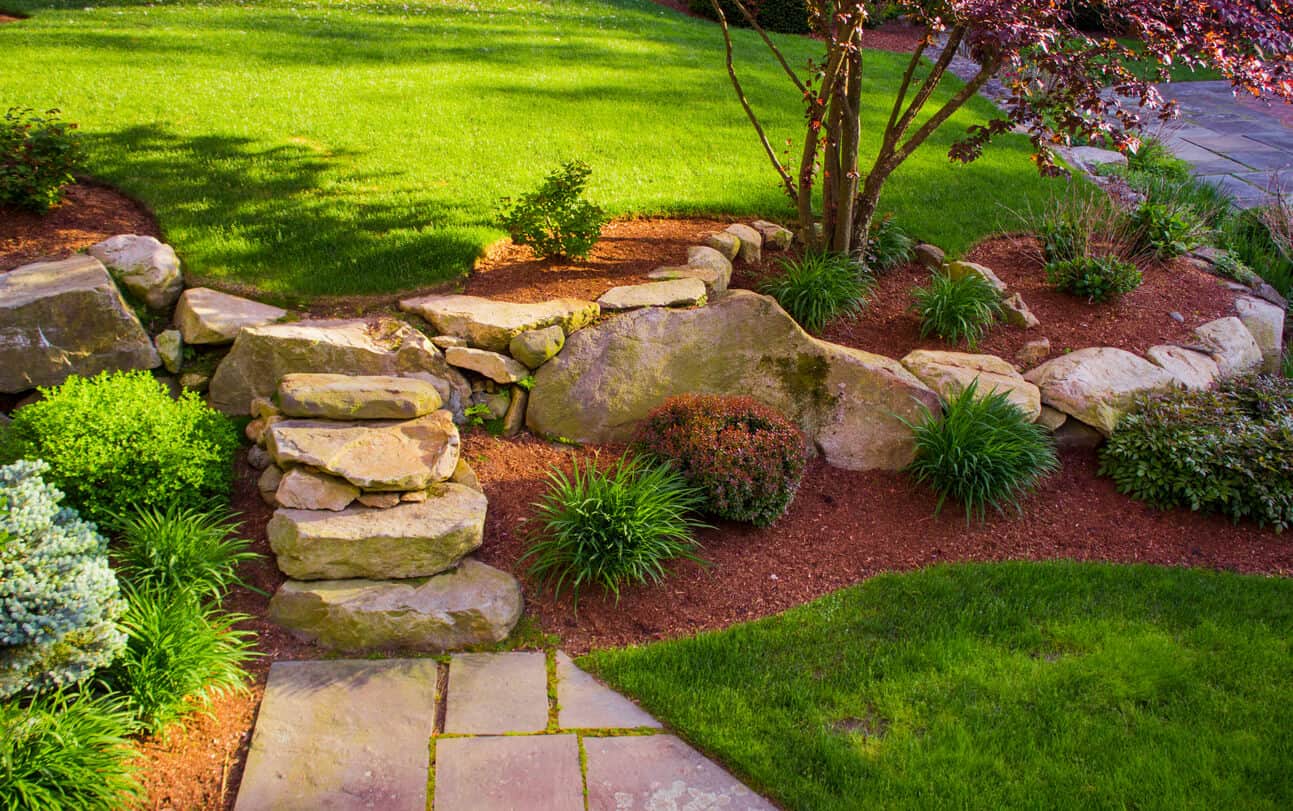 9. Go for sleek paving
If you want a contemporary style for your multi-levelled space, this concept might be your best bet! Incorporate your ideal garden paving ideas into your levels and create a cohesive finish to achieve a polished and fuss-free look.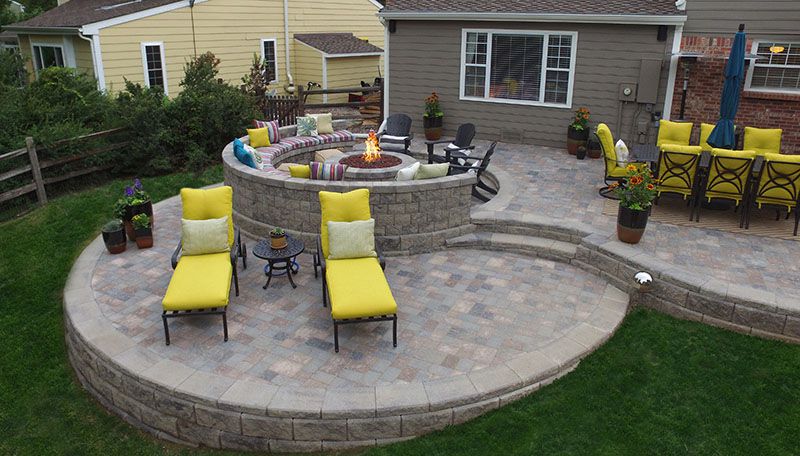 10. Multi-levelled secret garden hideaway
A hidden seating spot adds a sense of discovery to this outdoor space. Thanks to this house's tiered plot, it created a sense of intrigue in the garden, breaking up the line of sight.
The wide stone steps then reveal a space for a cosy nook.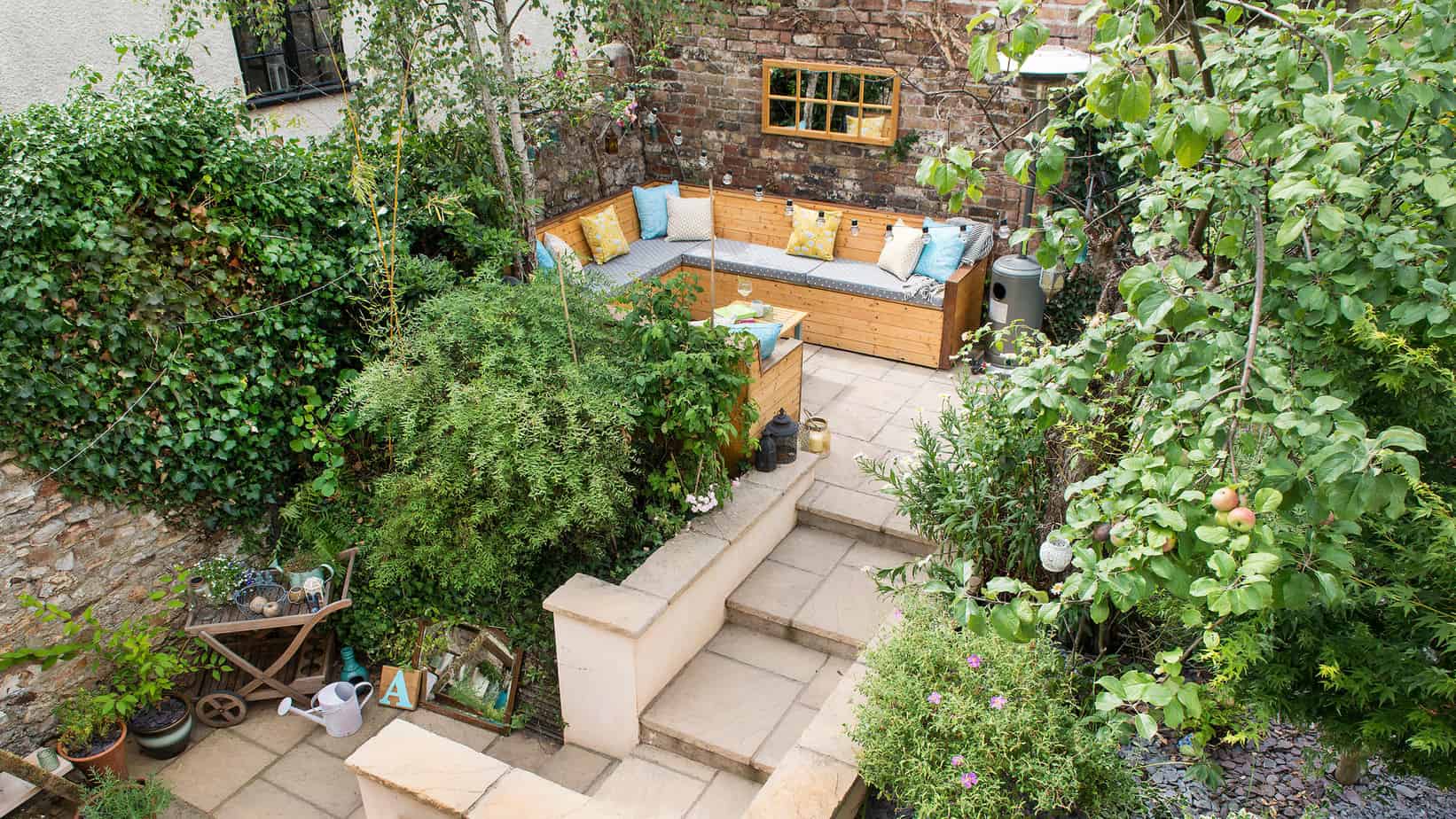 11. Modern landscaping with planters and grass on different levels
Having planters and grass all on different levels looks amazing. Adding water features and LED lighting would look magnificent – just like in this modern garden landscape.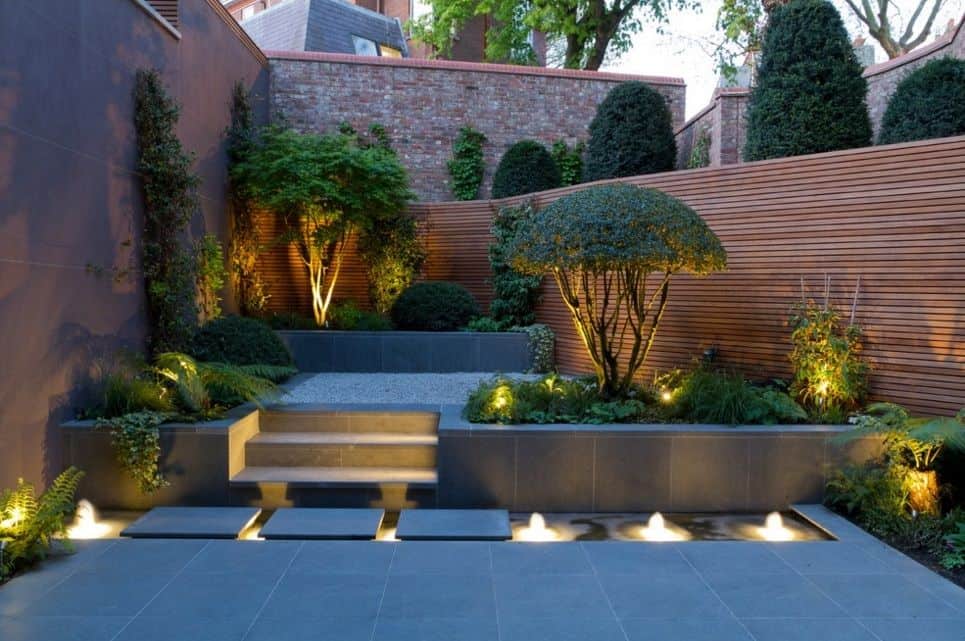 12. Incorporate a waterfall
There are tons of garden water feature ideas available out there and this one is one of our favourites! The owners of this tropical yard used the height of their hill to create a sensational waterfall.
This is great if you want to have your own private oasis.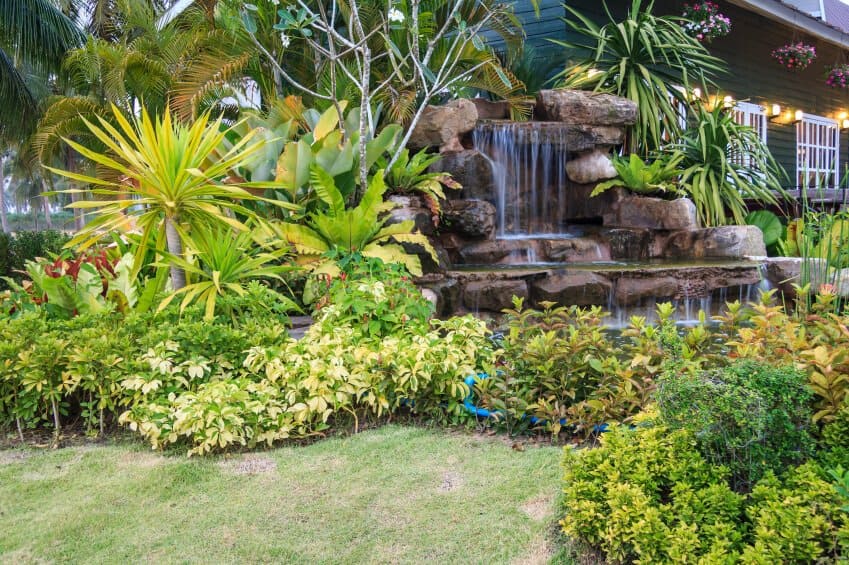 13. Level up your decking
Add multi-functional steps to your deck as part of your tiered garden idea; just take inspiration from this. Decking is often used to raise outdoor furniture off the ground, but this versatile landscaping feature created more tiers than just one.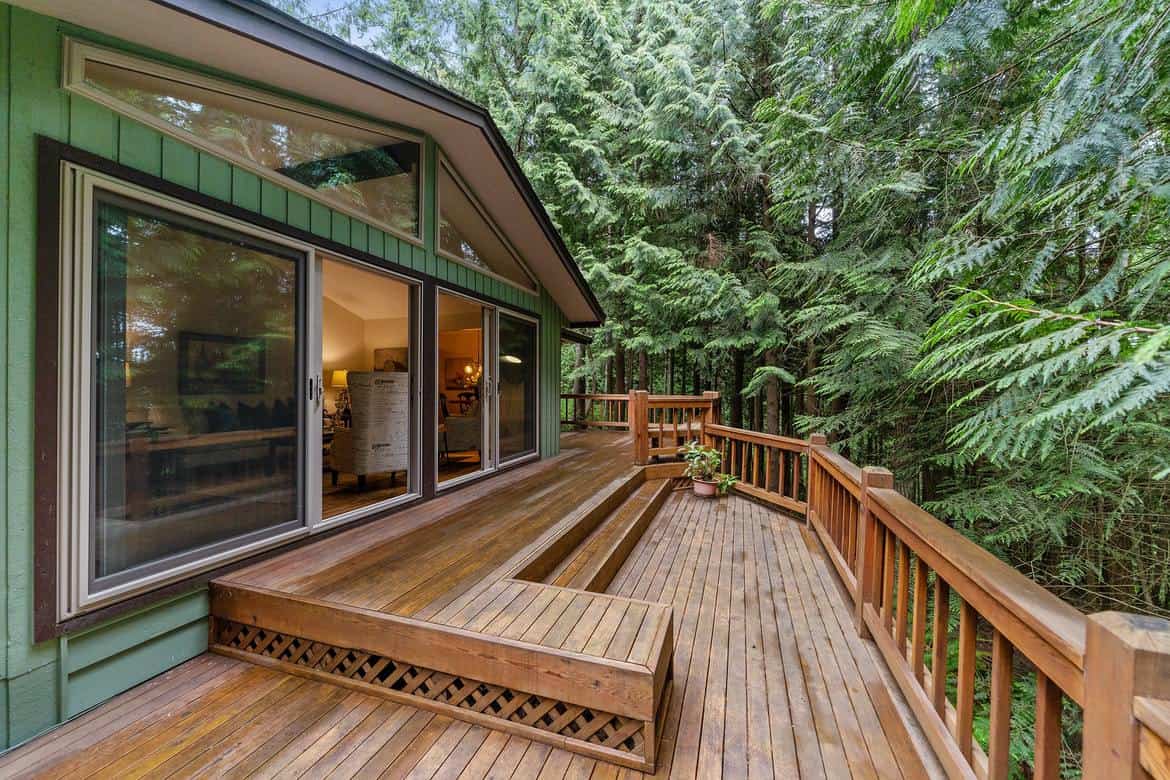 14. Tiered retaining wall
A retaining wall like this can make a sloping property more functional. It gives the opportunity to create a dedicated planting area behind and along the wall.
Plus, it reclaims a part of the yard for an expanse of grass on level ground.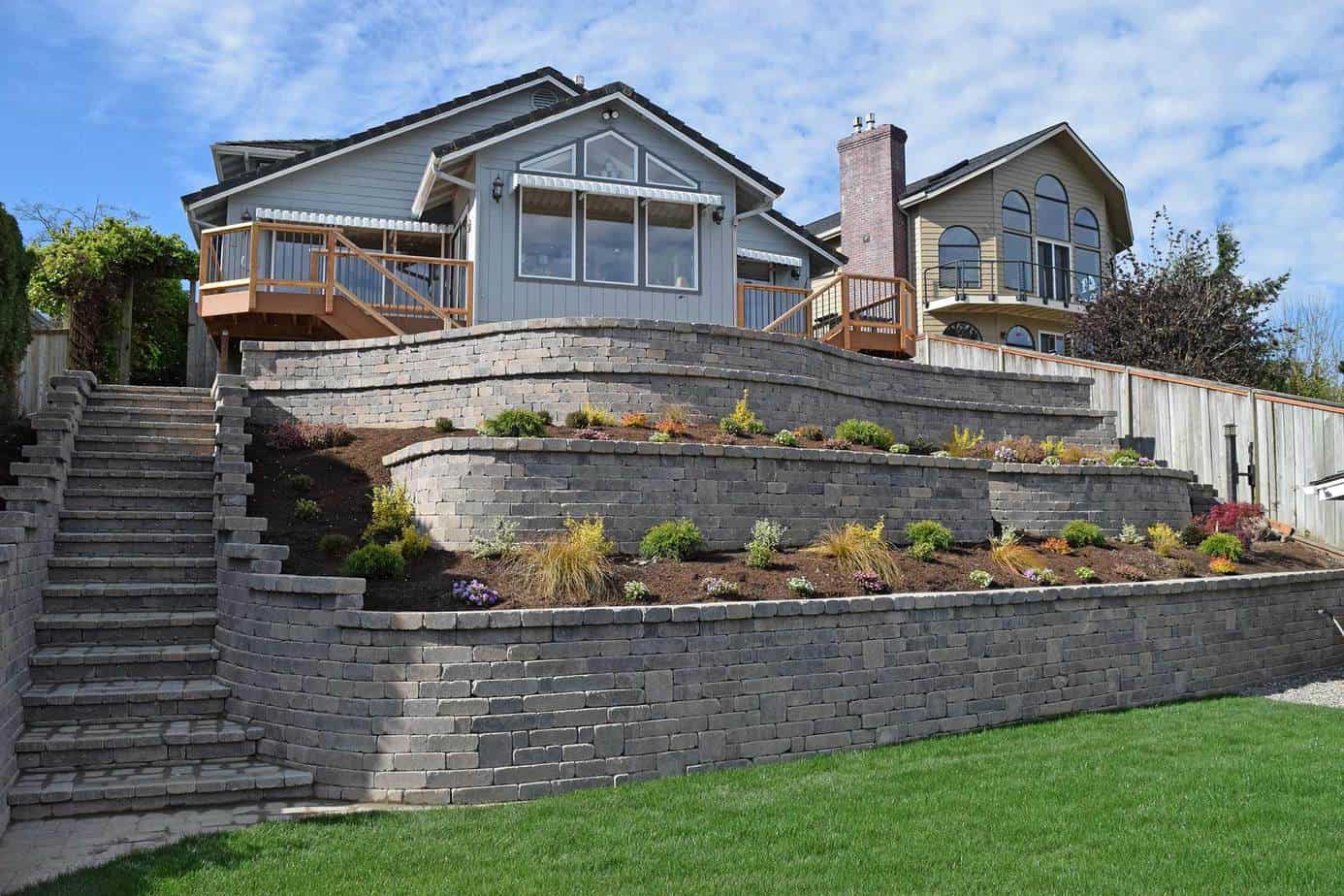 15. Give your pool its own level
For you to achieve a great outdoor space, just model your space on this garden. A swimming pool incorporated into a tiered garden gives a whole new meaning tof luxe, taking your outdoor entertaining to the next level.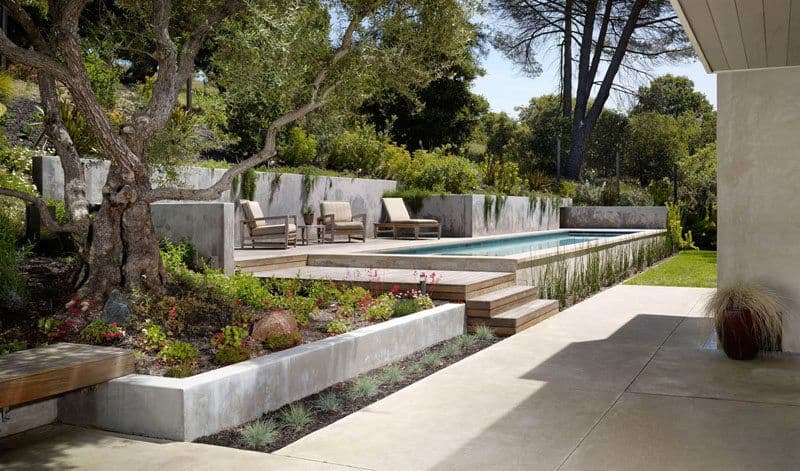 16. Front yard hill landscape
Levelling a garden in the front of your house can make a striking first impression. This front yard features modern linear designs, bringing something new not only to the garden but to the overall property.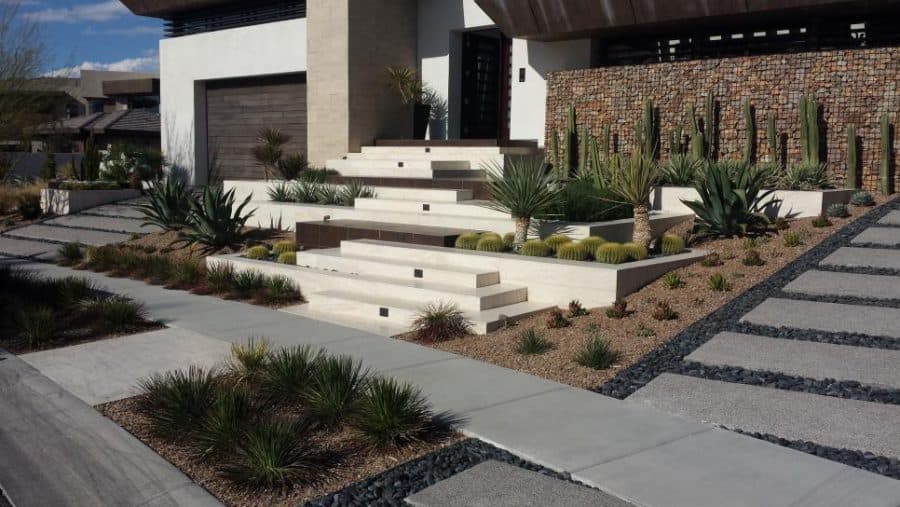 17. Sink it down
A sunken pool will always be chic, and this luxury villa proves it! A sunken design like this offers a sense of privacy from the house with a luxurious, spa-like vibe.
Surround with pale, rendered walls and add a bench for a contemporary twist.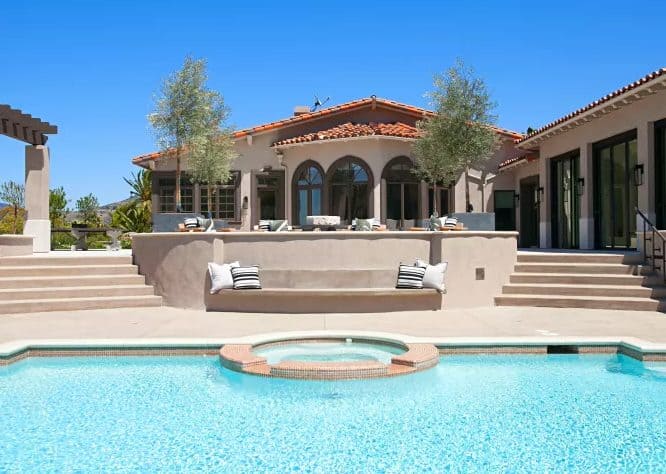 18. Devise a fire pit destination
No multi-level garden is complete with a fire pit area; it makes the yard even more functional, especially in the colder months. A simple style like this is sure enough to draw guests through your yard and make the most of it into the late evenings!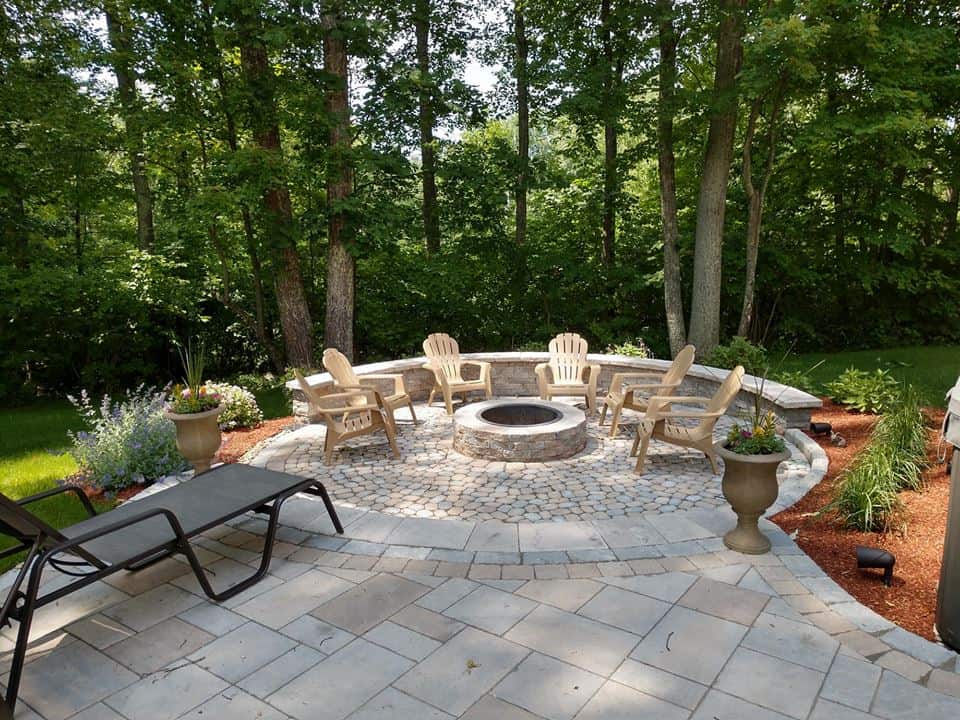 19. Steps lined with modern planters
Have a look at these steps in tones of grey, contrasting beautifully against bright green ferns and grasses. The clever design features keep the look light and modern.
The white walls help bounce light around the area, making the space feel larger.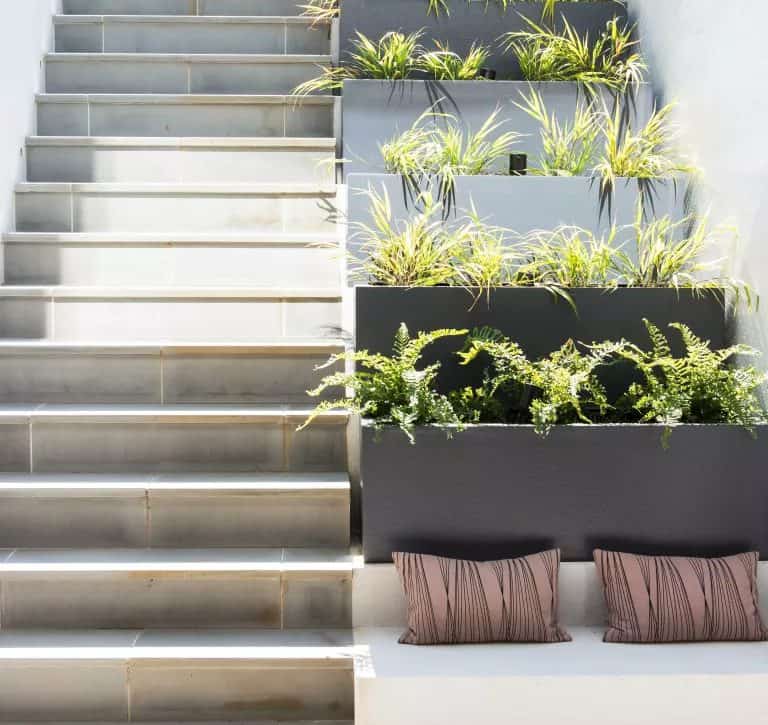 20. Disguise a slope with shrubs
If you're looking for a natural way to hide your plain sloped area, this might be the perfect solution for you! Soften the boundaries with shrubs and other planting material.
Try a few design tricks to keep the look cohesive. Or transform your space into something like this.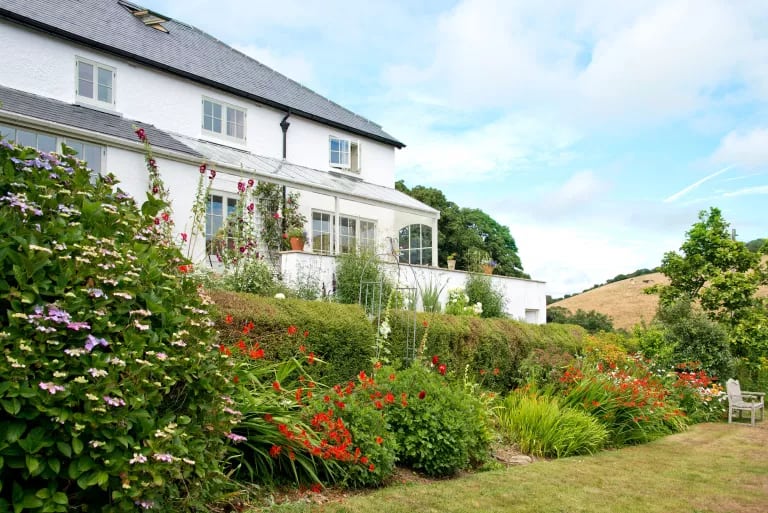 21. Define it with an arch or entrance
Sculptural elements are perfect for adding a creative touch to any backyard setting. In this photo, the designer of this space used a rusted steel circle instead of a classic trellis to create an entryway to a garden.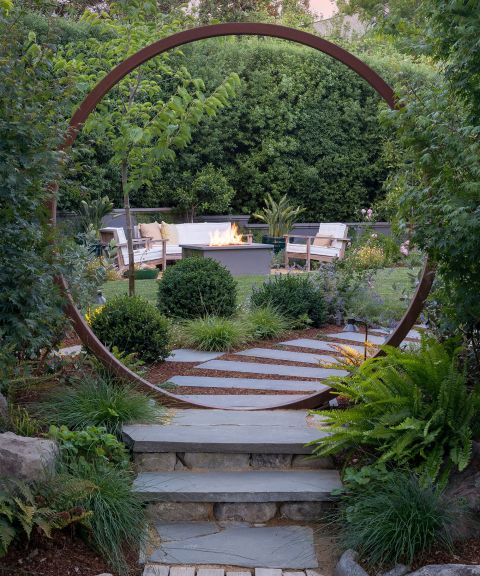 22. Create a focal point
Whether you use your backyard for entertaining, as an outdoor kitchen, or for your gardening, don't be afraid to go bold. Add something monumental and create a focal point in your yard space.
Take a cue from this monolithic fire pit; it divides the backyard into different sections.
23. Add a source of shade
For you to enjoy your space, especially in the summer, it's important that your lounging or reading nook area has enough shade. You need to protect yourself against the harsh UV rays; adding a pergola or a gazebo, will do the trick.
If you want something more natural, you can opt for big trees.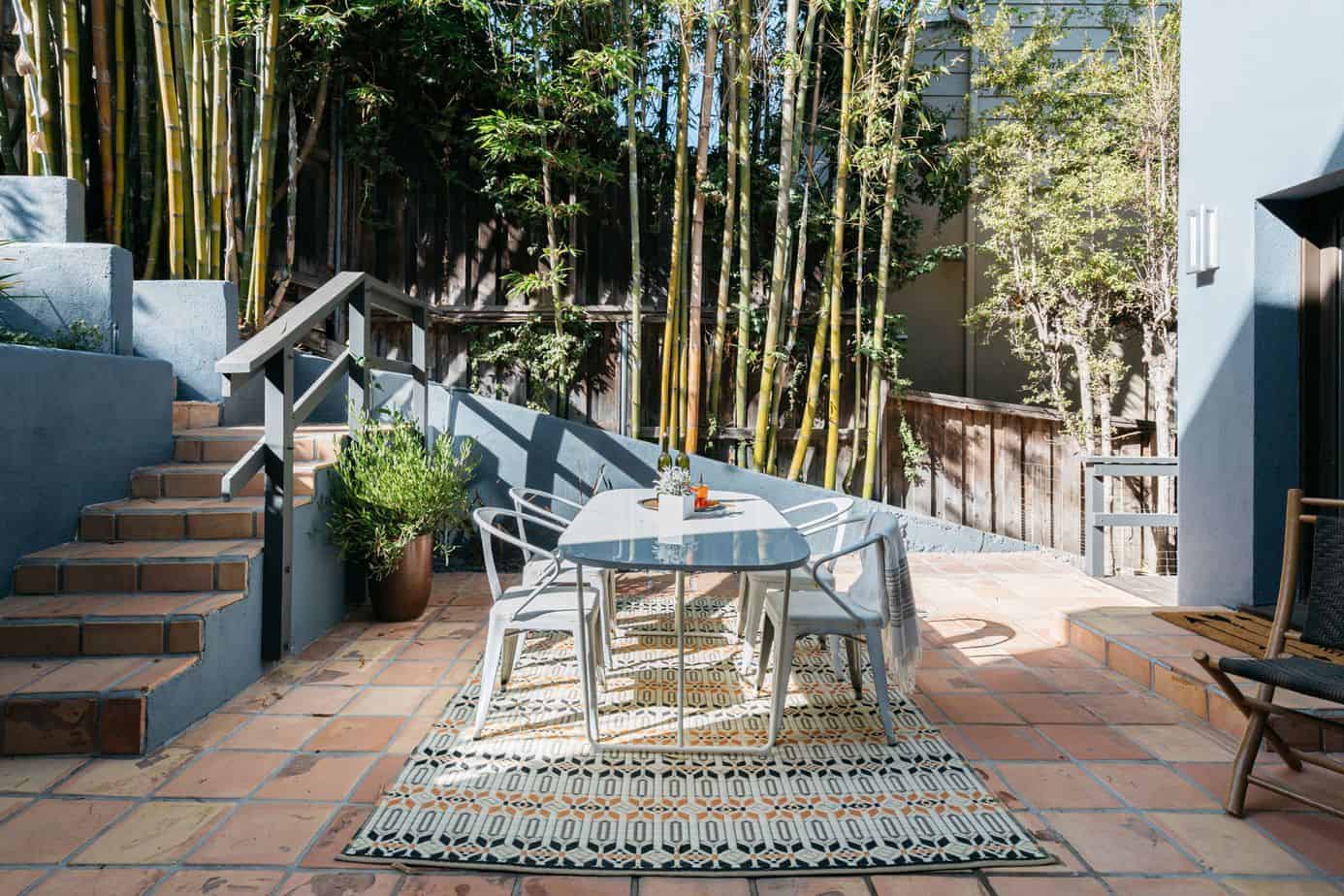 24. Friendly bamboo plants for privacy
Privacy is a must in rural gardens or in places where neighbours and passersby can easily peek through your property. This is particularly essential for tiered gardens.
Privacy solutions come in many forms to suit your needs, but a simple bamboo planting like this works wonders.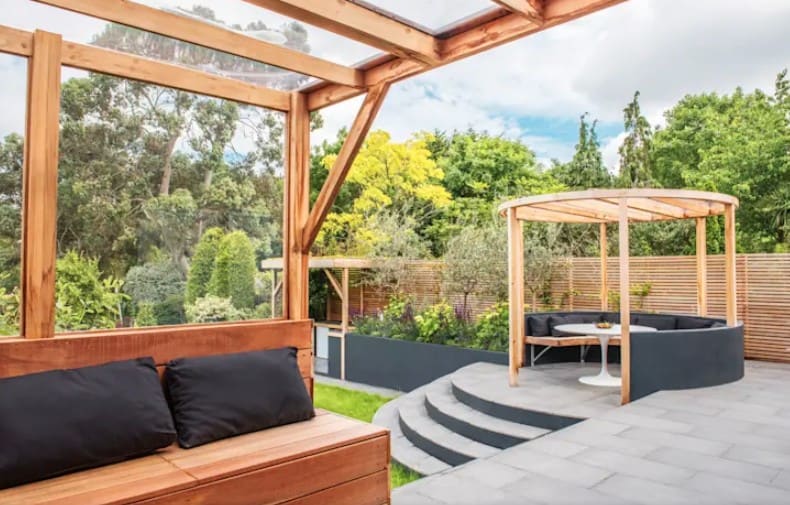 25. Offer a view at all levels
Here, we present to you the real head-turner tiered garden idea on the Internet! This gorgeous design has to be one of our top favourites.
The dramatic use of levels indeed works in a multitude of ways. We truly love the look! I mean, who wouldn't?
Round-up
With the right planning and a list of ideas like ours can help you make your steeply sloped backyard into an enjoyable and deluxe entertainment space! And if you want to draw more attention, other than lush plants, decorate your space with a pergola, garden pond, or a garden building.
If you love this guide and want more inspiration, take a look at our sloping garden ideas. We've compiled our favourite inspiration from around the web for you to get started on designing your slope.
Stay warm in your tiered garden with a BillyOh firepit, just click the button below:
Shop Fire Pits