We love to catch up with our customers to see how they're getting on with their garden buildings. So today, we caught up with Essex-based mother of three Michelle, to see how she was putting her new purchase to use!
The last year or so has been challenging for everyone with social distancing and lockdown restrictions forcing happy families to be cooped up indoors. 
And it has affected no-one more than mothers and fathers to young children who want to see their young ones enjoying a normal upbringing, unrestricted of freedom and adventure.
For most, the only outdoor time that they could enjoy was right in their back garden, and Michelle, like many others, wanted a little extra something. She wanted to allow her three little ones to have that feeling of adventure and the outside world from home.
She visited the BillyOh website with hopes of buying a budget building that would stand the test of time, and she was far from disappointed with what she found.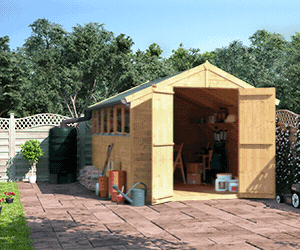 After a little time spent scrolling, she discovered the Peardrop Extra Playhouse and fell in love with its spacey interior and luxurious outer decor.
'We have 3 children so we wanted a playhouse big enough for them all to enjoy.'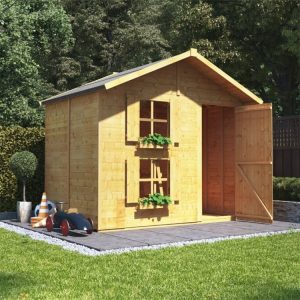 After a speedy ordering and delivery process, Michelle and her partner wasted no time in constructing their new purchase, and had it up in no time at all. All with the help of our easy-to-follow instructions.
Upon completion, she decided to paint the exterior an eye-catching frosty blue with white fixtures. She also decided on an ice white for the surrounding picket fence.
'It was a great experience. Good delivery and all parts were delivered and available.'
She also coated the inside white and furnished it with chalkboards so her children can get creative in their spare time. Finally, she decided to call the playhouse 'the Hideaway'.
'It has been such a great addition to the garden and adds a touch of colour. The children play in it all the time.'
You can see the full extent of Michelle's makeover below:
Yet another fantastic use of a BillyOh building, by a brilliant and hardworking customer. If you want to see more of Michelle's playhouse, as well as her exciting family adventures, check out her Instagram – @birch.babies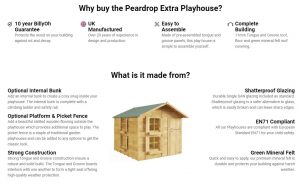 And if you've got a great story about your BillyOh shed, summerhouse, or playhouse conversion – we'd love to hear it! Simply get in touch with us on social media for a chance to feature here.
And if you want, you can check out more customer stories right here.
Shop Playhouses