Well-designed garden border ideas guarantee a thriving backyard landscape. It also offers an appealing look that can add curbside appeal to homes.
Moreover, it dresses up the landscape, highlights specific areas and adds texture. Garden borders can ensure your yard is in full bloom all year round!
To help you create the perfect planting scheme, here are some tips and inspirations.
1. Colour blocks
Why not try a garden border that showcases a nifty little design trick like using colour blocks. For this concept, repeat the colour in blocks to draw the eye along the entire border.
You can feature different plants with the same range of colours for each row. Or stick to a simpler design, such as this red Begonia and yellow Coleus garden border.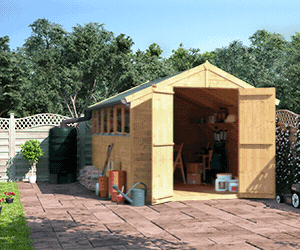 2. Brick edging
Bricks are great for creating a landscape edge for many reasons. Assemble them in a shallow trench to form a nice barrier between the garden bed and grass.
Top tip: A neat and clean border or edge provides uniformity to a landscape.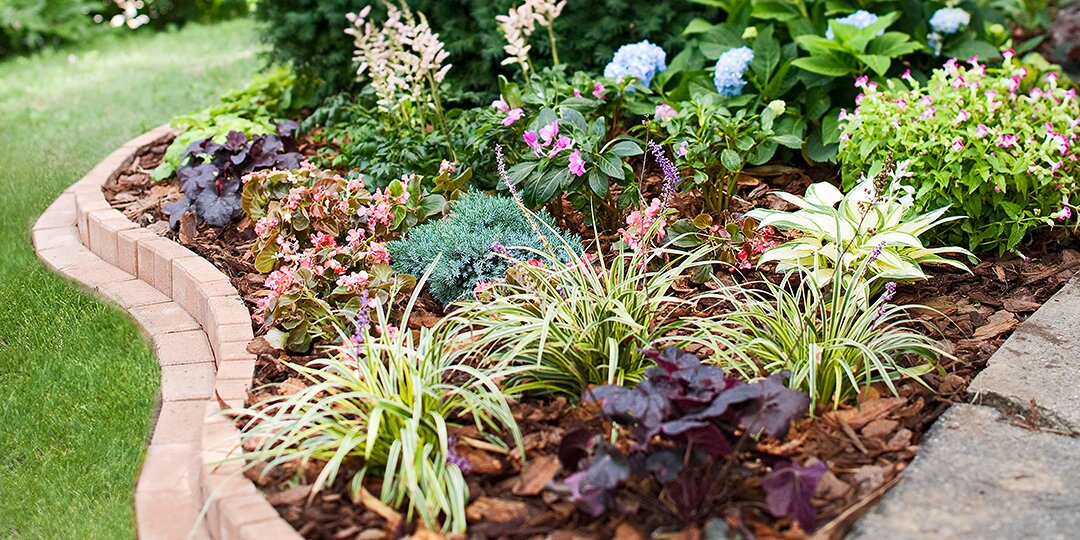 3. Variety of plants for contrast
Harmony is important, and so is diversity. Opt for plants with distinctive colours and dramatic shapes to create focal points. Spiky Palms and Pencil Junipers are an excellent choice.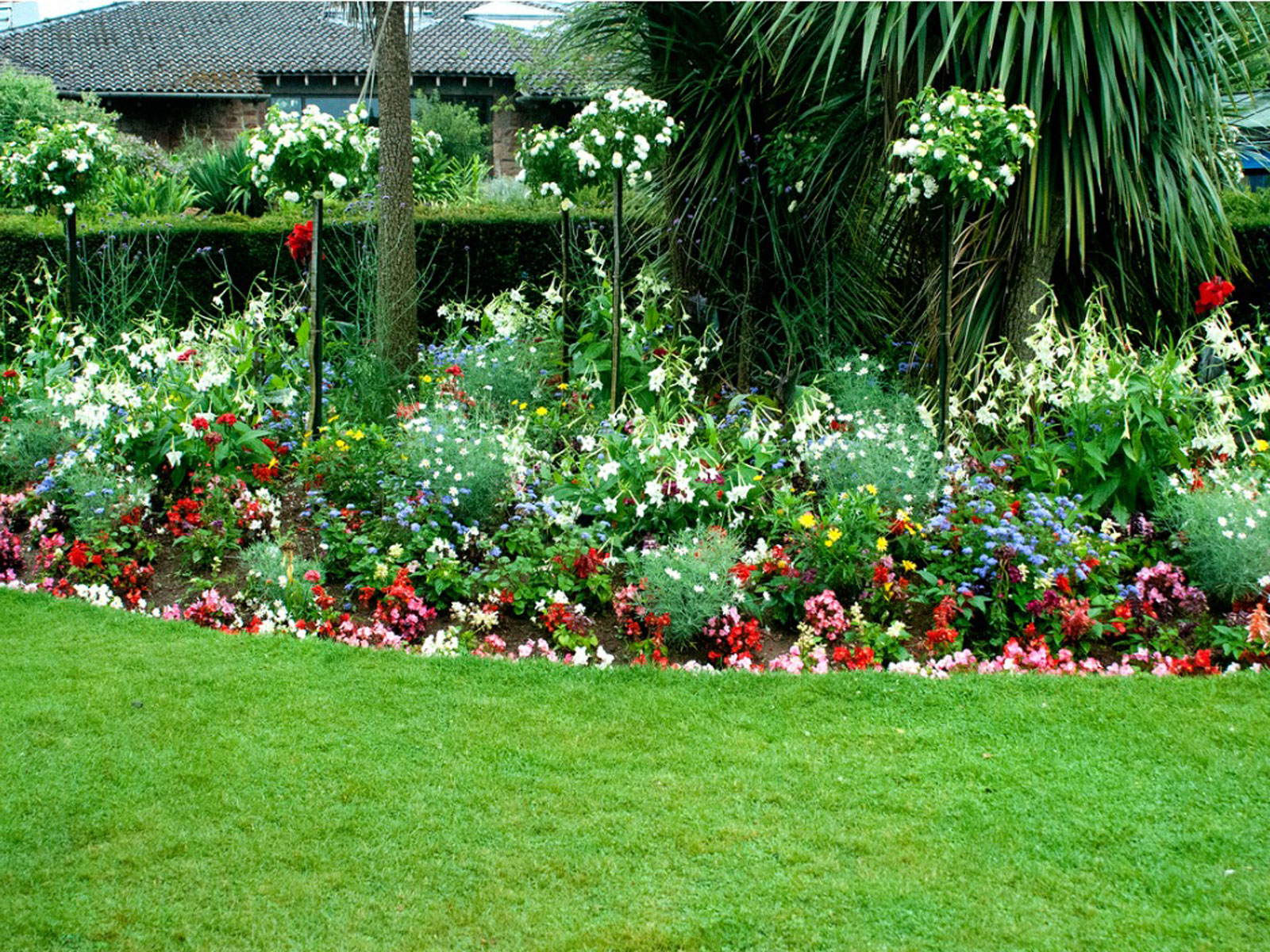 4. Steel edging
Thinking of adding rustic charm to your landscape? Installing metal edging can give you that perfect look. Create a zigzag pattern or install corten steel panels in levels.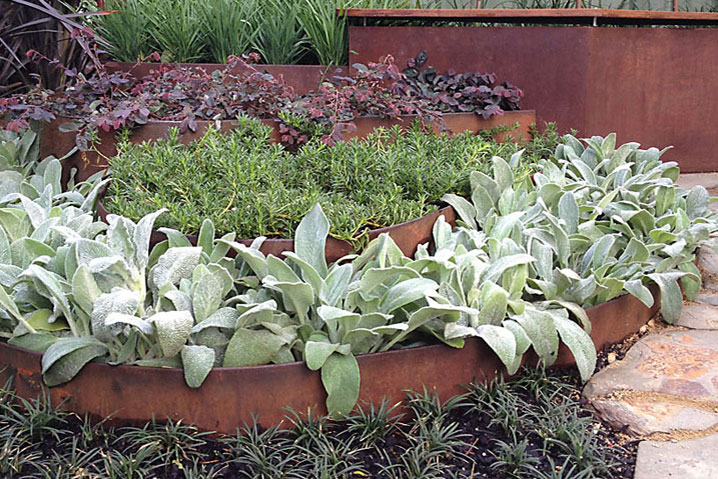 5. Edible crops
If you have a sunny garden, make the most of it with an edging of fresh and hearty herbs and veggies! Count on edibles like basil and curly leaf kale.
Fill the borders with annuals and perennials to add colour and texture.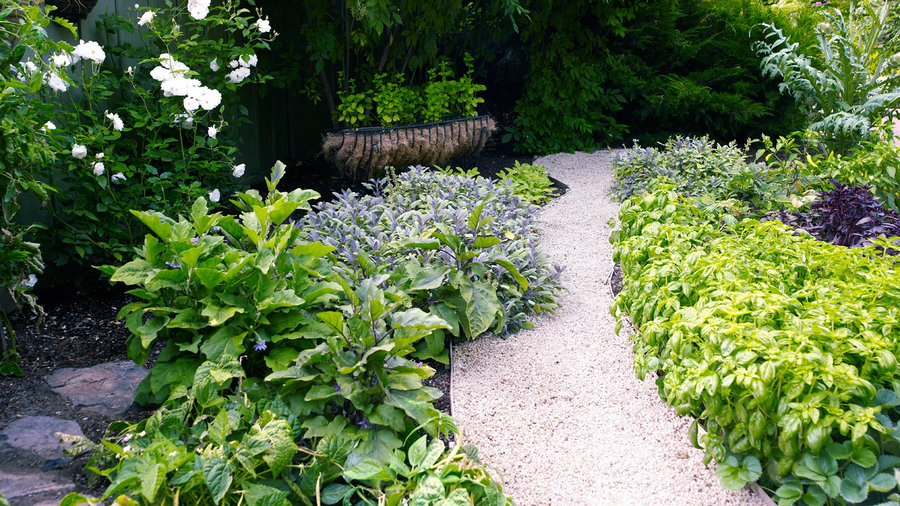 6. Mixed borders
Mixed borders are best for urban and suburban gardens. Plant trees, shrubs, roses, perennials and bulbs together, for instance, for interest.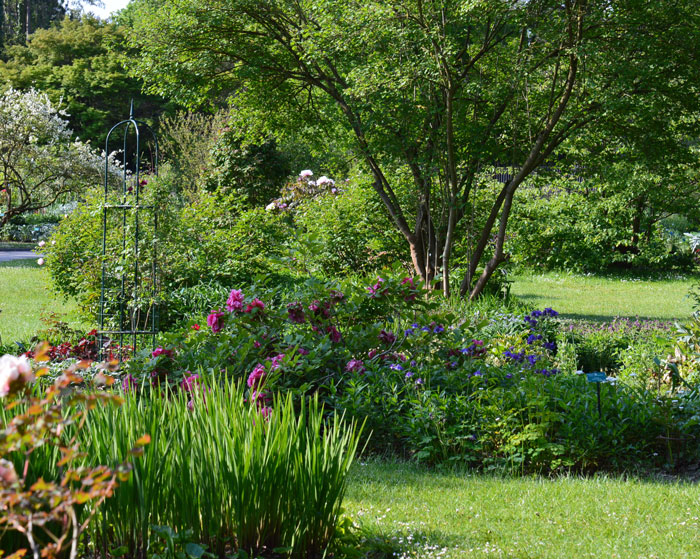 7. Water feature focal point
Include a focal point, such as a birdbath or small fountain, nestled next to taller planters. If your borders have curves, place a water feature in the part of the curve that juts forwards.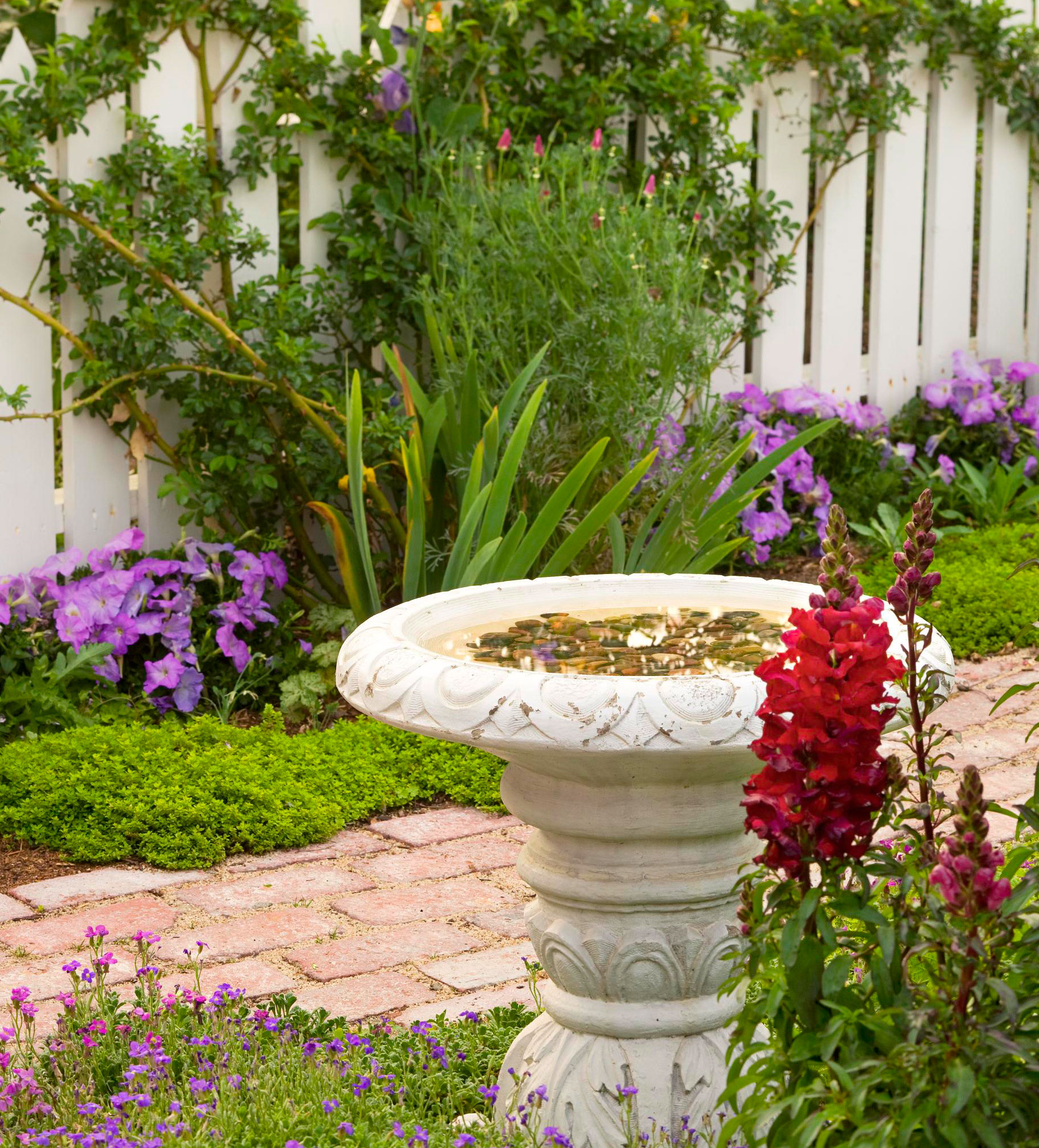 8. Focus on shapes
The shape of plants is just as important as their colour. For one, the shape helps to structure the planting. Meanwhile, the colour and texture supply the finishing touches.
Focusing on shapes helps add interest another layer to your garden border.
9. Line path borders with bulbs
Bulbs are perfect as borders as they give structure and seasonal interest to gardens. They can also grow through perennials, giving you more colour bursts.
10. Trees for height
Trees in borders, paired with tall and majestic plants, will add lovely tiered height to your garden. This method is perfect if you want your border to look informal.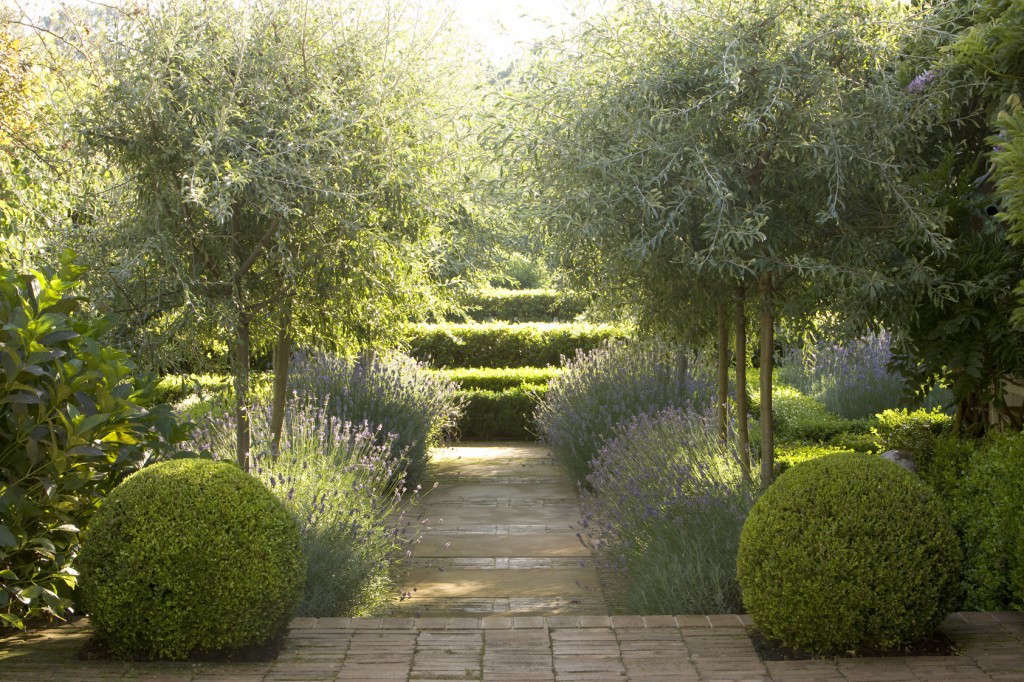 11. Gabion walls
Gabion walls look natural and structured, blending well with the natural environment. They work as a retaining wall holding plants and soil.
This edging is an excellent option if you want a sturdy border that holds up well.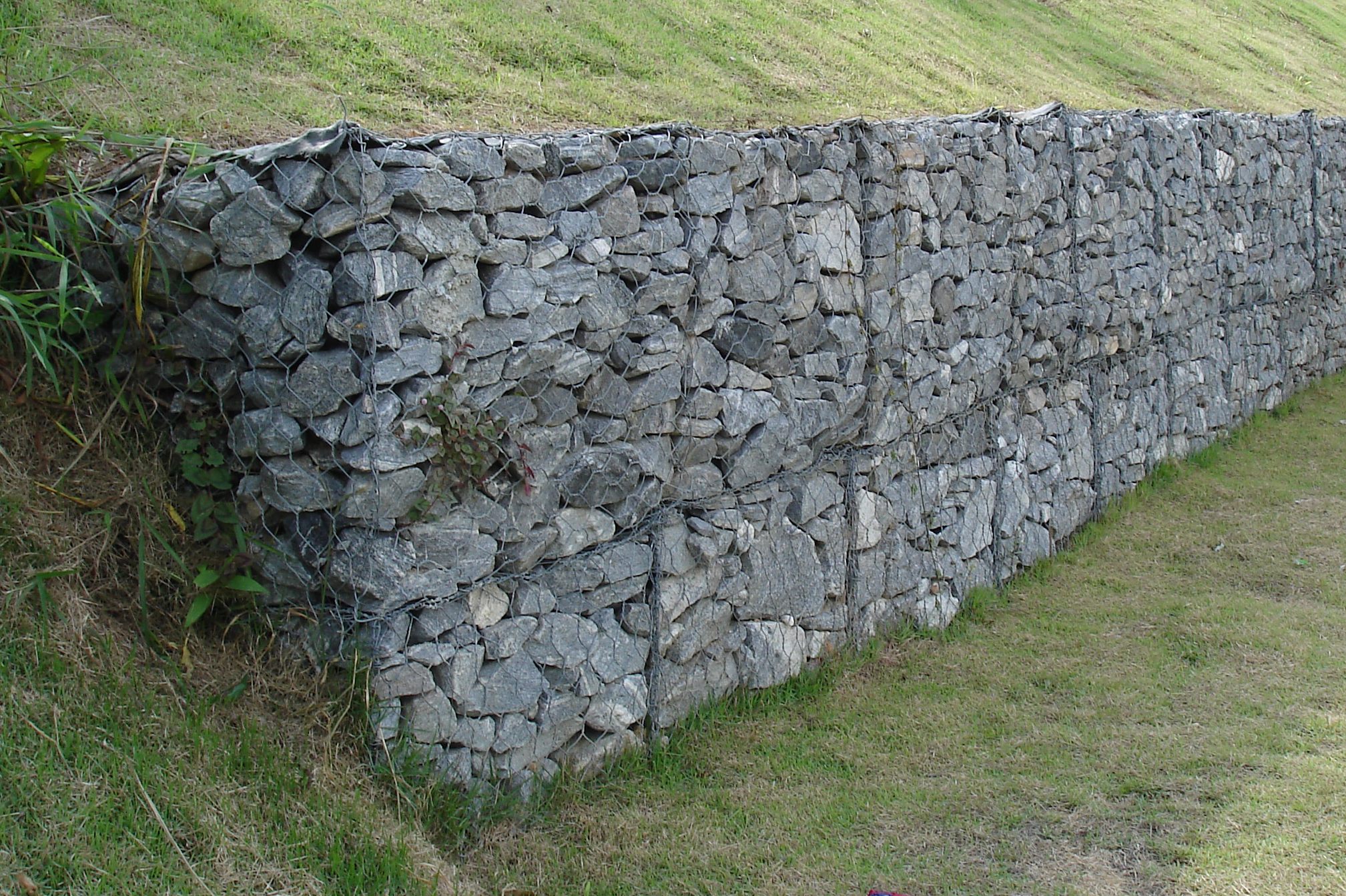 12. Stones on deck
A rock border adds polish to the design; at the same time, it makes a difference for decking. This is a unique way to differentiate your deck from where your garden starts.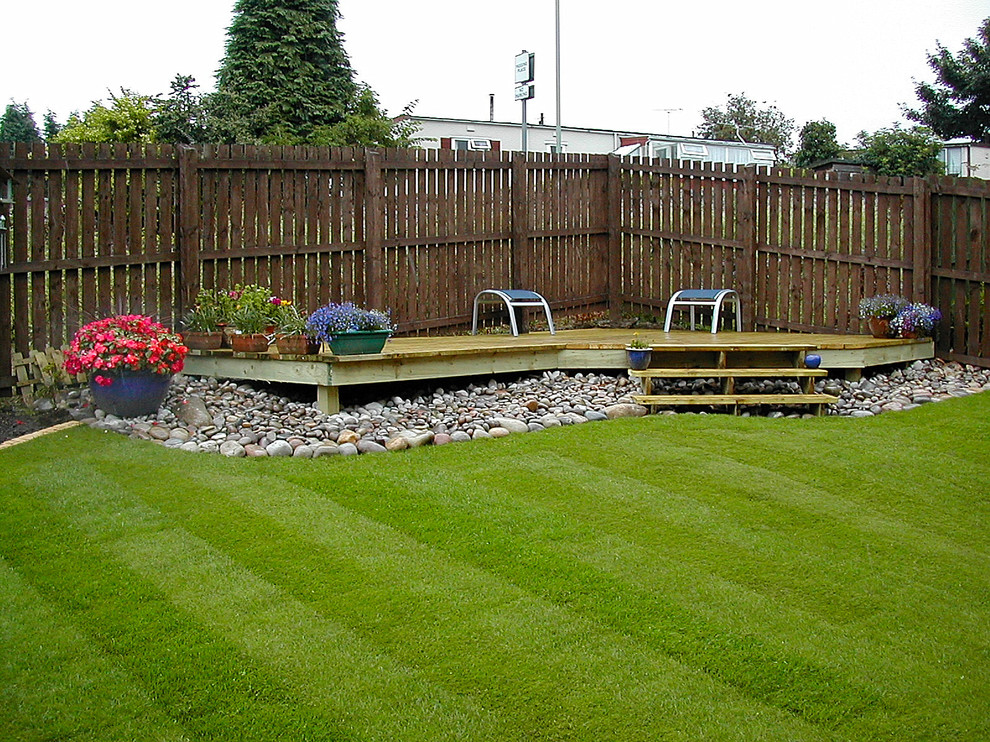 13. Shrubs for volume
Not only do shrubs offer year-round interest to gardens, but they also add volume to borders. Evergreens with good form and shapely leaves are ideal for small spaces.
Note: Consider size at maturity as some shrubs can grow to monstrous proportions.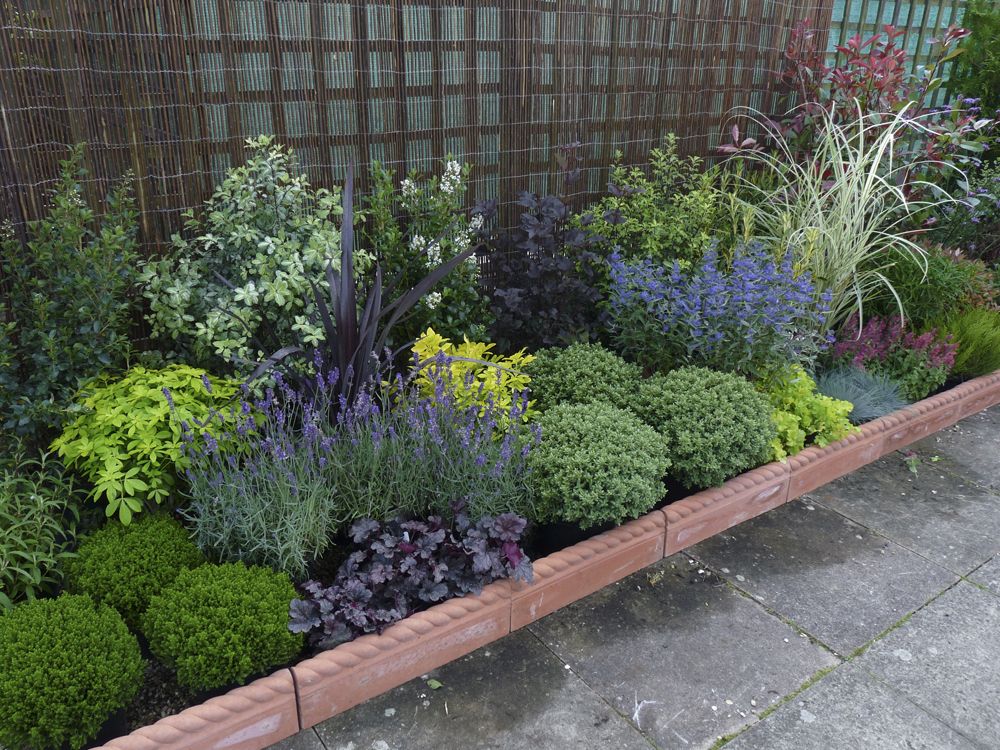 14. Think vertical
In addition to shrubs and trees, climbers also add height. Hence, take full advantage of walls and fences, too! Mix non-invasive seasonal climbers to prolong the season of interest.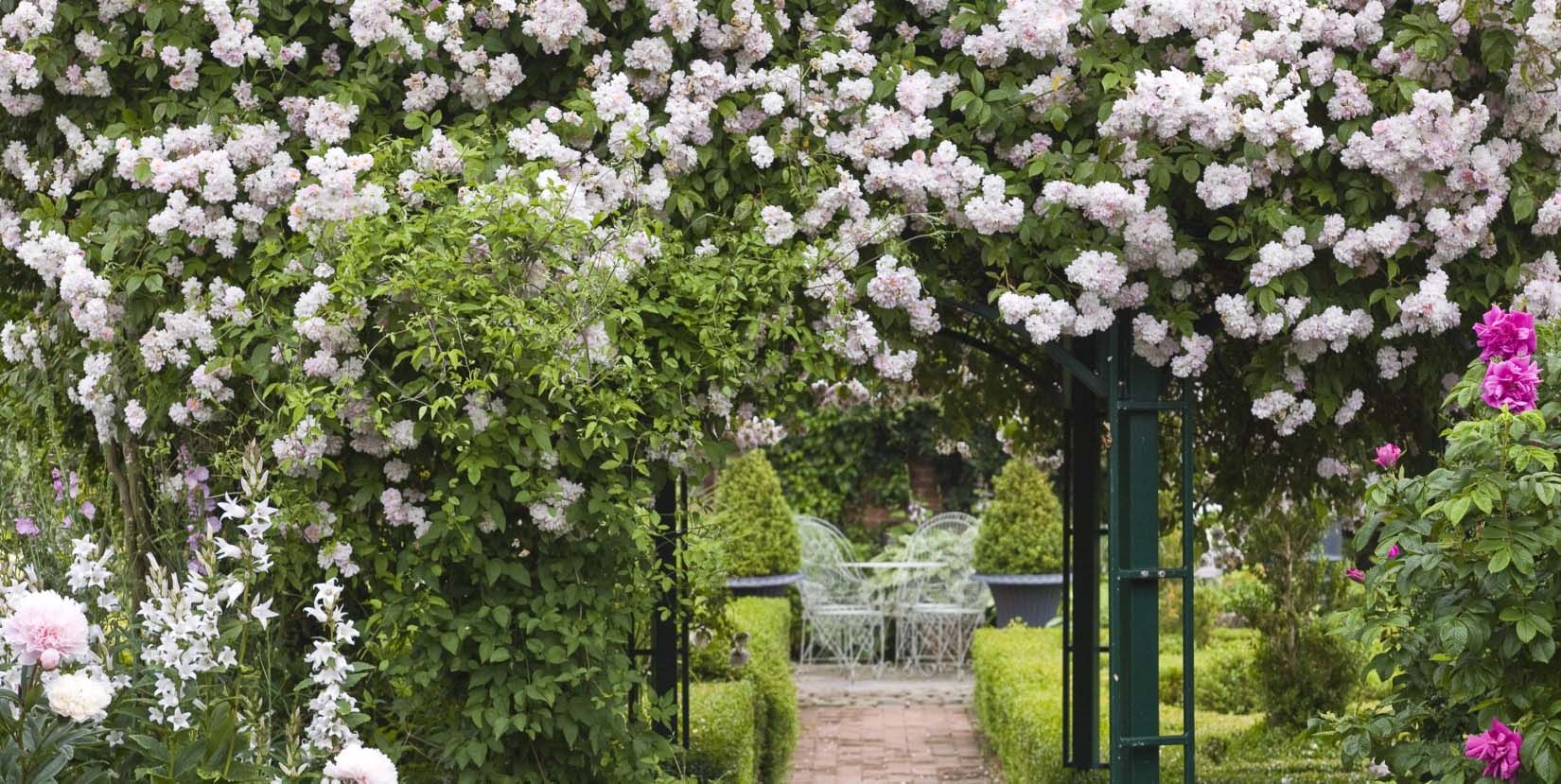 15. Fill the border with scented plants
Scented plants enliven any garden in an instant. Scents such as Dutch honeysuckle and white jasmine, perfume the air wonderfully. Imagine walking into your garden to these pleasing aromas!
16. Scrap treated wood
The mini boards from scrap wood or pallets of this garden border are enough to define the bed. If you're looking for a cheaper alternative, this can be an excellent option for you. Paint them to make them more aesthetically pleasing.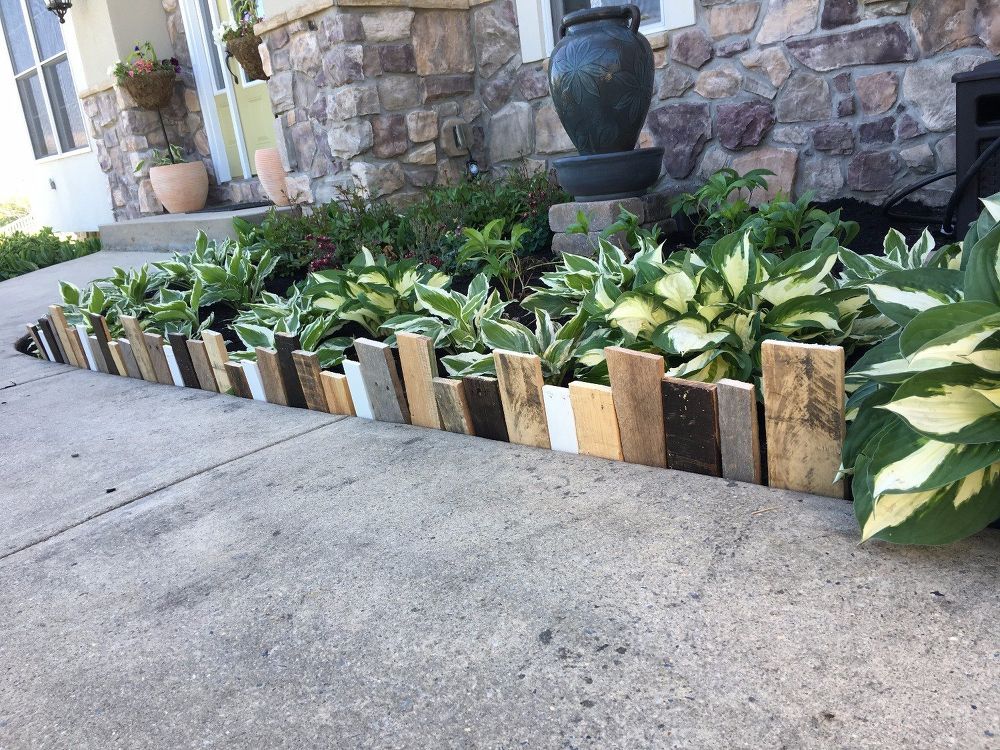 17. Garden hose
Breathe new life into your old garden hoses and take a cue from this one-of-a-kind border/fence. A unique and creative way to add garden edging ideas to your backyard, indeed!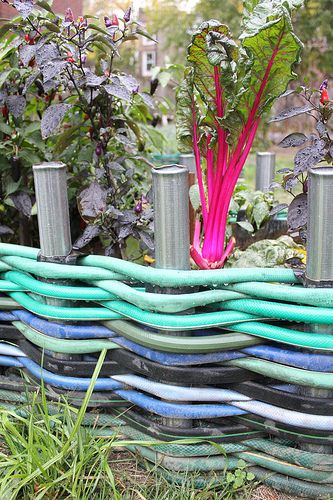 18. Short to tall
Arrange your garden border with shorter plants in front and taller ones at the back. Fill three height slots: short, medium and tall. This applies to annuals, perennials or edible plants.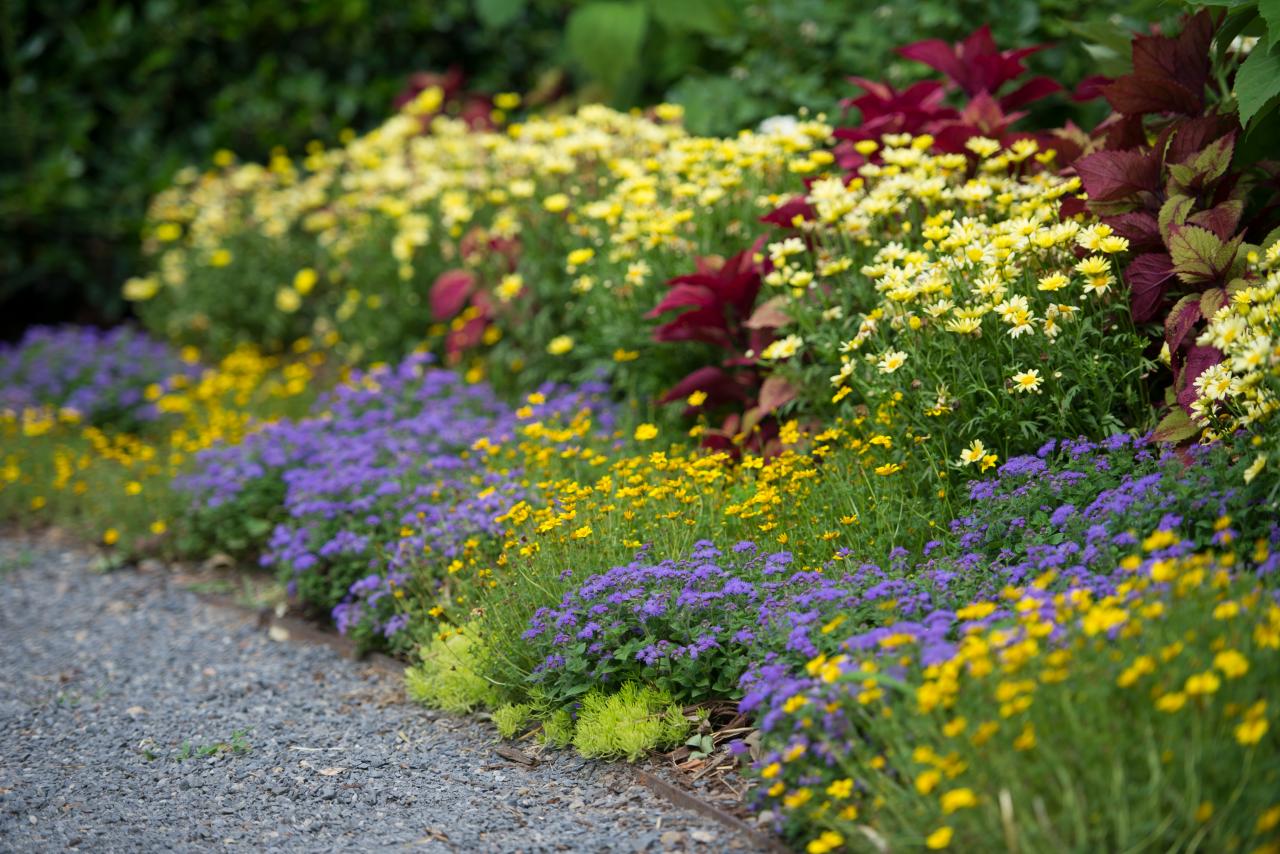 19. Statues
Other than birdbaths, statues also create a striking focal point. This is especially true when elevated above plantings. Have a look at this dreamy garden border filled with lush tulips and lavender, with a central statue.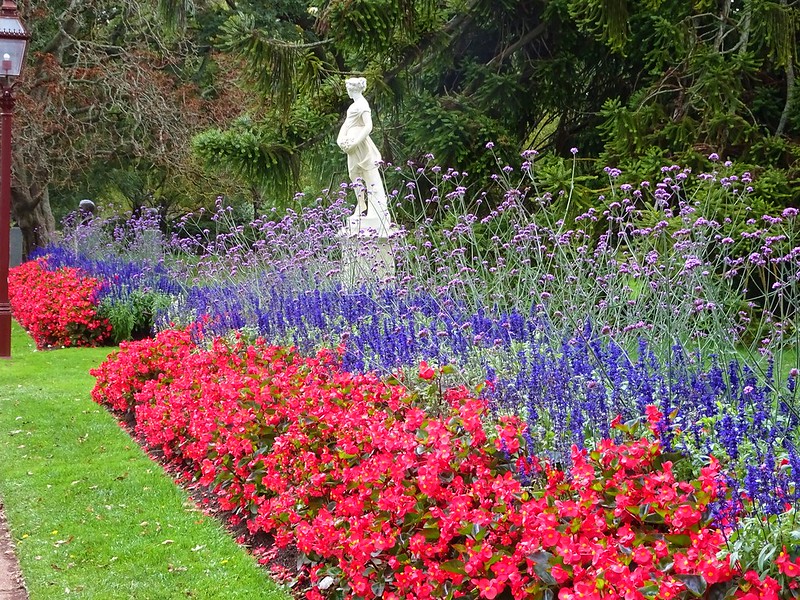 20. Plastic cobblestones
Made of plastic material, these faux cobbled stones feature a bridge edge and design face. Make sure to allow extra room to plant flowers and shrubs during installation.
What's more, the colour doesn't take away from the beautiful colours of the plants, and it's easy to install!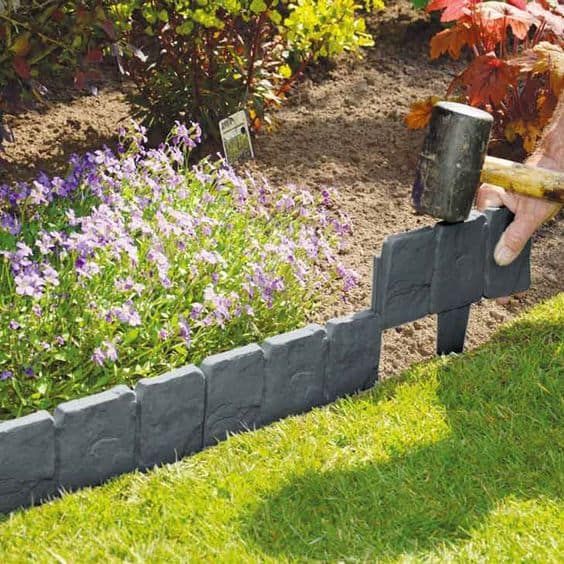 21. Glass bottles
Glass bottles catch the eye and make a great landscape border that keeps certain pests at bay. It's especially fun to craft a bottle border if you have many uneven-sized bottles.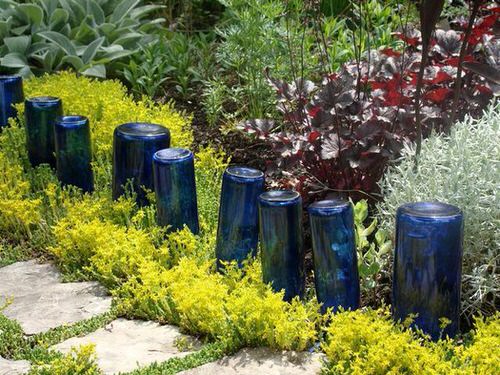 Garden Border Ideas: Round-up
Carefully orchestrated planting and edging create a harmonious design in any garden. And garden borders provide endless opportunities for imaginative planting. Plus, it is key to a successful garden design.
Moreover, garden borders are a great way to bring colour and vibrancy into outdoor spaces. But with thousands of varying styles, the process can be exciting yet overwhelming.
Upcycling garden ideas have also become popular in the UK for borders and edging. Overall, we hope these ideas will help you create a winning garden border!
Shop Fire Pits
FAQs