When talking about garden shade and entertainment ideas, gazebos are a popular pick. Offering a nostalgic appeal, a gazebo is a wonderful solution to spice up a backyard scene.
And gazebos can be used for lots of things. These include alfresco dining, lounging, entertaining and relaxing, to name a few. What's more, they also add a sense of enclosure and privacy.
While you're planning on where you should put your gazebo, get inspired by these ideas. Pick a design that reflects your unique taste and get started!
1. Modern tropical
A gazebo gets a tropical look with the simple addition of thatch on the roof. The details on this tropical escape scream the ultimate vacation.

2. Upcycled satellite
A gazebo design constructed from an old mesh satellite dish – how neat. The structure is also combined with low-cost bamboo strips and a salvaged tin finial. This wrought iron gazebo will surely add charm to a backyard corner.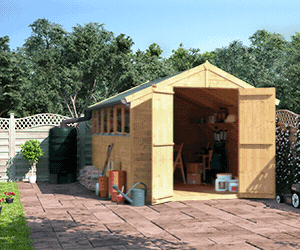 3. Romantic iron concept
This rusted gazebo gives off a romantic 19th-century feel, perfect for a tea party. The gold colour details make the structure look extra-fancy. Add simple white sheer curtains and a garden dining set for finishing touches.

4. Grillzebo
If you love hosting outdoor BBQs, you need a grillzebo! It's a sheltered gazebo but designed for grilling and chilling. It's a great BBQ area idea for year-round cookouts!

5. Outdoor kitchen
Gazebos can be versatile and include everything from seating areas to cooking stations. This outdoor kitchen's extensive design is a great example. The set-up of this gazebo has it all – a bar, a grill, a cooker, a few chairs, and even a fireplace!

6. Stained glass structure
Add drama to your outdoor space with a unique, durable stained glass gazebo like this! The eye-catching addition of stained glass enhances the gazebo's overall aesthetics. Plus, the design allows sunlight to stream through without any unpleasant glares softly.

7. Balinese style
This dark grey shingled-roof gazebo provides the perfect spot for carefree days. Placed near a pool, this Balinese-themed outbuilding sets the mood for a summer getaway.

8. Salvaged wood
The charm of reclaimed wood is what really sets this large gazebo apart. It was built with love from the remains of old wood and transformed into a functional space.
If you're making one from scratch, it doesn't have to be this big. Take a cue from this cedar wood gazebo, for example.
9. French shabby chic
Whites, greys and wood tones are often associated with the shabby chic style. And this French-inspired gazebo says it all!
It combines the seductive shapes and curves of French furniture pieces with fresh fabrics. The overall design makes the space sophisticated and cosy.
10. Classic farmhouse
If a modern farmhouse is more your style, consider a gazebo that's plain and simple with a vintage touch. The artistic use of wooden material in this design adds attractiveness to the yard or patio.

11. Black and white cabana
Check out this DIY Cabana-style gazebo designed with black and white striped fabric used in the drapes. Add a few patterned pillows to complete this cabana-style getaway in your own backyard. Bring a modern flair to a traditional gazebo with this tutorial!
12. Opt for hardtop
If you're thinking of making the gazebo a more permanent addition to your yard, consider a hardtop one. A hardtop gazebo offers a traditional structure that will stand the test of time. The design also provides more stability, making it especially ideal for windy areas.
13. Gravelled
A pathway leading to a gazebo can help make an enclosed structure be in place. Draw inspiration from this design; it has a gravelled entryway that compels you (and guests) to come on in.

14. Outdoor hot tub
Garden hot tubs have become increasingly popular in the UK. And wooden gazebos are a great way to blend a hot tub with the natural environment. This also adds the benefit of extra privacy and protection from the elements.

15. Heated wooden gazebo
If you're thinking of using your gazebo even in the coldest months, an infrared heater is a great idea. There are different models available depending on the size of the space you are heating.
You can also find units that come with a built-in spotlight to add convenient lighting to your gazebo.
16. Playhouse
Take this chance to create something for your kids in your own backyard. Have a look at this garden gazebo transformed into a playhouse!

17. Back to basics
If you're a "less is more" type of person, simplicity is the right style for your log gazebo. The gazebo in this image follows the same concept, with a basic design that uses logs in almost every detail. The flooring is also made of wood to blend in the natural look.
18. Made of stone
Stone gazebos are especially popular in the gardens of resorts. And the sense of heritage and attractive finish can help increase the beauty of your yard too.

19. Brick gazebo
The accent lighting in this gazebo adorns the brick details and illuminates the room. The centred fire pit offers ambience and warmth, making the space functional year-round.

20. Lily pond concept
An Asian-style gazebo sits at the edge of a lily pond, providing a private room for relaxation. It's best to fill the pond with Koi, a variety of water plants, stones, and a water feature centrepiece.

Round-up
Today's gazebos can complement any garden setting, ranging from traditional to modern designs. The right gazebo can be a beautiful addition to your garden. But the perfect garden gazebo design idea can add a touch of luxury to your outdoor space.
We hope our list of inspiring ideas will be the start of your journey to a lush and luxurious backyard retreat! And with a little landscaping, you can create a versatile haven.
Shop Gazebos
FAQs
A sitting area is a must in a gazebo, especially if you plan to use it for entertainment. Laying in outdoor rugs, pillows and other decor to create an inviting outdoor living space. Adding plants can help create a homey space, too.
Renovations and additions can raise the value of any home. Installing a gazebo is one of the great ways to do it! It can increase your property's worth as it creates more space (a functional one) in the yard.
If you have a large property, install it in a part of your yard you don't usually get to enjoy. This allows you to maximise the space more. Or, place it closer to your home so you can enjoy the outdoors even when the weather isn't optimal.