Summer is around the corner, and it's high time to think how to decorate your yard and what furniture to place there!
An outdoor space is not complete without garden furniture. And to make the most of your backyard, you're going to need a nice and comfortable spot to sit on and relax.
This is where our outdoor furniture ideas come in handy! Use this guide to find the perfect inspiration to create a true open-air retreat.
Read on and start browsing this collection of awesome ideas!
1. Fire pit table dining set
Imagine a dining table and modern fire pit as one? Besides intimate rendezvous, you get to enjoy an incomparable alfresco dining experience.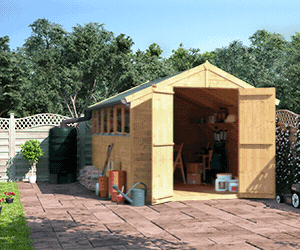 Your patio deserves an outdoor piece that offers functional design, comfort and style. Say no more with a fire pit table dining set!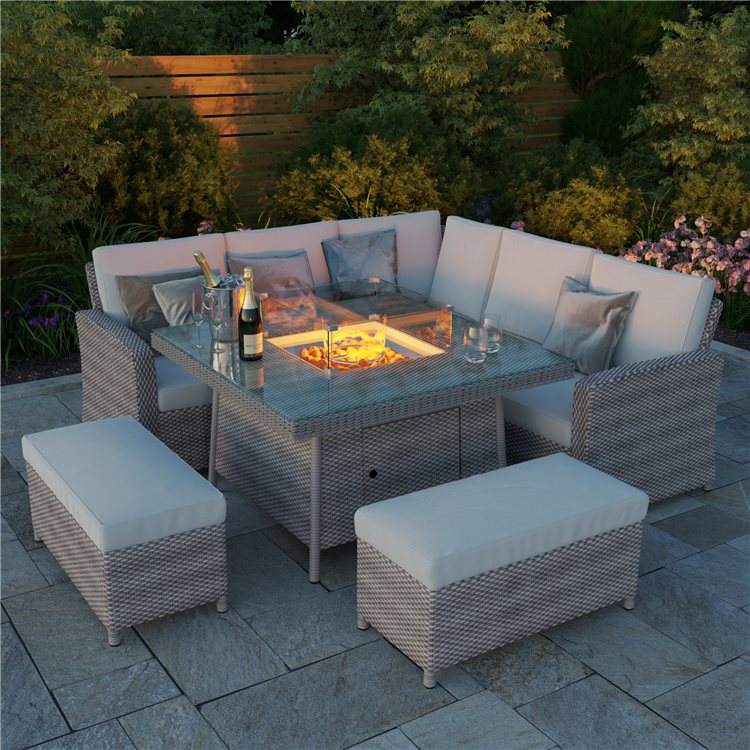 2. Hanging bench swing
Relax on your patio in style with a hanging bench swing. Opt for a standard-sized couch so you can snuggle up with a book and repose while gazing at the sunset in comfort.
You can either buy a ready-made on the market or recreate this DIY.

3. Barrel table and stools
This patio barrel dining set comes with smooth tops and matching metal bands. Perfect for wine nights, this look would be great on your patio or even indoors in a wine cellar.

4. Square bistro set
A bistro set can offer a perfect place for a quick garden retreat for those with smaller outdoor spaces. Pop it up in a sunny spot and bring in the touch of Paris in your humble yard.
The size is perfect for you to spread out your books or accommodate alfresco dining for two.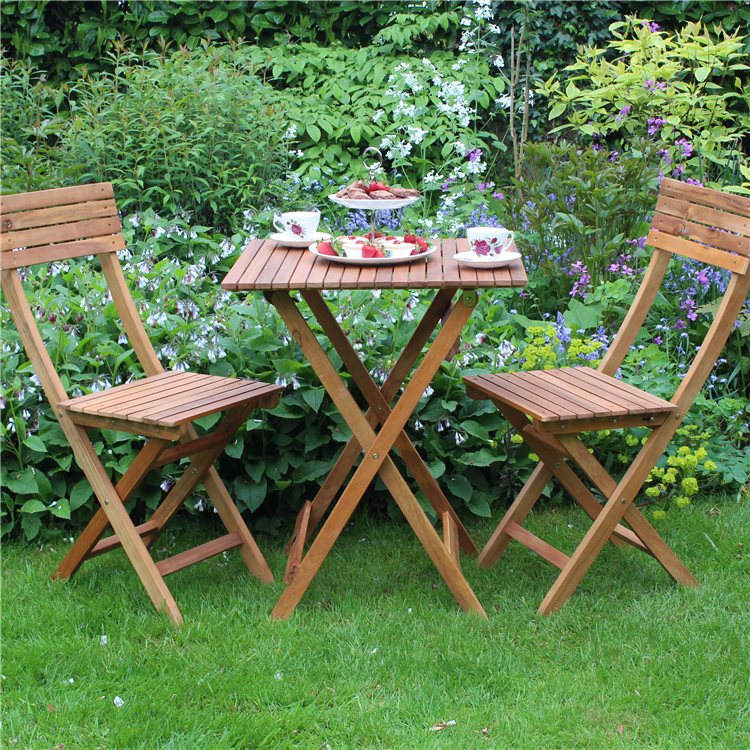 5. Rocking chairs
For many, particularly adults, rocking chairs are the epitome of relaxation. Be sure to pop a little table next to the chair to level up the comfort (for your lemonade) while you 'rock away' on your patio.

6. Picnic table
A picnic table with benches is perfectly suitable for outdoor use. You can recreate this look using repurposed and refinished pallet planks. It's a functional outdoor piece ideal for family gatherings.

7. Hammock with trellis
Nothing's better than relaxing in your own hammock on a warm, sunny day. This version of a standard-sized hammock comes with a trellis, letting climbing plants take up the scene.
8. Extending garden table
An extended garden table is such a space-saver piece of furniture. A wooden model is stylish and would look great in any patio setting. 
Most extends from their original size of 1.2m to a grand length of 1.6m, providing you with a generous dining space.

9. Summer basket swing
Whether for relaxation or fun, a patio basket swing can create lasting memories. If you have a small outdoor living space or balcony, this makes a perfect piece of furniture to add to the area.
10. Rattan cube dining set
Cube-type furniture is designed to fit together into a cube and in a space-saving manner. Other models even come with cube ottomans for more storage and extra seating.
You're lucky if you found an 8-10 seater rattan cube dining set that offers luxury and excellence.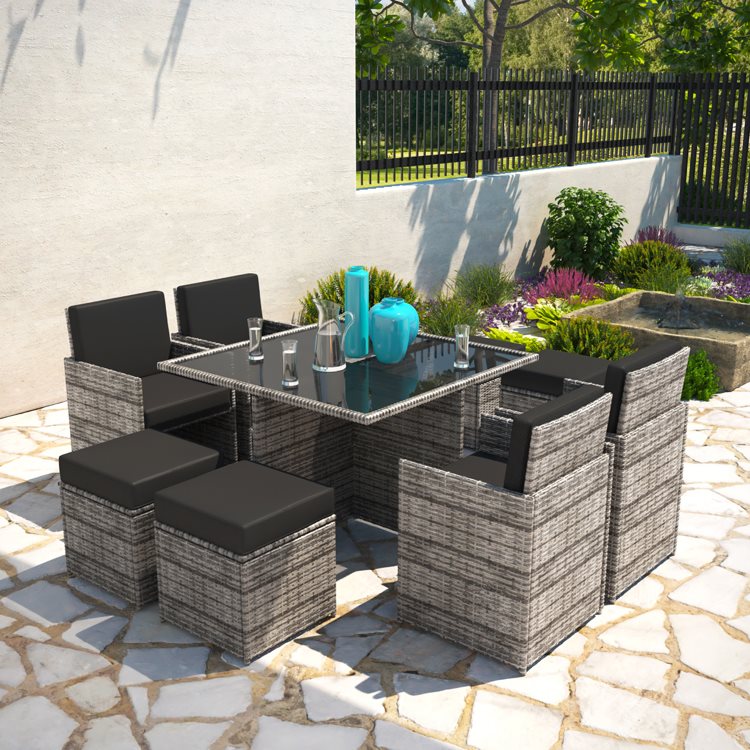 11. Traditional wooden bench
When talking about garden bench ideas, a traditional wooden bench is a classic favourite. The timeless design is a plus! Benches offer a great place to unwind on a hot summer day, watching the world go by, indeed.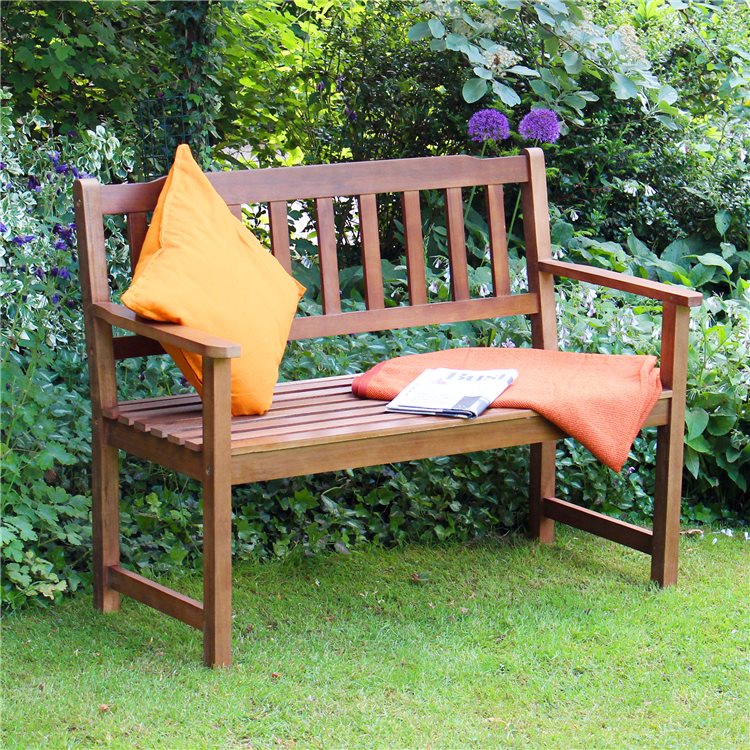 12. Outdoor bar countertop
A classy bar top like this would look dashing, adding a professional touch to your garden bar zone. Use it as a bar countertop, add bar stools, or let it be a companion prep table for your BBQ grill.
13. Rounded seating area with fire pit
This conversation pit is sunken into the yard, with edges lined with curved sectionals and cushions. This may be a pricey option but is undeniably breathtaking.
What an ultimate fire pit idea we have here!

14. Circular lounge chair
This circular lounge chair provides a simple shade on the back, perfect for the poolside. Pair it with a curved end table into the side of the chair for easy reach.
15. Wrought iron table and chairs
Besides wooden and rattan, this simple wrought iron table and chairs also make a perfect piece for your patio. The gentle curve of the seats adds a subtle touch of vintage elegance to this simple set.
Combine it with a parasol for added shade and comfort.

16. End table with built-in cooler
Could this be any cooler? This DIY end table is not your ordinary patio table. You can customise it with a working cooler zone. Fill the tub with ice and your favourite beverages, and you have yourself a functional table!
17. Poolside sun loungers
Sun loungers are designed for relaxing, napping, and sunbathing – lounging heaven! And if your patio is next to the pool or a hot tub, invest in comfy and water-resistant sun loungers.
They make a perfect addition to a traditional seating area or dining area.

18. Companion love seat
There's no better way to spend a warm, sunny day than relaxing out in the garden with a loved one. And this love seat is the perfect backyard companion for you!
There's also a bench included between the two seats, connecting them. The size is perfect for drinks and some snacks.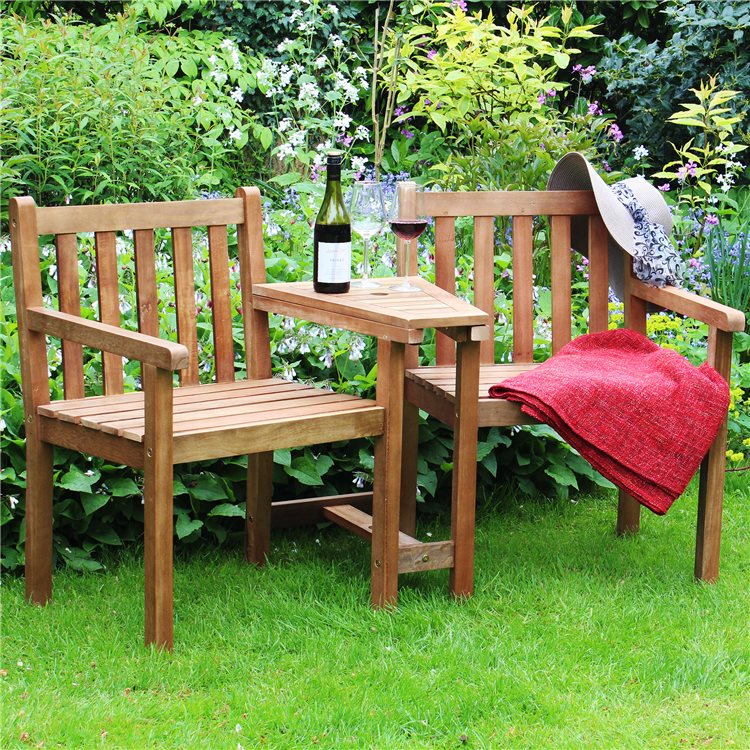 19. Wooden high back armchair
Sometimes, all we need is a chair to complete the look of our patios. A traditional garden chair like this could be what you've been looking for!
Whether you're looking for one or two chairs to place in a sunny corner or a whole new set, armchairs are the perfect solution.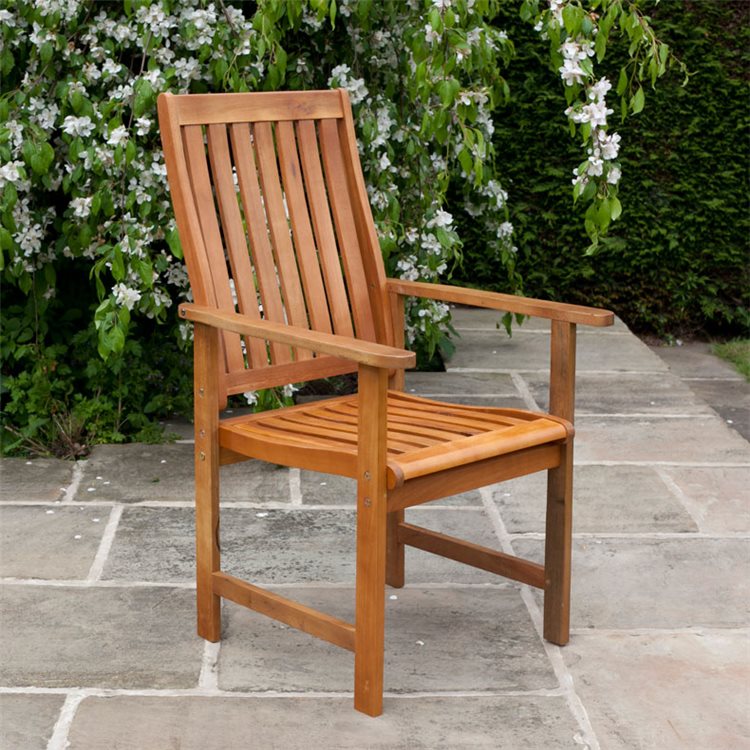 20. L-shaped patio sofa
Pallets are a popular material used for all sorts and kinds of DIY projects. This includes a pallet L-shaped patio couch! An outdoor piece like this is best for a corner fit and would also look cool on the poolside for enjoyable sitting.

21. Bean bag seats
Utilising the warm natural flow of hardwood throughout the patio with two bean bag seats that blend harmoniously. What makes these pieces an excellent choice is an ergonomic design they feature.
The design allows it to mould to your body, preventing back pain. Ideal for tropical-themed garden spaces.

22. Funky edge folding table
A fresh and pleasing shape, one that is practical for seating four people in a relatively small space. Plus, the octagon table design gives the table a funky edge.
Easily carry a table like this to different garden areas to chase the sun!
23. Mirror, mirror on the wall
Garden mirror ideas give the illusion of depth and space. Putting one in your patio can add visual interest while opening up a tiny deck. Just ensure it's firmly secured to the wall!

24. Concrete coffee table
A simple square concrete coffee table is ideal for a modern ambience. You don't have to break your bank just to buy one; you can recreate this magnificent outdoor piece for less than £100 – which is ten times the price from West Elm.
25. Statement lighting fixture
We love a string of fairy lights when it comes to garden lighting ideas. But to beat that wow factor, you'll need a big, gorgeous pendant light for your patio. Just imagine late dinners alfresco under its warm glow – priceless!

Round-up
Whether your patio is large or small, you have tons of furniture options to choose from. If you're more of an entertainer, a large glass-topped dining set is your best bet!
Now, if your outdoor space is a personal retreat, go for smaller single chairs, hammocks or a sun lounger. But if you're a big DIYer, then take the opportunity to create your own custom furniture.
No matter what category you fall into, our outdoor furniture ideas will surely help expand your imagination. Make it happen and start relaxing in your garden in style!
We also added FAQs below to answer more of your questions, so make sure to check them out.
FAQs