Build your dream WFH haven with our garden office ideas!
Has working from home become part of your normal routine? Squeezing a desk into your bedroom or balancing a laptop on your knees are all good temporary solutions.
But if there's no sign of full-time office work anytime soon, you'll need a much better and suitable workspace. This is where our garden office ideas come into play.
We've collated a selection of the best designs just for you!
1. Invest in an insulated garden office
Owning a garden office gives you the space to work and focus on privacy. Improve your work/life balance by investing in an insulated garden room for year-round use.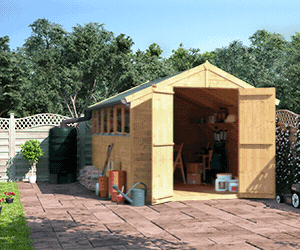 2. Go small
Even small gardens can accommodate a garden office. There's a wide variety of small modular garden offices designed for this very purpose.
They don't have to be bespoke and expensive either, just like the BillyOh Mia.

3. Make the space adaptable
If your cabin office is large enough, use the space for other activities for some leisure after work. The BillyOh Kent allows you to combine a games room and den or even a mini gym.

4. Connect it to the side of your house
A partially connected garden office to the main house has its perks. It could work out cheaper to connect electricity and WiFi as all the cables and wires are already in place.
You can also easily access facilities like the loo or pop to the kitchen for a cup of tea.
5. Floor to ceiling glass
Maximise natural lighting and your garden view with glass walls for your office. This concept will also make your space feel more like part of the yard.
6. Opt for bi-fold doors
Another way to keep your working space close to nature is bi-fold doors. The folding design saves space and allows a wider view into the enclosure area. It also offers enhanced door security.
7. Go for the rooftop
A home office concept that opens onto a roof garden! Bi-fold doors blur the line between the indoors and out.
An ideal space to work and concentrate while listening to the rain pattering on the glass roof.
8. Consider adding plumbing
If you're going through the cost of investing in a large garden office, add a small loo and kitchen area. This way, you don't have to go in and out of the main house, which also means fewer interruptions.
9. Deck it
Garden decks allow you to add hot tub ideas outside your garden office. What better way to end your working day than soaking in a hot tub or sitting out on a deck?

10. Keep the small space multi-functional
For small garden offices, you can set up the space in a way that it can serve other purposes throughout the year. For one, a vintage desk and cosy rug are enough to transform a tiny shed into a home office.
When the end of summer comes, pack everything away again and use the space for storage.
11. Keep it secured
When it comes to home security ideas, your garden office isn't an exemption. It's worth investing in top quality CCTV, locks and alarm systems. This ensures your equipment and office will be just as secure as they'd be inside the house.

12. A summer house as an alternative
If you don't work from home year-round, a summer house may help you save money rather than an insulated office. Ideal for occasional working, it can also double as a relaxation space.

13. Put in a path
Plan a walkway to your new garden office if you don't want your working area to be filled with dirt on the floor. This helps ensure your shoes are cleaner rather than if you'd walked over the lawn.
14. Think about the upkeep
Your outbuilding materials will determine how much maintenance you'll have to undertake to keep it in good shape. If it needs ongoing care, such as staining, you'll need to budget extra costs for the products.
Luckily for you, most of our log cabin office units are virtually maintenance-free.

15. The 'al desko' approach
Alternatively, keep things simple and set up a workstation outside with a deck or a potting table. An al desko setting is also a great spot for morning coffees or al fresco lunches too!
Round-up
If you've finally had enough of working from your kitchen counter, it's time to hunt for a garden office. And our creative garden office ideas are sure to get you thinking it's time for an upgrade!