The weather is inviting and the sun is shining. There's nothing quite like spending quality time outdoors on a beautiful patio! But to truly elevate your outdoor living experience, you need the right furniture.
In this blog, we will explore the different types available for patio furniture. We'll start by exploring various seating options, then onto dining sets. Next, into lounge and relaxation options, as well as storage solutions.
This guide aims to help you narrow down your options, so let's get started, shall we?
Seating Options

Outdoor sofas, chairs, and benches are popular choices for garden patio furniture. Outdoor sofas offer spacious seating and often come with cushions for enhanced comfort. They are ideal for larger patio areas and can accommodate groups of people.
Garden chairs provide versatile seating options, ranging from dining chairs to lounge chairs. They come in a wide range of materials, from weather-resistant wicker to durable metal.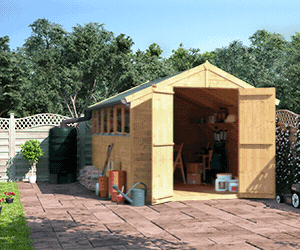 Benches are great for smaller spaces and can provide a charming seating arrangement. They often feature sturdy construction and can be made from wood, metal, or plastic.
Consider your patio size and style when selecting seating options. This will help ensure the furniture you choose meets your desired functionality.
Dining Sets

Patio dining sets play a vital role in outdoor entertaining and dining experiences. They provide a designated space for meals and gatherings, creating an inviting atmosphere.
Dining sets typically include tables, chairs, and often umbrellas for shade. They come in various materials. These include weather-resistant aluminium, durable teak, or low-maintenance synthetic rattan. Consider your local climate and personal preferences when choosing materials.
For hot and sunny areas, parasols offer protection from the sun. When selecting one, ensure it fits your available space and desired functionality. Opt for  extendable tables for versatility and chairs that provide comfort and support.
With the right dining set, you can create a practical and stylish outdoor dining experience.
Lounge and Relaxation

Patio loungers, daybeds, hammocks, and swings offer ultimate relaxation for your outdoor space. Loungers typically feature adjustable positions, allowing you to find the perfect reclining angle.
Daybeds provide a luxurious lounging experience with ample space for stretching out. Hammocks offer a soothing sway for leisurely relaxation. Swings, in contrast, give that gentle rocking motion, perfect for unwinding.
Some of these can also come with canopies to provide shade on sunny days. Cushioning adds extra comfort, often made with weather-resistant materials for durability.
To create a tranquil outdoor retreat, place your choice in a secluded corner of your patio or near a garden area. Incorporate them into cosy nooks, under a pergola, or beneath a shade tree.
Ensure there's enough space for the furniture to fully extend without obstruction. Ready to transform your patio into a serene oasis for relaxation and rejuvenation?
Storage and Accessories

Garden storage offers convenient options for storing smaller furniture pieces during inclement weather. They provide a secure and organised space, keeping your patio tidy and your furniture protected from the elements.
Additionally, practical accessories can enhance both comfort and style. Outdoor rugs not only add a cosy touch but also protect your patio surface. Cushions and throw pillows offer extra comfort and can be easily switched out for a refresh. Opt for weather-resistant materials and easy-to-clean fabrics to withstand outdoor elements.
By investing in storage, you can keep your garden furniture in excellent condition. With finishing touches, you can create an inviting and stylish outdoor space.
Materials and Maintenance

Patio furniture comes in various materials, including:
Wood
Wood is a popular choice for patio furniture due to its natural beauty and durability. Teak, cedar, and eucalyptus are commonly used. Wood furniture offers a classic and timeless appeal. It is durable and can withstand outdoor conditions, but it requires regular maintenance.
Metal
Metal patio furniture, including aluminium, is known for its strength and longevity. Aluminium is lightweight, rust-resistant, and low-maintenance. Metal furniture, overall, offers a sleek and modern aesthetic.
Rattan
Rattan furniture provides a classic, charming, and timeless look. Natural ones require regular care and protection from the elements. Meanwhile, the synthetic alternative is more weather-resistant and low-maintenance.
Plastic
Plastic furniture, often made from polyethylene, is lightweight, cheaper, and easy to clean. It's resistant to moisture, fading, and rust, making it ideal for outdoor use. However, it may not have the same aesthetic appeal or durability as other materials.
Maintenance tips
To prolong the lifespan of patio furniture, regular cleaning is essential. Use mild soap and water to remove dirt and stains. Avoid abrasive cleaners that can damage the surfaces. For specific materials, follow manufacturer recommendations for cleaning and maintenance.
When not in use, protect your furniture from harsh weather by using covers or storing it in a covered area. Regularly inspect for any signs of damage or wear. Make repairs as soon as possible to prevent further deterioration.
Round-up
The world of patio furniture offers a wide array of options to suit every style and need. With this guide, you can select the perfect pieces to create a stunning outdoor space.
Choose wisely and transform your outdoor area into a captivating retreat that you'll enjoy for years!
Shop Patio Furniture