Looking for the perfect gift for a loved one in your life? Then you've come to the right place. From gardeners to grillers, and even DIY-ers, here at BillyOh we have an amazing selection of gifts for those who love to get out into their gardens, sheds, or get stuck into a hands-on job.
Picking out the right gift is not an easy task. We know first-hand that finding something you know they'll love can get tricky. Sometimes having an idea of what they want just isn't enough.
That's why we're on hand with this Great Gifting Hub, with links to some of our gifting guides and some great gift ideas for you to explore right here. For gifts that will make even these difficult times feel special, explore what we have to offer here at BillyOh.com.

Outdoor Living
Finding a gift for someone who loves to spend a big part of their life outdoors in their garden or patio isn't a quick task. The difficult part comes not in finding something that fits – instead, it's finding a gift that will fit in their garden and will last for many years to come.
This is what makes a great outdoor living present: a special item that fits into their garden and that they can use over and over (and over) again. To do this, you'll need to consider your loved one's garden as it is right now. What does it look like? What does it need? What do they love to do there, and what would make their life or these activities easier?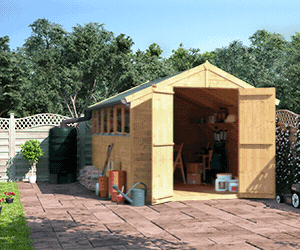 These are great questions to ask but you might still need a helping hand to find a gift that fits. Don't stress – we're on hand to give you a helping hand with our Outdoor Living Gift Ideas Guide.
From inventive planters and well-chosen pieces of garden furniture to outdoor lighting that will help your loved one see their garden in a new light, this Gift Guide has choice suggestions which will help you pick out an outdoor living gift that will make this festive season special. Click the link above to explore all these great suggestions.

DIY Tools
Any DIY hobbyist is surely only thinking about one thing coming into the festive season: tools, tools, tools! This might make the gift-choosing process a little bit easier, but finding something that they'll truly treasure can still be a hard ask.
We have another guide to help you with this task: The Best DIY Tool Gift Ideas Guide. With a quick read of this, you'll be on the path to finding a gift that they'll be proud of and will use for years upon years to come.
Getting the right DIY gift does not just mean finding the snazziest, coolest-looking tool. It's finding an effective, reliable tool that your DIY-er will use consistently and find great joy in doing so – knowing that you have helped them do something they absolutely love to do.

Barbecues and Grills
The season for cookouts and big barbecues is at the other end of the year, true, but a Barbecuing Gift is timeless. Getting your loved one an awesome new grill or cooking aid this festive period will give them loads of time to get to grips with it before the time for BBQing starts to roll around.
But that makes it only more important to find the right gift for the grillmaster in your life. If you get it correct, when the time comes to use the present they'll love it even more.

What kind of BBQ gift should you buy, though? That depends on the person you're buying for.
For an experienced griller who already has a BBQ that they love and cherish, you shouldn't try to replace that. Instead, opt for something that will help them get the best out of their favourite grill – like cleaning tools or cooking equipment.
However, if you're buying for someone who doesn't have great equipment but has a love for Pizza, then perhaps a dedicated Portable Pizza Oven could be just what you're looking for. For more ideas take a browse through our BBQ Gift Ideas Guide and find the perfect fit for your loved one.

Gardening Gifts
If you have a gardener to buy gifts for, then you've made the right choice by coming to us, the outdoor experts at BillyOh.
There are all sorts of avenues to go down when buying a present for someone who loves to get out and make their garden a beautiful place to be. You could opt for gardening tools, planting aids, flower seeds or bulbs – and that's just scratching the surface.
For an extensive list of Garden Christmas Gifts, click the link to read our great guide.

Outdoor Toys
The Festive Season is a time children simply can't get enough of. Their excitement for it brings that time of year to life, as they make memories that will stay with them for the rest of their lives.
When it comes to presents, many kids will only be thinking about one thing: toys. Many parents can be understandably hesitant to get them something that will keep them cooped up inside. So what if, instead, you chose a toy that would get them outside and allow them to be creative and energetic? 
That's where our range of outdoor toys and sandpits comes in. Either of these will encourage children to get outdoors, explore the world around them, and enjoy life in an energetic way. To get more ideas and suggestions, read our Outdoor Toys for Kids gifting guide.
Great Gifts this Festive Season
Giving out joy is at the very heart of the Festive season – a time when we can all come together and share happiness with each other. 
Your gift doesn't have to be the most expensive thing you can find. A bigger price tag does not make for a better present. What does matter is what it will mean to the loved one you give it to. Just the act of giving is a gift in itself. Remember that, whatever presents you're buying this year, sharing your love is the most important thing.
Find a gift that will make your loved one's Christmas special at BillyOh. Click the button below to browse further.