Adding garden furniture is an incredible way to maximise outdoor space. But when it comes to the material, this will depend on your preference. An aspect worth noting, though, is that carefully chosen pieces can last a lifetime (well, almost!). For starters, besides synthetic rattan, wood is a great natural choice.
Wooden garden furniture is famous for its durability and ethical properties. But the right set from the right brand can offer you even more! If you're planning on investing in wooden outdoor furniture soon, you're in the right place! In this post, we'll browse through the new wooden furniture range from BillyOh.
Key takeaways:
Why choose wooden garden furniture?

The best wooden patio furnishings from BillyOh

Why invest in BillyOh outdoor furniture?
Why Wooden Garden Furniture?
Although wood might conjure up thoughts or rot and maintenance chores – it really shouldn't. Just like other types of garden furniture, these are common issues that can be solved with proper care and attention. After all, maintenance is key, regardless of the material.
So, what's the real deal with owning wooden garden furniture? When talking about longevity, wood might just exceed your expectations. With plenty of TLC and regular treatments, it could outlive you and even last a lifetime. Even on the lower end of expectations, you can expect good-quality wood furniture to be around for decades.
Wooden garden furniture can also be more ethical and good for the environment (depending on where you buy it from!).
The versatility in aesthetics that timber offers are also a great factor. With a wide range of design options, there's something to suit every style. And although many people assume that wooden furniture must be painted or oiled to last long, that's not always the case. Timber patio furniture sets are, in fact, easy to maintain.
Keeping it clean is one major aspect of looking after furniture. And this is something that is easily done with a soft-bristled brush and a bucket of warm water. In short, wooden garden furniture is an investment that lasts a long time. Have a look at our collection below, perfectly suited to any garden!
Price: £145.00

A bistro set can offer a perfect place for a quick garden retreat for those with smaller outdoor spaces. And this fantastic BillyOh Windsor Square Bistro Set is no exception!
Pop it up in a sunny spot and bring a touch of Paris to your humble yard! The size is perfect for you to spread out your books and have your 'me' time or to accommodate alfresco dining for two. The set is made of durable Acacia wood. This sustainable material makes the set scratch-resistant. Plus, its natural finish will match the design of any garden.
Moreover, Acacia hardwood is so dense that it's naturally water-resistant. This means you don't have to worry whether you should leave your bistro set out in the rain. Not only does it look great, but it's a practical and durable choice.
Price: £150.00

Relax, unwind, and enjoy the sights and sounds around you with this wooden bench! Like the rest of our Windsor collection, this bench features a timeless design. Take advantage of the thick, wooden armrests to rest your elbows.
The wooden slats also run horizontally across the seat. This gives the bench a traditional appearance that will look great in any outdoor space. Plus, it comes as pre-assembled panels, so all you need to do is slat it into place, then it's ready for you to enjoy your new seat.
Price: From £100.00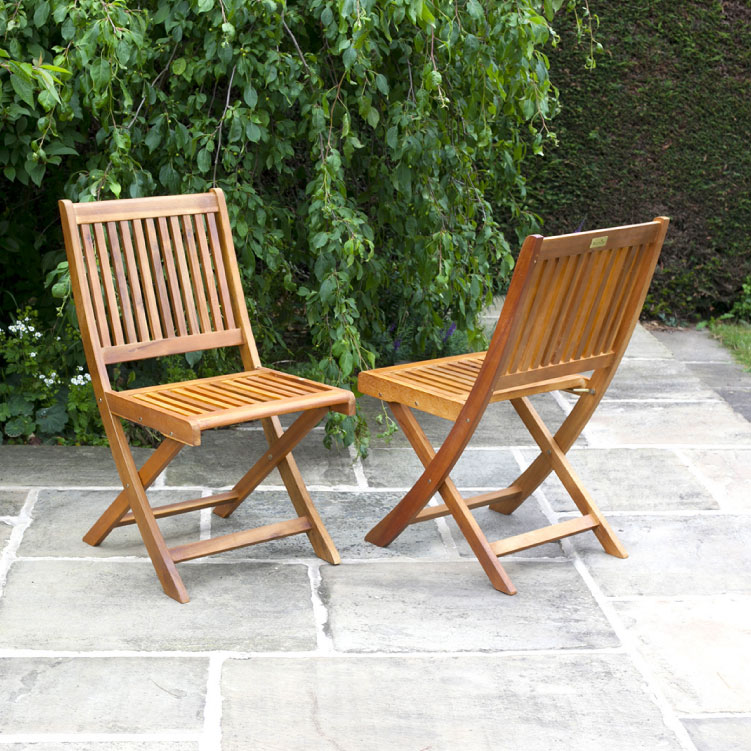 To complete the look of your Windsor dining table, you need a chair, and a folding one sounds like a plan! The Windsor Folding Chairs feature thin, wooden slats, for a classic style.
Set it up at your garden table or pack it for a day trip – its foldable, lightweight design makes it ideal for each! Made from Acacia hardwood, it is guaranteed to last for years. You also might like this reclining version that offers versatile seating positions. The armrests and reclinable back support are ideal for comfier and finding the perfect seating position.
Price: From £95.00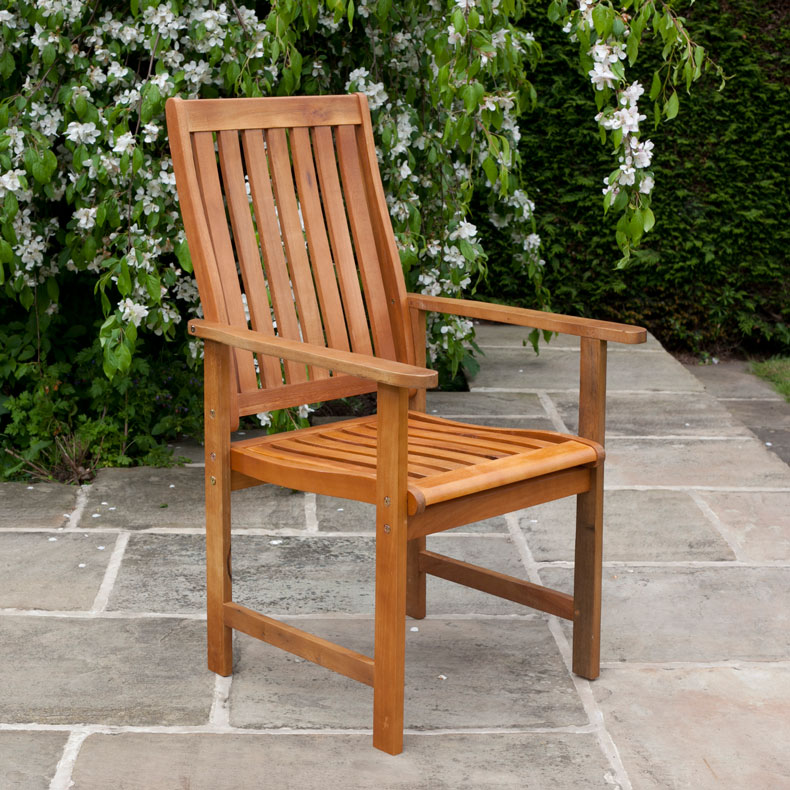 Made from Acacia, this Windsor Armchair has a durable structure that looks fantastic. We've used a timeless design that will remain stylish over the years.
It features armrests that are tapered to a wider point to rest your arms comfortably. This allows you to pass the hours in the sun without compromising on comfort. The contours on the back and seat support you to be truly content for as long as you sit there. And despite being strong and sturdy, the chair is also lightweight.
Buy one to lounge in a secluded corner of your garden or a set to sit around an outdoor table.
Price: £195.00

There's no better way to spend a warm, sunny day than relaxing out in the garden with a loved one. And this love seat is the perfect backyard companion! The seats have been designed to be slightly wider than regular wooden garden seats. This makes it easier for you to sit comfortably and prevent stiffness after long periods.
Plus, the seats are slightly angled towards one another. This tiny detail allows you to converse with your companion effortlessly and strain-free. There's also a bench included between the two seats, connecting them. The size is perfect for drinks and some snacks.
Our companion love seat is a perfect place to practise garden relaxation with a loved one.
Why Buy From BillyOh?
Here at BillyOh, we endeavour to make home and garden living easy for you. Our furniture collections are made with the best materials that you can enjoy for many years to come.
We invest huge amounts of time and manpower to produce top-quality products that suit everyone's needs. With this, we are confident in endorsing our garden furniture sets. This includes our Windsor wooden furniture sets, which are worth checking out!
Click the button below to shop from our BillyOh outdoor furniture today.
Shop Rattan Garden Furniture