A well-defined edge gives your garden a professionally groomed look. It helps maintain the picture-perfect appearance of your landscape.
The best part is it can add interest and curb appeal with minimal effort. This is especially true if you have a minimalist garden scheme.
To help you find the ideal edging for your yard, browse through our list of lawn edging ideas. They can be done at the weekend, and no professional landscaper is required!
1. Natural stone edge
This lawn edging concept will add texture and flow to your garden. Use small and large river stones to create a dapper border.
They help create a smooth transition between your lawn and flower beds. Read our rock garden ideas for more inspiration!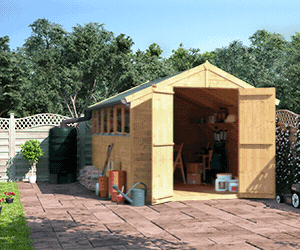 2. Incorporate a bench for functionality
The addition of a bench into the mix will serve a double purpose. It allows you to give your garden a rustic edge while also offering more seating space.
Use thick wooden planks or read our garden bench ideas for other design options.
3. Introduce a path
Pathways are an essential part of a garden. Not only do they add structure but also a decorative touch to the space. Add a path that connects your lawn and makes it blend seamlessly.

4. Add floral edging
One of the secrets to cottage garden designs is mixing a variety of blooms to the edge of your lawn. A range of different colours and patterns will add drama and make your yard more dreamy.

5. Living edge with hedges
Hedges bring a softer appearance than metal or concrete edges. Ideal for wildlife garden ideas, they also provide a great habitat for pollinators and protection to birds.

6. With gabion walls
Gabion walls make an interesting take on traditional stone walls. This garden border idea uses a wire basket-type material to hold stones.
It works best in a circle or curved lawn edges. Fill in the gaps with various coloured mulch for a natural look.

7. Make use of eco blocks
As the name suggests, eco blocks are sustainable and designed to look like natural bricks. The soft rounded edges make the blocks both child and pet friendly. They can also be cut to size and curved, ideal for trimming around trees or flower beds.

8. Galvanised lawn edging
The idea is to use galvanised steel for a more hard-wearing edging choice for your garden. It can curve around any shape, rustproof, maintenance-free and long-lasting. Suitable for all lawns, borders and pathways.
9. Bamboo borders
Bamboo as a garden edger offers an organic look that fits right into any garden. This edging concept features a versatile material that creates an attractive, functional border.
Bamboo borders would look around a water feature.
10. Cobblestone-effect edging
Cobblestones transform simple garden landscaping into something that's neat and organised. They provide a formal definition of beds, pathways and other garden areas.
11. Wooden frames
Using wood, frame the garden edge with plants. This is great for breaking up your lush lawn and thriving greenery. Add stones for a bit of aesthetics. Ideal for small backyard porches.

12. Upside-down wine bottles
Turn the wine bottles upside down and push them to the ground. Use bottles in various shapes and colours. Install them in a row to create a border to your vegetable garden or flower bed.

13. Lavender all the way
Loved for its beautiful blooms and delicate fragrance, lavender edging is worth considering. It provides the perfect frame for your garden design. Add a row of dazzling lavender to hide the rough edge of the lawn.

14. Reclaimed timber
A simple and classic look for your lawn edging, reclaimed timber is a cheap and easy option that can last for years. Use short planks to create a small border, or use larger ones to create raised beds. The latter is great for adding height to your garden design.
15. Rough stone Tetris style
Giving off a modern and rustic look, these rough stones are perfect for adding a Tetris style to your lawn edges. Stack the stones however you like to create a unique look.
The unique design will make your garden stand out!
16. Boulders and trees
Lawn edges don't always have to be straight; sometimes, a bit of curve and irregularity can still give your yard a striking point. Take a look at this paradise-like garden.
The stunning large stones act as the borders, while trees over the rocks add height.

17. Shrubs for volume
Shrubs offer year-round interest to gardens, at the same time adding volume to borders. Evergreens with good form and shapely leaves are ideal for small spaces. 
Consider size at maturity, as some shrubs can grow to monstrous proportions.

18. Flower beds to line the path
Flower beds make exceptional dividers for a garden path. Even better, when you bring tall, architectural plants into the mix. 
Here, various blooms in vivid hues add an extra dose of visual interest alongside a freshly mowed lawn.

19. Get more creative with repurposed items
Upcycle items always find new homes and use throughout the garden. Have a look at these old plates lining up as a lawn border.
Plants could easily get lost in the front of this border. But having them fall gently on the plates pulls them together.
20. Oriental grasses
Fescues, for one, are considered low-growers and are often used as edgings and borders. Let them take their place in a mixed border where their foliage and habit contrast effectively with bright summer flowers.
Round-up
Lawn edging is often overlooked in garden design ideas. Choosing the right design for your landscape will depend on the style of your outdoor space.
Cottage garden ideas suit a more organic look well. Modern gardens, in contrast, look best with a sleeker edging design.
We hope our lawn edging ideas will give you the inspiration you need and get started!
Shop Rattan Garden Furniture
FAQs