Take period interior design schemes outdoors with a Victorian landscape for your yard!
Like English gardens, the Victorian era was a game changer for outdoor spaces. The key elements focus on lavish displays combined with neat, ordered structures. It's all about showmanship tied with garden arts.
To recreate, you don't have to go full-on to get the feel. Incorporate single elements or design a corner without overwhelming your space. Take inspiration from these Victorian garden ideas and make them part of your landscape.
1. Gazebo centrepiece
Garden gazebos make a true centrepiece in lavish landscapes. Traditionally, they're defined by their ornate details, beautiful presence, and simple grandeur.
For a simpler approach, go for a freestanding unit with vines draping over the posts and arches.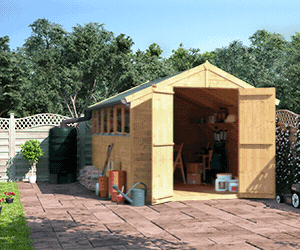 2. Luscious topiary and clipped greens
To evoke a Victorian garden, topiary and well-manicured greens are essential. Plants that can keep their symmetrical forms are a laid-back alternative to topiary. 
Rounded shrubs, for one, don't require frequent trimming.

3. Seasonal plants in geometric patterns
Victorian gardens benefit from planting in geometric formations such as blocks and walls. This method helps define the beds, creating focal points and year-round visual interest.
In essence, think showy, vibrant flowers full of colour with a touch of the exotic.

4. A path made of terracotta tiles
Paths of terracotta tiles don't only work for Mediterranean gardens. They have a uniquely beautiful look and feel that Victorian yards can take advantage of, too. A floral tile, for one, provides style and beauty enhancement.
5. Exotic plants
Showcase fabulous, striking flower displays under glass as the Victorians did! If you live in a colder temperate zone you can still enjoy these warmth-loving plants in a greenhouse.

6. Incorporate a rockery into the mix
Create a range of artificial landscapes with rockeries and rock plants. Ferns and alpine are great choices. Adding at least one rockery in your garden area will add character and a 'more in touch with nature' feel.

7. Go for a cottage garden approach
Cottage garden ideas work well with Victorian-inspired backyards. Romanticise a rural life and create a yard full of abundant planting and a mass of colourful blooms.
Top tip: Opt for informal and dense planting.

8. Grow pelargonium
Pelargonium-rich displays became the essentials of Victorian gardens. The blooms are known for their reliability and flower power.
Grow different types of pelargoniums, which you can propagate each year. Use them in pots along a garden wall or as a garden table centrepiece.

9. Lush beds and borders
Flashy borders and ornamental planting schemes became familiar features in Victorian gardens. Beds and borders are full of colours, and most feature exotic species of plants.

10. Tightly-planted and patterned beds
Tightly-planted garden beds were laid out with a burst of colour and pattern in Victorian times. Typically, there are 2 to 3 species of flowers in the bed to form a geometric pattern.
To achieve a mosaic effect, cram in as many plants as possible.
11. A sundial focal feature
Victorian gardens feature sundials and loads of other garden structures made of ironwork. A sundial can be implemented as a focal point surrounded by plants, like boxwood shrubs and roses.

12. Decorative ironwork
Wrought iron became especially popular in many garden settings, particularly for benches. And this cast aluminium bench makes a practical and aesthetic modern alternative.
It features rust-free materials and an elegant lattice design.

13. Victorian fountain addition
Create a calming sound and relaxing ambience in your garden with a fountain. This Victorian-style fountain, for one, makes a beautiful outdoor piece and a great de-stressor.
Garden water features also help attract wildlife, such as birds and butterflies.

14. Benefit from aromatic plants
Victorians had a special love for aromatic plants like lavender and scented geraniums. We recommend including a variety of aromatic flowers in your planting.
Plant them in containers, along hardscape edges to soften edges, or in beds in large swathes.

15. Use urns to punctuate your garden
Urns are more decorative and ornate compared to traditional planters. Even better, they have uses far beyond holding olive oil and flowers.
A single urn can be turned into a fountain, for instance and makes a focal point.

16. Consider growing Fuchsias
Fuchsias were a favourite plant in the Victorian Era and loved by Queen Victoria herself. They were then at the peak of their popularity, adorning driveways and bedding displays. Consider growing a few and make them a feature of your own garden.

17. Victorian-inspired outdoor kitchen
Who would've thought that this Victorian-inspired garden kitchen used to be an old driveway? The stonework, iron furnishings, and pergola with vines make up the space.
The single-counter kitchen provides an area for cooking, serving and storage. And the rest is for dining and entertainment!
18. Lawnmower for landscaping
When the lawn mower was invented, this changed the game for Victorian garden landscaping. This handy garden tool helps tidy up the garden, ensuring the lawn is well-groomed. A great piece of equipment to have in maintaining a Victorian-style backyard.

19. Vines drape over an arch
Transform your garden into an elegant, inviting vista for summer with an arch! A garden arbour draped with vines can make an impact on the overall look of your outdoor space. Check these ideas for more!

20. A dedicated area for a croquet lawn
Anyone for croquet in a Victorian garden? A perfect lawn is a vital factor in a game of croquet. And a croquet lawn requires regular upkeep to achieve the perfect finish.

21. Climbing plants are your best friend
Climbing vines help create shaded areas for rest. Victorians would have them over boring fences or to mask imperfections in their yards. The vines are also the main ingredient in making a trellis or pergola look more romantic.

22. Wrought-iron fencing
Iron fences and iron gates were all the rage during the Victorian era.  Many utilise fencing to frame their yards or separate certain spaces. A trellis or arbour was also often placed at the gate to add intrigue.

23. Add a birdbath
Most Victorian backyards were unlikely to have a "less is more" garden philosophy. So a birdbath makes a lovely addition to the space and is a quick way to encourage more wildlife into your plot.

24. Use a gazing ball as a focal point
Gazing balls were not only beautiful objects for the garden. Also, they found practical use inside upper-class homes during the Victorian era. Consider adding one to create a focal point in your courtyard.

25. Cultivate a rose garden
Victorian rose gardens were known for their carefree, almost whimsical style. Fill your landscape design with roses in every form, whether climbing, shrub or bush. Use a combination of old, antique roses and newer hybrids.

26. Light up the yard with gas-style lamp posts
Gas lamp-style lamp posts were common during the era, even in gardens. Modern versions re made from aluminium, and they tend to have a black and gold finish. An excellent garden lighting idea to consider!

27. Water lilies everywhere
Water lilies are the perfect finishing touch for ponds, adding vibrant beauty. They're generally annuals and can grow to an impressive size. Grow them in your pond and other water bodies.

28. Stone ornaments
Stone ornaments or statues add finesse to the garden. Adding a few stone pieces can transform your yard into a Victorian daydream. Consider adding a statue of a goddess or cherubs playing together in columns.
29. Invest in a greenhouse
Glass structures like greenhouses can open up your outdoor space. Most importantly, they can offer the ideal environment for exotic and tender plants.
Or consider a conservatory, a.k.a. a Victorian sunroom, with Gothic windows and doors.

30. Install a pergola
Break up your garden space with arches and structural supports such as a pergola. With one, you can create a visually-appealing garden room-style set-up for entertainment.
Allow winding plants to grow around it for added shade and privacy.

31. Curved flower beds
Showcase your growing number of vibrant plants on large, curved flower beds. This planting scheme works well alongside garden paths.
If you wish to add neat borders, frame them with bricks, stones or metalwork. This will keep luscious shrubs and plants neatly in place.

32. Palm trees for a tropical touch
Back then, owning palm trees meant you were wealthy. Today, they're everywhere, and you can often spot them in stately Victorian gardens and greenhouses. 
These tropical species can give a bold new look and will look amazing in large gardens.

Round-up
Victorian garden ideas are known for their lush and rich greenery displays. Adding elegance and whimsy to outdoor spaces, a Victorian-style garden might work for you.
With our list of designs, we hope you find the inspiration you're looking for. Let us know in the comments below your favourite one!
Shop Outdoor Living
FAQs