The right seating arrangement can take your outdoor living space to the next level. And by adding a table, you and your family can enjoy the warmer months with alfresco dining.
This is where our garden table ideas come in. Whether it's for your patio, balcony, or rooftop, there's a garden table to suit your space here!
Our curated list ranges from DIY projects to worthwhile investments in outdoor furniture.
1. Invest in a picnic table
Picnic tables are great for both kids and adults alike. Having one in your yard can make a huge difference in outdoor activities like garden picnics.
This Modbury 2-in-1 garden bench and picnic table offer you the best of both worlds!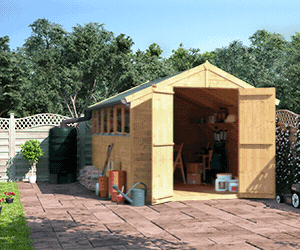 2. BBQ station table
If you love hosting BBQ or outdoor cookouts in the summer, a grilling station table is a must-have. This will give you the counter space and shelving you need for cooking or smoking and prep.
For added shade and protection, consider a BBQ shelter.

3. Circular-shaped
The perfect patio furniture idea for small gardens is a circular table and chair set. The shape gives a smaller footprint, taking up less space than a square table.
Even better, it's easier to walk around with no hard corners to knock into.
4. Made of rattan
Rectangular garden tables can accommodate more people compared to round ones. If you have a large family, consider getting this rattan effect rectangle table. It's perfect as an addition to a dining set or as a standalone piece.

5. A mix of modern and traditional
This concrete table with wooden posts is the perfect definition of modern-traditional furniture. The thing we like about concrete is it's a robust material and, at the same time, can be super stylish.

6. With curved edges
Regardless of the material, garden furniture with curved edges adds a contemporary feel. Matching armchairs with cushions will keep your patio looking fresh and functional year-round.
7. Complementing the corner
Looking for outdoor furnishings to fit a corner garden can be tricky. Your best bet is to go bespoke or DIY to suit the clean lines of your space.
If you're a fan of contemporary designs, you might like this patio layout.

8. Coffee table with a cooler
Speaking of the do-it-yourself project, this pallet table with a cooler is worth a shot! The centre of the table is cut out, allowing you to put drinks on ice.
A great budget project that would make a great addition to your patio scheme.
9. The farmhouse table
The design of this table has a farmhouse feel to it, but its classic shape would suit any type of decor well. Go for a herringbone pattern for the tabletop for added interest.

10. 2-in-1- serving cart and table
Portable carts are functional DIY furniture to keep in any entertaining outdoor space. For smaller patios, it can double as a table or an outdoor kitchen counter extension. A tiered design can give you more storage options, too!
11. Infused with a fire pit
A fire pit dining table set is exactly what its name says – a fire pit in an actual table. With one, you can save more money than having a separate table and a fire pit around.
Highlighting functionality, practicality, and aesthetics, you're going to love the BillyOh Capri.

12. Reclaimed wood and metal shelving unit
These unique tables and benches are made from pallet wood and modular metal shelving units. The addition of peach pebbles adds to the sturdiness and aesthetic of the table.

13. Go bistro
Bistro tables are perfect for small alfresco, like breakfast, lunch or hors d'oeuvres. They make for great porch or back patio furniture if you have less room for a larger table.
Pop this BillyOh Windsor up in a sunny spot, and while away the hours – enjoy the slow life with your new bistro set!

14. Fold-down bar tabletop
You don't need a large yard to own a garden pub. Even the smallest space can have one, focusing more on the design rather than the size.
Take this fold-down tabletop, for example! It makes the perfect makeshift garden bar just for the summer.
15. Featuring a chevron pattern
Chevron patterns never go out of style, and they will look great in your outdoor space. This patio table is a great beginner DIY project, with pallet and rustic wood involved.

16. Table for the kids
The cute tables are small and versatile, perfect for kids in the summertime. Add a punch of colour by painting them in bright shades. When the little ones aren't around, the tables can double as footstools.

17. Heavy-duty folding table
Need a patio table but don't have enough room to leave it set up? This one's for you! Lightweight and portable – as the name suggests, it folds up for easy storage.
With enough room to seat 6, always be prepared for any event with the BillyOh 4ft Folding Trestle Table!

18. Octagon with lattice legs
The design simplifies the round table shape into an octagon and criss-cross legs. The unique shape and lattice feature make this garden table extra special.
19. With an inset planter
The lovely feature of this alfresco dining table is the inset planter in the centre. The design allows the removable planter to be placed with drinks and ice. Or to be completely covered with a panel to maximise the table space.
20. Herb garden table
The concept of this patio coffee table almost has the same ideas as #19. The centre is left open, enabling you to plant herbs or flowers right on the table. The only difference is the size and the function, as this one can double as an actual planter.

21. Designed with mosaic tiles
This galvanised steel table features a gold powder-coated structure. The main highlight of the design is the mosaic of multicoloured tabletop tiles. A funky, contemporary design with a certain vintage air!

22. Boho picnic table
With only two pallets, you can build a lightweight, budget-friendly boho picnic table. The perfect companion for eating in the garden while sitting on the ground.

23. Multipurpose crate on the side
Perfect for patios, this crate side table packs a stylish punch with plenty of storage. Make it portable and more convenient by adding wheels. Or adjust its height to level your grill and make it into a BBQ side table.
24. With a parasol hole
If you love spending long hours outdoors, invest in a garden table with a parasol hole for added shade. This oval dining set is designed to be comfortable and convenient, with a hole ready for a parasol.

25. Rattan effect coffee table
It pays to opt for pieces in weatherproof materials if the furniture is to be left all summer outdoors. The outstanding quality rattan effect of this coffee table is worth considering.
Perfect use on patios, decking, and conservatories.

26. Modified old door and glass
One man's trash is another man's treasure. This "brought to life" old door and glass table is a great example.
The repurposed door makes a clever DIY dining table. Adding a glass slab on top gives it a finished look, providing a uniformly smooth surface.
27. Plank and pipe combination
This patio plank and pipe patio table feature a minimalist design. The size is long enough, making it an excellent outdoor console table.
Great for backyard barbecues, outdoor family dinners, and carving pumpkins in the fall.
28. Glass topped
Glass tabletops offer the same perk as garden mirror ideas: they create an illusion of space. One can help open up your patio and make it appear much larger than it really is.

29. Shining marble
Beauty is at the top of the list of advantages of marble garden tables. On top of their durability, they have a timeless design and never go out of fashion.
They also make the perfect outdoor piece for a Greek garden.
30. Carved-leg wooden table
For unique, custom and handmade outdoor pieces, go for a garden table with a carved leg design. It serves as a nice central decorating platform while adding interest to the space.
31. Mod podge accent
Use a tropical theme to add a nice seasonal vibe to your furniture piece and patio space. By using Mod Podge, you can swap out the fabric and choose a fresh new colour or pattern to fit the season.
32. Polywood material
This grey outdoor bar table can always be relied on for your outdoor entertainment needs. The stylish design ensures it can fit into any type of setting. It's the type of bar table that won't let you down.

33. A potting bench
This particular garden table provides a convenient place for nursery and garden tools. If you're keen on gardening, it can serve as a convenient workstation outdoors.

34. Concrete paver tabletop
A cost-effective alternative to a full concrete table, this DIY is made using pavers. If you need a small table for your small garden deck, you might want to recreate this simple masterpiece!
35. Children's picnic table
Perfect for kids, this picnic table has a classic design we all know and love with a natural wood finish. It has added safety features –  0.5mm space between the planks preventing accidents.

Round-up
There are plenty of stylish options to choose from. But the key to choosing the perfect garden table is the size and shape. This ensures the furniture suits the layout of your outdoor space.
If your plot floor plan features curves and circular shapes, a round or oval table is your safe bet. But if it's quite linear or angular, go for a square or rectangular-sized one.
For DIY garden table ideas, go bespoke to satisfy your personal taste. All are easy to build yourself, even without woodworking experience.