Borders, edges, and paths are common in garden landscapes. But they're nothing without sleepers.
Robust, versatile and inexpensive, garden sleepers are the finishing touches in landscaping projects. They can be used for anything from planting to construction, adding a rustic charm.
If you're ready to take on your next yard project, these garden sleeper ideas can get you started! See how these plots incorporate wooden beams and steal an idea or two for your own space.
1. Elevate your steps with railway sleepers
Give your garden steps a natural design with railway sleepers. The naturalistic appearance works well in both modern and cottage-inspired plots.
Soften the look by planting low-growing foliage in the gaps or add boulders on the side per each step.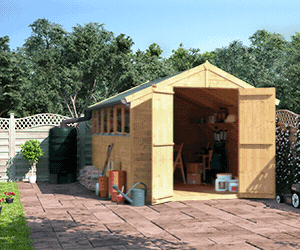 2. Edge your raised patio
Like a wooden edge, these wooden beams make an excellent edge to a raised patio. It's best used on decks with not-too-high elevation; otherwise, use wood slabs.
We recommend using oak sleepers as they're robust and durable.

3. Border your vegetable garden beds
An easy and stylish way to build raised beds for your vegetable garden is to use sleepers. They make the perfect base for growing your own greens and are long-lasting.
A single height will suffice, or stack them up for even easier access.

4. For housing your plants
Unlike sleeper-raised beds, the planter version tends to be smaller and has a fixed base. For portability, add castor wheels, so whatever you plant can be moved according to the season.
Line it with a quality landscaping fabric and secure it with a staple gun for a stronger structure.
5. Create a sleeper route
If you wish to create a winding path in your backyard, sleeper paths are a great way to lay out the route. Depending on the style, they can introduce a rustic and natural look to the area.
Top tip: Best tempered down on the sand, lay your sleeper path sections so they are almost fully submerged.

6. To margin your garden
Using sleepers, you can add natural textures and layers to your garden edges. Lay long horizontal lengths to achieve a clean straight bedding line.
Or sink vertical lengths a little into the ground to create a traditional edging roll. Sleeper borders also work in lining your driveway.
7. A rustic container plants display
Give your container garden a prideful place to showcase its seasonal blooms. Here, the sleepers form a step-like structure for displaying the pots. At the same time, it adds vertical visual interest.
8. As a retaining wall for your sloped plot
The idea is to have a practical alternative to traditional landscaping materials. It makes sense that sleepers make fantastic retaining walls, especially for sloped gardens.
Take a cue from this vertical railway sleeper retaining wall.

9. Add a water feature
It turns out that you can build a garden pond using railway sleepers! Build and fasten stacked sleeper frames with supporting angled brackets. Finish it off by sealing it with a good-quality pond liner before filling it up.

10. Something for the kids
If you already have a water feature, a sand pit is guaranteed to entice your children outdoors. Using railway sleepers, you can provide them with a place for activity and adventure. Build one in no time using this guide!

11. DIY outdoor table and benches
Versatile and sturdy by nature, add functionality to your garden with sleeper furniture. This country-style timber dining set almost looks like it was brought from a store, but it's actually DIY. Luckily, there's a guide that can help you recreate it!

12. Coastal style of fencing
Sleepers with a weathered appearance are great for adding a coastal touch to your yard. One way to turn heads is to use them as garden fencing or dividers. When used in this way they look just like groynes.
We like the difference in heights here which offers a more eclectic, artsy look.

13. Define levels on your sloped plot
Like retaining walls (see #8), you can bring garden sleeper ideas into your tiered plot scheme. This draws the eye upwards with rows of weather-worn wooden beams.
In this yard, the sleepers create a striking point to edge the multi-levelled beds.
14. Work them into your decking
Oak railway sleepers are a great alternative to traditional decking materials. The finish can often feel country and chic.
You can integrate steps with outdoor lights on each side to frame the entrance. Check our garden decking ideas for more!
15. Introduce a gravel garden
A single or multi-tiered sleeper raised bed makes the perfect home for a gravel feature. Take a cue from this gravel garden idea, with succulents and ice-blue chippings into the mix.
For a characterful finish, consider sleepers with knots and gnarls on the surface.

16. Zone your outdoor space
Use sleepers all the way around the edges of your lawn. This trick is great for zoning different areas in your garden.
Break up the long, narrow space into two or three areas to mark a dining space, a lawn, a children's play area – or however you want to use the space!
17. For filling in awkward corners
Sleepers also come in handy for filling awkward garden corners. As shown here, the bespoke raised bed made use of an existing wall. The height can also be used as a seating perch, especially if the top sleeper is wide enough.

18. Build a living wall vertical garden
Like pallets, these timber beams are great for building a living wall. The material itself is ideal for support and strengthening purposes. You may hang pots with a variety of blooms or install trellis along and train climbing plants to grow up them.

19. As an outdoor statue display
A reclaimed sleeper is a piece of history, weathered and gnarled from years of use. If you have a few pieces kept in your shed, it's time to display them as statues.
They'll make a unique and classic backdrop to plants and foliage. Or as a standalone statement piece like the one below.
20. Corner seating area
Steal the look of this stunning corner area using tropical hardwood railway sleepers. Position each beam vertically and at different heights for an eye-catching effect.
Add a cushion to the seating for comfort, and complete the look with a metal fire pit in the middle.
21. Go big with an octagonal dining area
This creative dining area is built using Dutch oak railway sleepers to create the frame of the structure. From the decking to the reclaimed joists for the roof and seats and table, it offers the ideal place for a banquet!
It has 16 seats, and the design is based on a medieval market cross.
22. Handmade classic sleeper bench
A garden bench made from sleepers won't cost you much, and it only needs a bit of very basic carpentry. Depending on the design, it can also double as a table, particularly if it's built low.

23. Construct a pergola
Add height and more structure to your plot with a freestanding pergola. Not only does it improve your patio's curb appeal for a fraction of the cost (especially DIYs), but it also adds a sense of shade and privacy.
Check our garden pergola ideas for more inspiration!
24. A rustic water feature focal point
This corner fountain with a hint of rustic features an old well pump, wine barrel, and sleepers. Steel and railway beams also work together to create a modern cascading waterfall.
Unlike a pond (see #9), skip the fish and make use of the steps to display your container plants.
25. Consider a sunken pit area
This sunken fire pit has been nestled into the hillside and is lined with railway sleepers. The pit also comes with an oak lid that doubles as a table. This neat trick can bring some sense of playfulness to your landscape.
Round-up
This round-up list of garden sleeper ideas has shown you a multitude of ways. And now you know how adaptable garden sleepers are, you can start using them in your own inventive ways – literally ideal for all kinds of landscaping! From raised garden beds to paths and fences, dividing spaces, and more, choose wooden sleepers!