Garden furniture add style to your garden, but how you position and arrange it makes a big difference in your outdoor space.
Howard and his wife were very particular with the thought of having a lounge set that could accommodate their growing family when they visited.
Howard shares his story on how they decided to purchase the BillyOh Rosario Patio Sectional Sofa Set and their customer experience.

What made you purchase your building from Garden Buildings Direct?
The set from yourselves fitted the space perfectly and was considerably more economical and we would say better value.

Why did you choose the Rosario Patio Sectional sofa set 6- seat?
We were looking to replace a large Teak Dining table and what had become a mishmash of chairs. The type of furniture and configuration was decided upon and we visited a local Internet Supplier who also had a showroom. Their sets were somewhat overkilled and in fact slightly too large for the area available.and were also very expensive.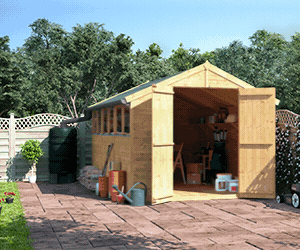 How are you finding the Sofa set now?
It suits the need perfectly and has already had more use in the few weeks we have owned it than the table and chairs all summer.

Notwithstanding the fact that Howard's sofa set is one of the most amazing garden furniture that has been arranged perfectly at the corner of their garden.
If you have come up short on enhancing thoughts for your garden, Howard's amazing photos will definitely help you. Arrange the sets into any configuration you desire.
Check out our garden furniture that fit any type of garden and our wide variety of sofa sets from 4 seater, 6 seater, 8 seater and 9 seater.
See more Rosario sofa set stories.