Wishing for a comfortable place where you can sit and relax in your garden, with an abundance of natural light without worrying about the weather? Your wish can come true.

Patrick's Picton Corner Summerhouse was perfectly placed at the corner of his garden surrounded by plants giving him and his wife the perfect spot to view the whole garden.We talked to him and he shared his customer experience and how pleased he was after building the summerhouse.
What made you purchase your building from BillyOh?
We have checked various websites and we found out that BillyOh has the best value for size and money.
Why did you choose the Picton Corner Summerhouse?
We wanted somewhere to sit and still see the garden even if the weather is hot or cold.
How was your customer experience?
The delivery was early in the morning, so it gave a great start on erecting the building on day one. Sadly the weather let us down so I had to continue between showers.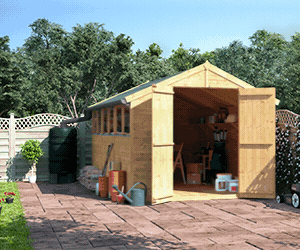 How are you finding the summerhouse now?
I did the whole thing on my own as a 73 old pensioner, I feel very pleased with myself.
What paint did you use?
I used Danish oil to protect the timbers from the weather.
Would you recommend buying from us?
I would recommend BillyOh for quality and value for money.
Looking for a summerhouse but worried on your garden space? Worry no more because you can always have one that will definitely fit your garden. With our wide range of summerhouses, you can have a private spot in your garden where you can spend time with your loved ones just like Patrick.