Being involved in the art of good garden landscaping creates a strong human-nature connection. What's more, it sets an inviting aura, encouraging anyone who steps in to take a dose of its beauty.
But an outdoor space with a few mere plants scattered around an open space would look the opposite of beautiful. This is where garden paths come into the picture, tying the landscape together.
A walkway makes traversing through the yard easier. It accentuates the garden, making it a natural extension of your home.
Moving forward with our modish garden ideas, here's a list of modern garden path ideas to go with it.
1. Play with geometric shapes
Different-sized geometric shapes create visual interest and intrigue in a garden. Adding to the modern touch, this quaint geometric pattern instils a sense of adventure and playfulness.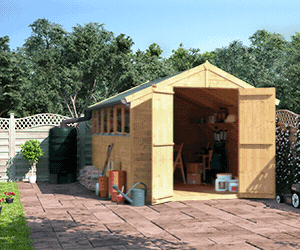 Alternatively, opt for rectangles and squares for a more stable and calmer feel.

2. An elevating wooden walkway
A boardwalk lets you reach garden areas that aren't easily accessible due to the ground it covers. Here, the wooden walkway helps you traverse some of the uneven parts of your landscape.
It allows you to walk through the garden at ease, making the most of all the space available to you and creating a beautiful feature.

3. Light the way
For a more effective pathway, consider walkway illumination. The right outdoor lighting can enhance safety, convenience and curb appeal.
This path has its lights placed on alternating sides for balance and visual interest. Check our garden light ideas post for more inspiration!

4. Keep it simple with concrete
Concrete has long been the go-to choice for many gardeners. It's a material that adapts to its surrounding habitat, making it ideal for modern-style gardens.
This concrete slab design, for one, never goes out of style. It smoothly and subtly carries you and your guests to the outdoor living space.

5. One that leads to a focal point
The point of this concept is to raise intrigue about where the path might lead. A tranquil approach creates a walkway that leads into the heart of the garden – here, it's a fountain.
The sound of the tickling water and the outdoor serenity will surely be worth the walk!
6. Make the path solar-powered
There's nothing more innovative than having your garden path solar-powered. What's better is that solar pathway lights don't need outlets and, of course, they're energy-efficient.
The Biard Allende is a great example. It adds much-needed light to your front or back yard at a price you can afford.

7. Irregular step-stones
Stone walkways offer both a functional and aesthetically pleasing design. An informal, unregimented step design leads the eye to a focal point, which may be a gazebo, fire pit, or garden.
For a formal design, focus on straight lines, consistent steps, right angles and well-manicured landscaping.

8. Modern paving slabs
A chic paving slab concept is usually rectangular, sometimes square, and rarely circular. This concept is your best bet if you want to extend your house's flat-and-wide architecture.
The pavers can also be elevated above grass or rock or ground cover, pebbles, or concrete.

9. Partial grass and rocks
Here, the modern concrete pathway pulls these two disparate zones together. Lush lawn on the side and stark landscape stone on the other, combined beautifully by an inventive path design.
A pathway design that gives you the best of both worlds!
10. The resin-bound system
Resin suits modern-style gardens, including urban chic and minimalist outdoor settings. It's best used in combination with block paving or even pattern imprinted concrete.
With a resin path, it's also easy to create curves, which is ideal for wildflower or curved-flower bed gardens.
11. Block paving approach
Block paving isn't just for paths but also for patios and driveways. It adds a sleek finish to your exterior while being low-maintenance.
Weathered blocks can bring warmth, texture, and more rustic touch to the garden. A curved design also helps enhance a small space.

12. Rustic clean-cut woods
Thinking of adding natural materials while still achieving a modern aesthetic? Use wooden stepping stones with clean edges to create a hybrid look that marries rustic and modern styles.
Ensure the lawn is well-trimmed to ease the transition from the patio through the garden and keep the stepping stones visible.
13. Stepping stones in circular shapes
These timeless circular stepping stones will complement both modern and traditional garden designs. Perfectly paired with large and small gravel underlayers, you'll have a durable and frost-resistant walkway.
The circle shape also adds variety if your landscape mostly utilises other shapes.

14. Go natural with a flower path
Just because your garden theme is modern doesn't mean you can't have a natural feature. In fact, the two styles can integrate very well. Here, the modern element is the planting scheme. Growing masses of one flower type instead of plopping one of each kind gives huge amounts of colour.
Take a cue from this flower-bordered path that resulted in a colourful, full-fledged garden.

15. Bricks laid in a herringbone pattern
Create a sense of permanence with a brick herringbone garden path. Here, the pattern forms an alluring and mesmerising walkway into a modern courtyard.

16. Feature a formal knot landscape
Complete your formal and modern garden setting with a knot landscape. In this concept, the path is well-manicured and can be made of gravel, bricks, pavers, or grass.
A trimmed boxwood hedge is another design element to consider for a beautiful walkway.
17. Deck walkway with built-in lights
Add a touch of modernism and interest to your garden deck walkway with outdoor lighting. Illuminate the way while highlighting the interesting shapes carved out by the path with some side lighting.
The Biard Garden Spike Light makes a great lighting option in this regard, an ideal option to accompany a path.
18. With a grand entrance
If you have climbing roses in mind, install a pergola as an exclamation point on your path. Go for a metal structure instead of wood and let perennial vines overtake it.
Paint it to match your existing architecture, or let it weather a bit of a rustic look.

19. A stamped or imprinted design
Stamped or imprinted paths work well in modern-style gardens as they look neat and even. Design options are also limitless, with so many patterns and colours to choose from!
Here, the concrete is patterned and textured to create a brick tiling look.
20. Get creative with mosaic art
Turn smooth, flat stones or pebbles into a whimsical accent for your outdoor space. Take inspiration from this pebble mosaic garden path, which creates a stunning and unexpected focal point.
Using flat pebbles or cobbles, you can recreate this well-patterned masterpiece or let your inspiration take hold.

21. Black and white victorian tiles
This path design was commonly seen in Victorian gardens and homes throughout England. Thanks to its geometric style and B&W colour, it also suits modern or Mediterranean settings.
The beauty of this pattern is emphasised bets when surrounded by lots of flowers and greenery.
22. Wood and yellow fibreglass combination
This contemporary landscape features a wood and yellow fibreglass ramped pathway. The exquisite grasses planted on either side of the walkway are Chinese silver grass.
This design will especially work for you if you have a variety of ornamental plants or grasses in your yard, as it creates a hybrid look with a natural touch. 
23. Bluestone pathway and steps
The idea is to combine a pathway and steps in one design using bluestone pavers. You may use the repetition design principle to create flow and rhythm.
Alternation to create patterns through contrasting pairs. Or gradation for a progression of regular steps.
24. A path that leads to a gazebo
Use a pathway to lead to a sheltered garden feature, such as a gazebo. Choose a practical path design that winds through the garden to lead to your garden room. Add soft ambient lights for day or night to light the way.

25. Combine with grassland planting style
This modern garden made use of a lot of hardscaping. The grey paving slabs and pea gravel floor creates an easy-to-maintain space. While the grassland planting style creates eye-catching contrasts and angles.
Round-up
Besides the aesthetic appeal, a garden path acts as a portal. It opens up a new area, allowing you to enter into a new dimension of your outdoor space.
It could lead you to a secret entrance door, a tucked-in garden room, or a gazebo where get-togethers are held. Luckily, you don't need to be a professional to come up with a design.
A touch of inspiration is enough, and our modern garden path ideas have given you hints of what's possible! For help with lighting options, check out our great outdoor lighting products below.
Shop Outdoor Lighting