Many aspects are needed to be considered in choosing a shed. It can be the price, the size and most important are the look and orientation.
Tony purchased the BillyOh Storer Overlap Shed to store his patio set and children's garden toys and bikes.
We talked to him and he shared his customer experience and how surprised he was while building the shed.

What made you purchase your building from BillyOh?
I purchased the shed for extra garden storage and BillyOh represented great value for money for the size and style I was looking for.
Why did you choose the BillyOh Storer Overlap Shed 4×6 Rustic Windowless?
There was a fantastic range available from BillyOh and I settled on the 4×6 rustic windowless due to the look and orientation of the shed.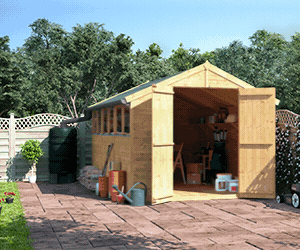 How was your customer experience?
The customer service provided by BillyOH was A1 from initial purchase to delivery and building with good correspondence about delivery times. The ease of construction was a pleasant surprise with clear detailed instructions.
How are you finding the shed now?
The shed is being used for storing our patio set and children's garden toys/bikes.
How did you decorate it and what paint did you use?
I am yet to treat/paint the shed but plan to use a natural look (varnish).
Would you recommend buying from us?
I would definitely use BillyOh again and would highly recommend buying from you.
A garden shed is very important as it helps us protect our equipment and other valuables from dirt, rust or weather.
Grab your own garden shed now and check out our wide range of sheds with different designs and sizes that will fit any type of garden from wooden, plastic and metal.
Interested in more than an Storer Overlap shed? Take a look at our other customer stories:
BillyOh Mini Master Apex
BillyOh Storer Overlap
BillyOh Expert Apex