BillyOh Expert Apex Shed Review
Note: This is a detailed overview by us to help you learn more about the shed
If you're looking for somewhere to keep your gardening tools and equipment secure and carry out DIY taks, we think the BillyOh Expert Apex is an ideal shed for the job. Here's our BillyOh Review on why we think the Expert is a reliable garden building.
---
Main Features
Traditonal Apex Design
Windowed or Windowless
Wide Double Doors
Customisable Floor & Roof
10 Sizes Available
---
Traditional Apex Design
The BillyOh Expert Apex has a traditional apex design which complements any garden setting. The wide, double doors and high headroom make it easy to access the building and maneover garden items in and out. It also makes storing working tools more ideal.
Extra high headroom and wide, double doors for access
If you intend to use the shed a workshop, it has been designed with features to adapt to this. To get the most out of the internal space, the shed is built with the highest headroom among it's range so that it is a comfortable space to work in for long hours. The shed is available in 10 sizes, so you can find one which suits your garden.
---

---
Windowed or Windowless
The BillyOh Expert Apex shed comes in a windowed or windowless design, which you get to choose. The windowed option provides plenty of natural light, which makes carrying out DIY tasks easier. If you prefer to keep your storage goods safely out of site, the windowless design will do just that.
---
Strong T&G Construction
The shed is constructed using a strong T&G cladding. This works effectively to keep the building protected from the elements. The interlocking nature of T&G provides a strong construction which is durable. It also provides a smooth engineered finish.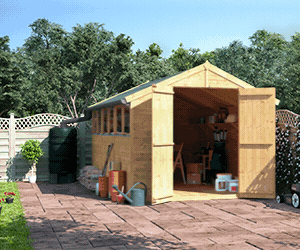 ---
Customisable Floor & Roof
The BillyOh Expert Apex come with a choice of roof and floor options. These range from domestic to heavy-duty use. For an affordable, light storage option, you might choose the 9mm OSB or 10mm Durelis Solid Solid Sheet flooring. OSB is a value floor. The Durelis is water resistant as easy to clean.
19mm pressure treated floor options for heavy-duty use
For more regular use, the 11mm T&G floor is recommended. Our premium 19mm T&G floor is suited to heavy duty use. We also offer both these thicknesses in pressure treated for extra durability and low maintenance.
---
Conclusion
This is why we think the BillyOh Expert Apex Shed which offers great garden storage and workshop uses. Available in 10 sizes, you can always find a shed which is suited to your needs. It can be customised for windowed or windowless which makes finding the right shed for you as easy as possible.