Enjoying fresh air and relaxing with family is a great way to use your garden. A garden furniture set from BillyOh enables you to host garden parties in luxury style, as well as providing comfortable seating and a place to dine alfresco during warmer months.
Our garden furniture sets come in a variety of styles and designs.
Whether you're looking for a modern rattan sofa set or more traditional wooden dining sets, our diverse range of stylish garden furniture means you'll always find a set which is right for you.
It's important to find garden furniture which fits the size of your garden. This is a factor which we consider when looking for a garden furniture set to buy.
From two seater bistro sets to large, ten seater dining sets, no matter how big or small your outdoor space, we've got a garden furniture set to suit your garden.
Bistro sets are a fantastic option for providing a comfortable space to chat with a friend and also make an ideal option for small patios or even balconies.
Our larger rattan sets bring luxury seating to your whole family.
Choosing a Metal, Wooden or Rattan Set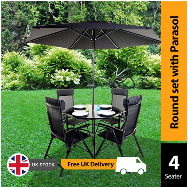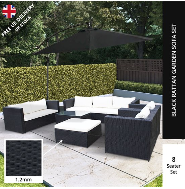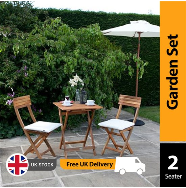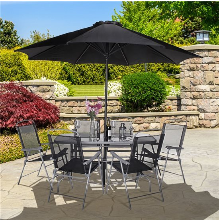 Metal Garden Furniture Sets
Our metal garden furniture sets have been designed to offer stylish, long-lasting furniture for your garden. If you're looking for a no-fuss outdoor experience whether dining or relaxing, our metal garden furniture is a great choice for your garden.
Constructed using weather-resistant aluminium, the lightweight material is perfect for maneuvering and storing. You can leave our metal garden furniture sets outdoors all year round. Or, if you prefer, fold the seats to a compact size and store them in your shed.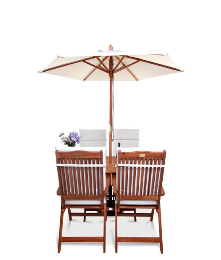 The textilene fabric used for our metal garden furniture sets are durable and will dry quickly after rainy weather. Finish off your dining set perfectly with a parasol, most of our metal sets have a space in the centre of the table for a parasol to be positioned.
Wooden Garden Furniture Sets
Wooden garden furniture sets make a great addition to any garden which has a traditional style. Our wooden sets are made from either Acacia or Eucalyptus hardwood which make them sturdy, but also lightweight and easy to maneuver.
BillyOh wooden garden furniture sets have been designed with both round and rectangular tables so you can always find a wooden set which is right for you and your family.
With our cushion options, you can add even more comfort and style to your wooden garden furniture sets. We offer reclining and folding seats to suit your prefered tastes and supply them in a range of sizes and colours.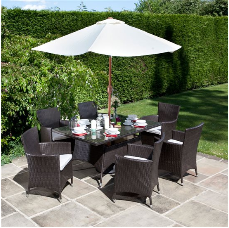 Rattan Garden Furniture Sets
BillyOh have a great range of rattan garden furniture sets. Our rattan furniture has been designed to offer contemporary and luxury seating for your garden.
Rattan sets look great in a modern garden, providing your dinner guests with a comfortable and stylish space to relax and dine outdoors.
Enjoy rattan garden furniture all year round as it's made from durable synthetic rattan which is well equipped for harsh elements. Our ultra-chic cube sets are great for entertaining the whole family and seat up to ten people.
Garden Furniture Clearance
We also have a range of rattan garden furniture in our clearance section. Providing your garden with comfortable seating for less, you'll find a variety of products. All the items in clearance are only available while stocks last, which means once they're gone, they're gone.
If you're looking for compact garden furniture, a bistro set is an ideal choice. Check out our circular balcony sets which have a unique design and plush cushions supplied as standard.