Pinterest is an excellent source of creative ideas and inspiration. You can also find a great deal of DIY and how-to tutorials there for free!
There are inspiration boards made for you, no matter where you are on your design journey. So take garden style and landscaping ideas as a jumping-off point.
You'll discover tons of pins about the best outdoor furniture, plants, fixtures and more. But to help you save time from scrolling your Pinterest feed, we already did the work for you!
Here, our team has curated all our top favourite garden ideas from this image-sharing app. Read on and get ready to take some notes!
1. The bamboo hideaway
The bamboo corners of this garden give a unique and natural touch to the space. You'll see floating banana-shaped chairs in a small garden lake that creates a separate leisure area.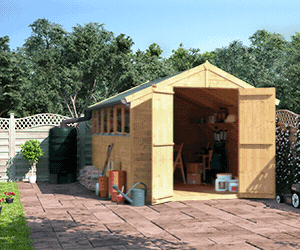 The overall aim of tropical-mixed decoration and privacy is fulfilled in this concept.

2. Terrace garden blended with marble and wood
A garden idea like this is something you can call successful. The design is modern, with LED,  marble flooring, and a floating bench.
But the added elements into it, such as wood, add a touch of conventional look, combined with greenery in big pots.
3. Blank canvas of plot turned into an ultimate retreat
This fully transformed contemporary retreat offers refreshing relaxation spaces. The lawn is rectangular with a reflective pond set within it.
A black cube pergola houses two sun loungers. In the middle, there is a west-facing paved area for a sofa and low table.

4. Simple retreat-like patio
Take a cue from this humble patio design to set the summer mood. Tackle the space with your own lighting of choice, from string lights to lanterns.

5. The pride of the garden
This fine bonsai planted in the middle is the pride of this well-maintained garden. The pride dwarf tree is pruned and shaped to prolong its elegance.
6. Boxwood in the landscape
We love the boxwoods in this two-tiered modern garden space. With rich green foliage year-round and the sound of the flowing water from the pond make this small haven a perfect place for unwinding.

7. Mediterranean inspired corner backyard
The owners of this Mediterranean retreat get most of the sun, thanks to the wooden sun loungers. They also hung up fairy lights around the tree to perfectly light up the area in the evenings.
The fire pit in the centre adds the finishing touch.

8. Backyard hammock oasis escape
This is probably the simplest way to enjoy the lazy days of summer. Turn the unused area of your garden into a hammock oasis escape! Add some lighting to create the mood.

9. Wooden deck and ivy wall
The design of this patio can either be a little updated or a big transformation for your space. Nonetheless, the raised wooden deck and ivy wall for privacy will surely add value to your home.
10. Traditional and modern intertwine
The small corner space of this garden screams like a Balinese Eden next to the beach. Surrounded by trees and rich foliage, with the sun perfectly reflects the rectangular pool.
The wooden deck offers a space for the sun loungers to sit on. A few steps forward, and you'll be welcomed by an outdoor shower.

11. Raised lounge area with pool
This garden idea will surely be adored by your kids! There's a fun space for them to make the most of the summer. And with the raised deck lounge and a grassy area furnished with hammocks and sun loungers, there's a place for the whole family!
12. The North London garden
The lighting, sculptural forms and architectural plants make this garden so modern and fancy. Even though the space seems to be open, the curvilinear forms create separate areas.

13. Neat architecture and abundance of blooms
Lush blooms appear on this New York terrace; boxwood and dwarf evergreens mix with perennials. You'll spot flowering annuals and tropical plants, too.
The plant border creates a division, one for a full-view garden and another one for simple al fresco dining.

14. Hot tub decks
An open hot tub spot in your garden can give you a place somewhere to escape, relax and unwind after a long day. This sunken stone lounge makes the perfect concept for your leisure dreams.
The greenery adds some privacy, while the lamps and other decor features make the space pop more.

15. Hotel-like roof garden
Modern and classy are the two factors that describe this hotel-inspired roof garden. The tall plants and surrounding bushes provide a serene environment, blending well with the earthy-tone colour of the furniture.

16. Massive arch hedges with recessed floor light fixture
Giving off a modern Greek style garden, the massive arch hedges alone are enough to create a focal point in this long plot. It's one of our favourite garden hedge ideas, and the LED round fixtures on the lawn makes a difference.
17. Minimalist tropical garden
"Less is more" – this quote embodies this minimalist yet elegant tropical garden. Amongst its many amazing layers, the swing and simple seating area are what make the space so inviting.
One of the highlights is the diversion of the plants, which makes sense why it's a tropical-themed terrace.

18. Decomposed granite entrance
You're looking at a stabilised decomposed granite path in a landscape. It creates the perfect entryway that will surely impress the guests and the whole neighbourhood!
19. Magical seaside garden
The designer developed a story of a tsunami landing in this garden space. You'll see a landscape of randomly scattered boulders, drifts of sand, and boardwalks that tie the house and backyard together.
The practical touch of this design allows impromptu seating while achieving the look of the seaside. Check our beach garden ideas next for more design inspiration!
20. The ultimate al fresco dining
This fabulous outdoor dining space was clearly inspired by nature. The trees are integrated into the bar countertop, allowing you to enjoy a cocktail under a tree surrounded by tranquil countryside.

21. Chic cottage core backyard
Combining period and contemporary moods, this cottage core-inspired yard is effortlessly beautiful! The grapevine-covered pergolas are inviting, with relaxing shady verandas and tree-lined trails.
This concept is perfect for you if you wish to have a swoon-worthy garden and charming outdoor living space.

22. Decking lounge with a view of the ponds
Serenity and tranquility are the best qualities to describe this outdoor space. The two-tiered wooden decks offer a good deal of space for seating arrangements.
While the wooden bridge in the middle separates the two ponds, adding natural charm to the yard. Read our garden decking ideas for more!

23. The house of forest
Bring the outdoors in with a greenhouse turned into an indoor garden like this! The space feels so warm, airy, and full of life; spending your time here can make you feel like you're in another world!
24. Floating garden stairs
If you're looking for ways to style up your hillside landscape, you can't go wrong with this creative stairway. Ideal for sloping gardens, this pathway can provide you with two things:
An easier path to walk between areas of your garden and add value to your property.
25. Charming vegetable garden
A raised bed garden offers many advantages to in-ground gardening. This beautiful and practical vegetable garden idea with raised bed design will surely benefit you and your property.
The pergola arch adds a charm to it.

26. Modern Zen garden concept
Experience a symphony of stone, water, lush greenery and lighting in this modern Zen garden design. The compositions are exquisite and it is as though you're looking at art.
There's nothing to add or take away from this outdoor space concept – everything is just the right mix!

27. Dreamy outdoor living space
This lush green sanctuary is an excellent example of how to create separate areas. The space is divided by greenery and defined by colourful rugs, while the plants, lights, and soft textures provide a cosy contrast.

28. Winning backyard pool
If you're looking for tropical garden ideas with a touch of modern design, this concept could be the perfect one for you! The mini pool is enclosed by a wooden deck and a transparent glass wall.
This style is perfect for those with smaller garden spaces as well.

29. Compact garden
Turn your little haven into a beautiful, thriving paradise with this patio design for small gardens! The narrow space in this inner-city suburb offers a clean-lined entertaining area.
Top tip: Place seating and planting at the perimeters to gain maximum clear space for entertaining.

30. Desert landscape design
Placing boulders in the desert landscape adds a dramatic element. Drought-tolerant plants paired with pebble stones complete the look of this front yard desert landscape design.

31. Enchanted pathway
Adding beautiful scenery around the house, this fairytale-like pathway is so pleasing and refreshing to the eyes. It makes the property more charming than ever!

32. Secret garden corner
This unused corner of the garden is transformed into a secret haven. A hammock is hung and surrounded by lush foliage; the pebbled stone floor helps make the space look tropical.
If you plan to spend the afternoon into late evening reading a book in this spot, make sure to add a torch or any source of lighting.

33. Fancy outdoor kitchen
An outdoor kitchen is a must if you love hosting al fresco dining or BBQ parties. And this state-of-the-art wood-fired kitchen will surely motivate you to cook and enjoy more food for the soul!

34. French-style patio
The living wall in this space is to die for; it gives off life and vibrant into the space. The Parisian-chic outdoor furniture is in the pumpkin colour, perfect for the fall season.
35. The modern jungle
Who would've thought that this garden concept is a computer-generated image? The sides of this small yard, from up to down, are packed with lush greens, such as vines, banana leaves, and more!
There's a mini L-shaped outdoor seating as well as a tiny bistro set. It's up to you if you want this concept to come to life!

36. The classic countryside
Keep the layout simple and choose planting that reflects the rural setting. Opt for vintage furniture pieces and play with colours to add charm to the space.
Use a tree as a natural source of shade and set up the table with fresh blooms for cosy alfresco dining.

37. Whimsical English garden
When it comes to English garden ideas, there's nothing more romantic than a slightly overgrown backyard. In this approach, combine tradition and elegance with a sense of whimsy.
Opt for meadow-like florals and twisting ivy to create a hidden little nook of luxury.

38. Dreaming of Tuscan
A garden scheme that evokes the Mediterranean countryside in Italy, Spain, southern France, and Greece. Live vicariously through this gorgeous Tuscan-inspired outdoor dining space.
The nature-centred planting, warm earth tones, and bold stonework complete the look!

39. Perfectly provincial
This architecturally designed garden features a clean line aesthetic that borders on the formal. It's all about warmth, charm and a sense of living in beauty. Of course, a touch of southern France in a garden isn't complete without a lush field of lavender.
40. A hint of coastal
We love this nautical garden decking above a small stone river. The white pebbled sand and river rocks bring a sense of coastal vibe as well. This set-up would also look amazing with a beach or boat house on the side.

41. A secret hideaway
Is there anything more beautiful than secret gardens? We admire the freedom the greenery gets in this fantasy hideout.
It's lush, expansive, and serves as inspiration, indeed. The magical aesthetic also adds to the calming nature of the place.
42. Rustic and romance in one
A rustic yet romantic garden setting that makes the perfect backdrop for weddings or special events! There's aesthetic wildness and wonder. With a furniture set, it makes all in one truly inviting space.
43. Wish for a Moroccan magic
Add a slice of paradise to your humble garden with Moroccan garden ideas! Achieve an oasis-like atmosphere with a lush outdoor setting featuring large plants. Cover the patio with tiles in complex geometric patterns and vivid colours.

44. Bring out the garden ornaments
Garden ornaments are more than just decoration! They form a man-made focal point in the natural beauty of your garden.
Take this massive centrepiece, for example. Simply choose a garden ornament that reflects your aesthetic.
45. Border the plot with rocks
Rock borders are gorgeous garden features that are so easy to create. Match stones or boulders or mix them up a bit with various sizes and colours.
The borders don't have to be straight. A meandering path has a certain soothing quality and is total Pinterest material.
46. Decorative vertical gardening
Your gardening space is limited, but you want to make more space for more photogenic plants. A smart way to create a wall of green is through vertical gardening.
Go rustic DIY with wooden or metal planters. They're not attractive when empty, but when filled up with lush greenery, they sure are Pinterest-worthy. 

47. Gabion bench seat
Gabions are a practical and beautiful idea for seating in any garden setting. A cage, cylinder, or box filled with rocks or concrete is enough to mount a wooden board on top. 
Gabions can also be an attractive material for fences, walls, and other structures.

48. Use hedges to break up the space
Divide your over-large lawn into garden rooms and have spaces with different purposes. Or you can take the natural way, using hedges to break up space (or as borders) and bring a point of interest.
A well-manicured courtyard that even The Queen will approve of!
49. Topiary and symmetry
Topiaries are an effective way to introduce structural evergreens to your yard. If you want to include a little bit of topiary in your garden, an easy place to start is with the topiary ball. This landscape design also works for small spaces.

50. Define a pathway naturally
If your style is contemporary, then this path defined by natural landscaping will suit. Using ornamental grasses, it gives impact, and it's decorative and low-maintenance.
Create a seating area so you can sit back and admire the garden.
51. Dining at night
Great outdoor lighting ideas bring out the mood and romantic vibe in this night dining setup. The perfect ambience adds a je ne sais quoi feeling. If you're looking for your next Pinterest-ish alfresco dining setting, this is worth trying.

52. Tiled outdoor kitchen
Incorporate decorative tiles into your outdoor kitchen scheme to create a transition from the house to the garden. This can be especially effective if the same tiles are used in the interior and exterior.
Lay them on the floor and up walls to create an inviting feature.
53. Add a screening structure
Garden screening ideas are an excellent way to create little sanctuaries. Providing both privacy and escapism, a screening can section an area of your garden and create a certain relaxation zone.
Decorate the space with furniture, outdoor lighting, and a patio heating source.
54. Position a pergola
A pergola can easily create an enclosed space. If the right plants are incorporated, it can give off a smattering of fragrance.
Arch it over a path through the garden to create a shaded tunnel. Create a sense of romance with your chosen placement.

55. Paver patio
Pavers beautify outdoor spaces, and they're durable and long-lasting. Concrete pavers and pea gravel make a lovely pairing. Working in tandem, they can create a beautiful, clean, and modern patio like this one.
Round-up
Scrolling for mood board inspirations on Pinterest can be overwhelming, especially with literally so many ideas that pop every refresh. So we hope this post will help you lessen that mind-boggling feeling and find the aspiration you're looking for in your garden.
We did our very best to curate the best of both world garden ideas pins and mood boards we could find just for you! Let us know below which one is your favourite or your favourite.
We'll come up with more cool ideas in our next post, so stay tuned for that.
Shop Rattan Garden Furniture
FAQs