Even the smallest outdoor space can be stylish and inviting enough for a garden retreat. All you need is a few smart garden furniture choices and a bit of creativity to achieve an idyllic patio.
Luckily for you, we've found diverse design & style inspirations for your limited backyard. Now it's up to you how you'll put these ideas into life!
1. Vintage flair
Salvage scores and flea market finds aren't for interior decorating only. Take your vintage treasure outdoors and have a one-of-a-kind-look patio.
Use an old treasure box as the centre table. Add cushions with floral prints on faded aluminium garden furniture. Incorporate folding bistro chairs to offer extra seating.

2. Urban oasis
Create a compact patio getaway with a range of tropical foliage in rich colours. Plant banana leaves instead of palms to fit them into the space. Then, introduce bright and soft furnishings to wooden furniture for contrast.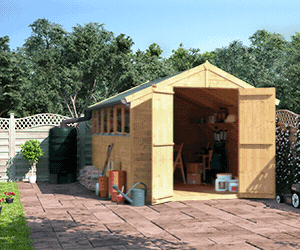 3. Serene structure
A lounge chair paired with a small daybed is enough to create a relaxing ambience. Take a cue from this small patio designed for tranquillity.
4. Elevate with a fireplace
There's not much going on on this patio, but the roaring outdoor fireplace makes a bold statement. The vine-covered wall serves as the perfect backdrop. And the simple metal furniture offers an ideal entertainment space.

5. Outdoor dining pergola
A half-covered metal pergola that provides both light and shade. The greenery surrounding the small dining spot makes the space feel heavenly. Add a simple pendant light to maximise your patio into the late evening.
Read our best pergola ideas for more design inspiration!

6. L-shaped furniture
Corner sofas are known for their versatile design and functionality. The L-shaped feature can fit perfectly on small patios, giving you extra room for other decors.

7. A table for two
Giving off a major Parisian vibe, this small bistro set offers a good lunchtime getaway. Set a table for two on your patio or balcony and cover it with fabric. Don't forget to add lanterns and a decorative bouquet as the centrepiece!

8. Theatrical
Got a spare wall on your patio that needs transforming? Install a projector screen and fairy lights and scatter comfy cushions around. A few simple tips like this can help you make your dream outdoor cinema.

9. Work your shed
A tiny backyard could offer a dedicated space for a hobby, work, or mini self-care sanctuary. But only if you own a shed; make it functional and let it serve as your covered patio.

10. Pop in benches
You can't go wrong with a bench for garden seating ideas. This small enclosed patio has benches set against the wooden fence. Add a variety of cushions for a pop of colour, in addition to the plants and garden lights.

11. Soothe with water
No matter how small or big your patio is, a water feature can add a chic and calming ambience to the space. Have a look at these fountain bowls, perfect for small landscape ideas.

12. Open space
An open space garden layout can make your yard feel bigger. Start with a decked patio with steps up to a lush lawn. Add screening with a fence or low-maintenance shrubs for privacy.

13. Spruce up with a parasol
The good thing about having a small garden or patio is that you don't need to install a huge awning. A parasol setup like this is enough to protect you against the harsh sun.
You can move it around or put it away when you want to sunbathe.

14. Tiny pub
For an ultimate entertainment hub, install a compact yet central garden bar. Think vertically to accommodate a space for the pub. Take a cue from this drop-down bar setup suspended from the wall.
15. Patio Jacuzzi
You can always make room for an outdoor hot tub, even on a small patio. You have to sacrifice a few seating arrangements, but it should work. Here, the Jacuzzi is protected by a wooden gazebo.

16. Set up a summer house
A fantastic alternative to sheds, a summer house can be the focal point of your tiny patio. In the photo below, the furniture is arranged to the rest of the space to complement the structure.
Opt for neutral colours to keep the yard light and bright.

17. Modular furniture
Modular outdoor sets are easy to move and rearrange for different occasions. Incredibly ideal for small gardens, furniture like this can offer the perfect spot for hanging out.

18. Rustic veranda
Another superb way to introduce shade to your tiny patio! The rustic pergola supports a vine while being surrounded by lush greenery. The wicker furniture set doubles the rustic charm of the space.

19. Mid-century abode
A cosy and rustic patio setup that gives out the ultimate mid-century vibe. The steel cocktail table is a good starting point, followed by the cushion covered daybed.
20. Built-in seating
Built-in furniture is also an excellent space-saver seating alternative.  For your small landscaped garden, a setup like this can give your maximum seating. Plus, it can double as a boundary wall for raised beds.

21. The vertical approach
Save a square footage on your patio by taking everything off the ground. A vertical approach is a smart way to maximise your humble outdoor space.
Grow living walls and install wall-mounted planters for a touch of greenery. Or affix a strong, slim shelving unit that doubles up as a storage or a place for the plants.

22. Layers for illusion
Creating layers in your garden adds the illusion of depth. Mix raised beds with ground-level ones to achieve a layered look to your planting.
With a slightly raised path, it will make the ground level look more taller.
23. Less is more
A minimalist setting is easier to achieve in small outdoor spaces. Spurred on by 'less is more garden design ideas', you can create a streamlined green space. The key here is to focus on immaculate, orderly and serene schemes.

24. Consider artificial lawn
A low maintenance small patio is sure to provide you with a year-round retreat. Going for faux turf is a great starting point.
It adds dimension and a pop of colour as if it's genuine. There's almost no difference at first glance, and these artificial grass ideas are proof!

25. A mini herb garden
Even with limited space, nothing can stop you from growing fresh produce, such as herbs. Use an old coffee or side table to create a planting area.
Put extra storage on the wall to keep your pots and garden tools. Or look for more creative potting shed organisation hacks for reference!

26. Display a gallery wall
When designing a bare patio wall, think of hanging frames the same thing you would indoors. But instead of artworks and portraits, display frames and wall-hung planters.
Or come up with unique patterns with climbing vines and install a garden mirror idea.
27. Hammock seating alternative
A hammock for your patio creates a practical centrepiece for summer backyard ideas. A small and cosy retreat, an ideal escape on your patio, adding relaxing flair.
Hammock stands are also a great way to set up if you don't have access to sturdy trees, posts, or reliable wall hooks.

28. Container gardening
Green up your patio with overflowing container garden ideas! A fantastic way to grow vegetables and inject greenery, especially if you lack yard space. Squeeze in a bistro set to enjoy your lush patio in your leisure time.

29. Mini outdoor kitchen
With a bit of creativity and the right design, you can fit a mini outdoor kitchen on your patio. Take inspiration from this one! A DIY table can provide a compact surface for food prep and keeping a mini pizza oven.
30. Double the space with a mirror
Garden mirrors can make small patios look bigger, adding so much to a humble space. One can add dimension and open up cramped areas both vertically and horizontally.
Set the table close by so that you can enjoy a view of your patio wherever you are seated.
31. Divide it into zones
Another trick to add illusion to a small plot is dividing it into zones. With the multi-functional uses for each zone, the space will feel larger. Think of entertainment space, and a reading nook separated through a screening idea.
32. Add height with planting
To add a simple yet clever planting to your patio, plant greens in height to add space and depth. Use clusters of pots at varying heights and scales to achieve the scheme. Or grow everything in the middle for a focal point.

33. Double duty fences
Whether you have a picket fence or concrete block, make use of the space for thoughtful planting. This allows even the smallest of garden spaces to flourish.
Alternatively, turn the side of the shed into a decorative living wall.

34. Different flooring schemes
Choose different materials for the flooring across zones. This trick suggests changes in space without having to divide the space with borders or planting. Plus, it adds more interest and a hint of modernity to the space.
35. Camouflage trick
Experts recommend painting any exposed walls green to blend them with the greenery. This camouflage method is also effective in hiding a rather plain and ugly wall on your patio.
Again, the addition of a mirror will add a much-needed illusion.
36. Lay out a rug
A decorative outdoor rug can make a statement even if it's literally on the ground. It works effectively by drawing the gaze to one defined area. Plus, it puts the area together and makes it more inviting and comfortable.
37. Play with colours
Exterior paints are an excellent height and space illusion maker. A colourful backdrop, for one, can jazz up the expanse of your garden fencing or screening. This cheery seating sets also work wonders.

38. Make use of the corners
A clever corner seating like this will make use of every inch of the space to its full potential. The high-back sofa design helps hide the planters at the back, just showing the lush leaves.
With a fire pit in the middle, you can enjoy the summer night with an open fire with family and friends!

39. Squeeze in a mini greenhouse
Even the most modest outdoor space can fit a greenhouse. You can find mini versions or easy-fit frames on the market.
This 4-shelf greenhouse unit is a great example! Simply unzip, roll up and tie the cover whenever you want to gain better access to the plants.

40. Kitchen window boxes
Window boxes are a classic way to add planting to small spaces. If your patio is close to the kitchen, consider adding window boxes for cultivation.
Build two simple troughs on top of one another and start growing herbs and veggie garden ideas!

41. Opt for a white exterior
White paint helps brighten and lighten outdoor spaces, particularly small ones. Your small patio can benefit from this trick! If you don't have white furniture, use white cushions instead for symmetry.
Natural wood also blends well with a white exterior.
42. A towering living wall
Turn your patio into a lush habitat with a high living wall. Serving as a natural focal point, it adds drama while offering more floor space for furniture.
Include scented plants, seasonal flowers and bulbs to make the most of it.
43. Little piece of paradise for kids
Build a playhouse that blends seamlessly with your small garden, such as this contemporary linear fencing design. Include a sedum roof for a touch of extra greener to the little house.
Let your children pick the furniture; after all, it's their tiny home.

44. Stackable chairs alternative
Looking for small garden furniture ideas? It's time to invest in easily stored seating like stackable chairs! As the name suggests, you can stack them when not in use, saving precious space.
Mix and match the colours for a bright looking garden scheme.
45. Carve out
Ideal for tiered garden ideas or two-level gardens, this design is worth considering. The owner of this small patio carved out an overhang and created a shaded area. 
With the addition of a bench and some pillows, a new nook was introduced for afternoon lounging.
46. Sunken seating arrangement
Structure your small patio layout into sections by creating a private, sunken seating. Border the area with decorative screens or plants for natural decorative flair. Add a source of shade, like a sun sail, for heat protection.
47. Rectangular setting
When it comes to rectangular garden ideas, tall grass and trees like small palms can break up a layout. They can give the area a bit more structure without blocking views or sunlight.
Such greenery also helps split the layout into two areas naturally.
48. Raised deck patio
A simple raised outdoor living area decorated with furniture can be the outdoor extension to your home. Complete the set-up with a chiminea or some patio heating for a perfect alfresco living space.

49. Set up a small cabana
A budget-friendly approach to making the most out of your patio or small garden! Most of the fixtures in this design are repurposed, from the DIY daybed to the cabana stand.
Take branches, two pallets, and fabric off-cut and assemble them to create a bohemian lounger for two.

50. Low walls that double as seating
Running out of space for extra seating? Low walls, such as raised beds surrounded by walls, can double as extra places for people to perch. Add cushions for comfort and pick a colour that complements the surrounding plants.
Round-up
Making the most of your petite outdoor space shouldn't be that hard, especially with a guide like this. Consider some planning, and you'd be surprised how these ideas can make a big statement in your small yard.
Lesson learned: don't skimp on style just because you have a limited garden. We hope our inspirations will help you take your compact space to the next level!
Shop Rattan Garden Furniture
FAQs