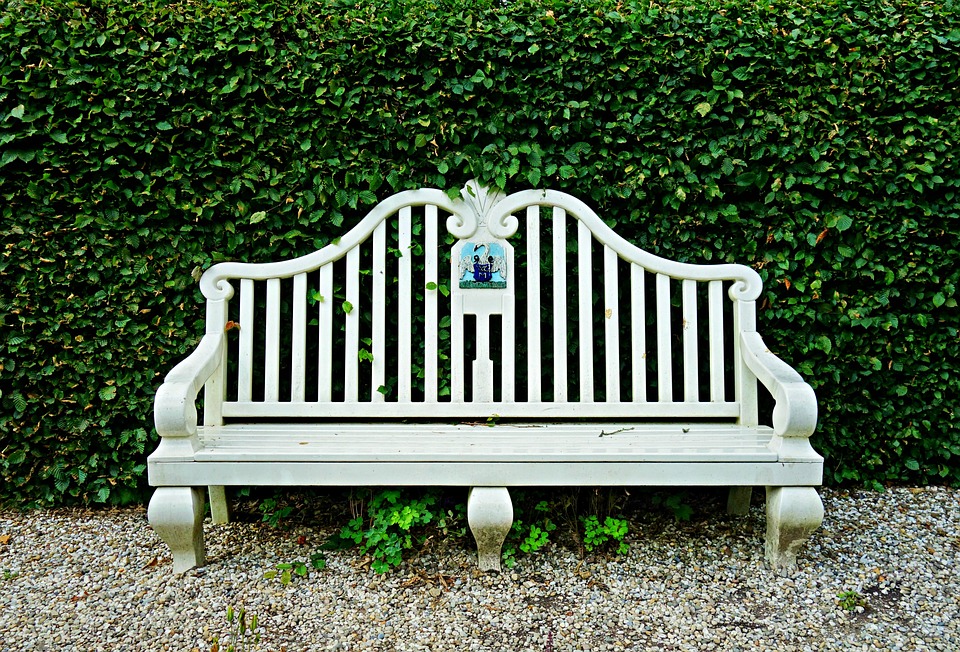 Image Source:
Pixabay
15 DIY Garden Furniture Ideas
Spring is the perfect time to break out the do it yourself (DIY) projects. If you notice that your garden looks a bit bare, you may want to spruce up your patio area with some garden furniture. Ranging from expensive to cheap, garden furniture provides you the ability to not only rest after a long day of preening in the garden, but it also spruces your yard up and is a great space to entertain friends and family. Whether you're interested in garden benches, garden tables, or patio chairs, there are plenty of DIY projects to keep you busy all spring. Here is where you will discover 15 garden furniture ideas.
Pallet Furniture
The thought might have never crossed your mind, but pallets are an excellent option for lawn furniture. You can often find pallets for unbeatably cheap prices (if not free). A good idea would be to dismantle the pallets into individual wood planks and begin constructing your own garden furniture. For example, a great garden piece would be to build a play set made of reclaimed pallet boards for the kids. Wooden pallets are easy enough to manage. Whatever you end up making, make sure that you sand it, paint it (if so desired), and shape it to the desired size and presto chango! You have a new outdoor furniture piece that will keep you and your children satisfied for hours on end.
Hanging Lounge Chair
If you're the type that loves to swing gently with the breeze as you enjoy the outdoors, then you'd benefit from a hanging lounge chair. Just think of a hammock, but you're sitting instead of laying back. This design allows you to swing comfortably off of the ground as you lounge with a cup of lemonade as you leisurely read a magazine. Hanging lounge chairs are perfect in their simplicity and allows you to kick back and relax in a unique way!
Log Lounger
If you're looking to take on a more challenging DIY project, the log lounger is the perfect project for you. The log lounger is literally a lounge chair made from logs. It doesn't get more intuitive than that. This project can be a bit labor intensive, but when you're done, you're going to really wow your friends. You're going to need a few things to take on this project: a chainsaw to cut the wood, a power drill to drill holes, and screws to hold the logs in place. Once you're done, you'll find yourself with a completely natural lounge chair for your patio area. Don't be surprised if you're commissioned to build a few for your friends.
Pallet Table
We're back to using pallets again. This table is unique in the sense that not only is it made from disassembled pallet boards, but its design purposely leaves openings in the middle of the table so that you can insert flowers to add a fresh aesthetic to your surroundings. It's a great way to beautify your garden. Simply disassemble the pallets for the needed planks and begin lining the planks up together to assemble the table.Don't forget to leave an opening in the middle of the table for the flowers and you'll have the perfect fusion of comfort and beauty right in the middle of your garden.
Scrap Adirondack Chair
The Scrap Adirondack Chair is perfect for poolside lounging. This chair sits low to the ground with a slightly sloped back and cantilevered arms. The design is simplistic. For this DIY project all you need: wood, screws, wood glue, and an outdoor grade finish of your choice. This chair is a variant rendition of the rustic Adirondack chair (more modern). If you're looking for patio furniture that was naturally built to laze about in the sun than the scrap Adirondack chair would be an excellent investment.
Tree House
You might not consider a tree house to be garden furniture, but we would beg to differ. Especially if you keep it super simple and super cost effective. The tree house we have in mind only requires a few logs (so the kids can climb up the tree) and a pallet affixed to a tree so that you have a place to sit. That's it. We're not talking about building an all-out fancy tree house with four walls and a door. It's just a simple place for your children (or yourself) to climb up and enjoy the view from up high.
A Simple Summer Hammock
Who doesn't love the idea of relaxing as you lazily swing to and fro from a hammock? Unlike most of the other furniture ideas we've had on this list up to this point, this one doesn't require some crazy gimmick to set it up. It's simply a hammock. Lazy summer days just wouldn't be the same unless you get to kick your feet up with a good book as you swing lazily in your hammock. Don't be surprised if you end up falling asleep.
Tire Table
Yes, you read that right. Why not create a table from used tires? We know what you're thinking: we're crazy. Well, read on to find out how useful a tire table can be. Simply find two tires (same size preferably for balance purposes), paint them any color that you desire, stack them together, and place a well-balanced circular glass table top on top of them. You'll soon find yourself with a unique outdoor table that you can place your drinks or other items on. It doesn't get simpler than this.
Outdoor Bar Cart
Looking for a sip or two while out in the yard? Why not repurpose an old cart to carry a few wine bottles (or soda, whatever floats your boat). After decorating the cart as you please you can place ice and drinks in the cart and use it to refresh yourself while you're out in the yard. If you really want to get fancy you can fasten bottle holders onto the bottom of the cart. That way you can insert your favorite drinks into the bottle holders as you push the cart to and fro.
Outdoor Bench
Staying with the theme of creative outdoor furniture, we're sure that this DIY bench project will catch your attention. This particular outdoor piece is made up of a several pieces of 4x4 lumber set within an equal number of cinder blocks. To successfully assemble this bench you have to set the 4x4s within the openings of the cinderblocks horizontally. If done correctly you should be able to sit down across the evenly spaced 4x4s. When it comes to the height of the bench you can stack as many cement blocks as you'd like to reach your desired height. Now that you have a solid foundation (the cinder blocks) and a place to sit (the lumber) you can place a child-sized mattress across the planks for added comfort.
Cooler Table
Tables are a natural place to eat and congregate. Why not make it as easy as possible to grab a drink whenever you're thirsty? Well, unless you have the repurposed drink cart on hand you're going to either have to get up to get it yourself. There's a solution however. The Cooler Table is a cool DIY that involvescutting an opening into the middle of a table where you can insert a small cooler full of ice and drinks. That way you can enjoy your outdoor meal and reach for a drink anytime you wish.
Swing Day Bed
Just like with the porch swing and the hammock, a swinging day bed provides you with the comfortability of being able to relax in your yard while swinging back and forth lazily. It's a great way to slowly fall asleep during a peaceful sunny day. You can place the day bed on your porch so that you can affix it to the underside of your overhang. A day bed also provides the size and comfort necessary if you wish to spend the night out in the great outdoors.
Flower Pot Table
If you're looking to spruce up your yard with some nice functional décor there's a great little trick you can try with a couple of 12 inch flower pots and pizza pans. Simply overturn the pots end to end so that one pot acts as the base while the other sits upright. Now cover the opening of the upright flower pot with a pizza pan. Now you have a small yet fully functioning flower pot table where you can place drinks and other small items. For the sake of uniformity slap on some spray paint so that your table looks aesthetically pleasing.
Concrete Flower Planter Chair
Be warned that this is definitely the least comfortable of all the options on this list. If you're interested in sitting amongst the flowers in your garden, why not create a concrete flower planter chair? Essentially, you can repurpose a series of cinder blocks so that you can use them as flower planters. Once you've assembled the proper amount of cinder block flower planters you can arrange the blocks into a chair shape. It's definitely not the most intuitive of chair designs. You're going to have to figure out how to make it work, however it's a great place to sit and rest after a long day in the garden.
Colorful Patio Chairs
Finally, we'll end this list with a colorful twist on what it means to sit in style out in your yard. If you're interested in adding a unique twist to your yard, a painted wooden patio chair would be a great DIY project. You can paint them any color that you want, but if you want to get really creative try painting a your chairs a series of colors. If you don't like the look once you're done you can simply paint over everything. That's the beauty of painting on wooden garden furniture.
And it's not just garden furniture that you can build yourself. You can use your hands, those tools and some scrap materials to make anything from a wooden playhouse to a garden bench.
But turning your shed into a workshop dedicated to a bit of DIY is just one great way to use your shed. With a bit of DIY furniture, you could even put some inside and turn into into:
A place for brunch
A reading room
A sun room and relaxation room
A painting or yoga studio
A home gym
A home cinema
And so much more! The only issue is that you won't be able to bring all that awesome DIY furniture everywhere you go. But fret not, for that - you can always invest in a good camping chair instead.