All rubbish goes inside a wheelie bin, keeping your home and outdoor space orderly. Although it's an essential item to have in every household, the sight of it can be 'unaesthetic'.
Wheelie bins are simply not the most attractive feature of both front and back gardens. Finding somewhere to store them is another problem.
This is where our wheelie bin storage ideas come into the picture. These storage units are designed to tuck your recycling bins away – neatly and securely.
Browse through our list and discover a whole range of trendy options available!
1. Invest in a metal bin store
A good quality metal wheelie bin storage offers a lifetime of service – and excellent value for money. Offering added security and durability, it won't detract from your beautiful garden view.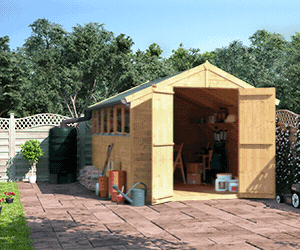 The Lotus Metal Bin Store makes the perfect example. Not only is it rust and scratch-resistant, but it also looks elegant while hiding 3 bins!

2. Pressure treated timber
If you're opting for timber bin storage, ensure it's pressure treated. This special treatment ensures the structure is moisture and fungal resistant.
Place it under a steep flight of your garden steps and go for a size that can fit two wheelie bins. Use fold back doors for a sleek result.

3. Built-in bin storage unit
If your front garden is tight on space, built-in storage for the bins makes a great solution. Choose a multi-use design, such as extra space for storing bikes and garden tools.
Make the design bespoke with sliding or fold-out doors.
4. Repurpose your old bike storage
Suppose you've figured out a few clever garage storage hacks for your kids' bikes. Take this chance to house the wheelie bins in your bike shed storage.
Most small units can fit at least two dustbins. The bigger the bike storage is, the better!
5. Keep it natural with hedges
Hedges can be handy for screening off unsightly areas of your garden, including the bins. They provide year-round foliage, so passersby wouldn't notice you're hiding a pack of garbage.
Plus, hedges can be much more attractive than timber fencing or brickwork.
6. Or disguise it with a green roof
Introduce more greenery to your plot with a bin store that incorporates a green roof. Ideal for small front and back gardens, this is a clever way to squeeze in more plants.
Customise your wooden bin storage with a shallow planting area on top.

7. Triple bin store
Triple bin stores can usually fit up to three 240-litre wheelie bins. You can find metal models that come with ventilation holes to allow air circulation.
For wooden or plastic units, look for one with a hinged top lid. Opening doors also allow for easy access.
8. Hidden in the driveway
In most cases, there's no option except to put wheelie bins at the front of the house. Wherever possible, they need to be hidden, and somewhere in the driveway will do.
A bin enclosure screened with a curved iron gate, for instance. Grow hornbeam hedges into the railings to hide what's inside.

9. Screening and vines
There are so many ways to make use of our garden screening ideas. The use of planting to screen your wheelie bin store is one of them!
Other than climbing plants, use shrubs for dense screening.
10. With built-in seating
Bespoke bin storage shed with an in-built bench makes up for a functional garden room. Half concealed storage and half-covered seating area.
 Design your corner shed idea with separate storage for the bins. Create an open-sided shelter for the alfresco resting station. 
11. Screen the corner with slatted panels
A cost-effective solution and alternative to actual storage bin units! Simply screen off the corner where your wheelie bins are with panelling.
Whether it's vertical or horizontal slats, this is a great way to disguise rather unattractive bins.
12. Top quality plastic bin storage
Compact, durable and versatile usage, plastic bin storage units are worth a try. Look for one made from durable polycarbonate panels and aluminium frame components.
Just like this Jasmine unit that's waterproof and durable. The air ducts allow airflow and combat condensation.

Round-up
Wheelie bins are a better option than trash bags when it comes to holding rubbish. Their structure alone is sturdy enough to stop the contents from being blown over in high winds.
And thanks to their hinged lids, they protect the junk and waste from pests like rats and squirrels. All sounds great until you realise that they don't look lovely and pleasing to the eyes.
Enter our wheelie bin storage ideas! Hide your bins in style between collection days. At least one from our list could be the solution to keeping your outdoors neat and tidy.