Summer is the perfect time of the year to make the most out of the season outdoors. And that includes your garden.
Create a beautiful space to relax with a new piece of garden furniture and enjoy the warm weather. Get it ready for easy summer living and casual barbecues. Give your outdoor space a quick seasonal update with our summer garden ideas!
1. Give your summer house a makeover
A summer garden isn't complete without a summer house idea makeover. You want to make it feel open and airy and almost like you're still in the garden.
The BillyOh Holly Summerhouse can give you that edge.

2. Include a fire pit
Fire pit ideas make perfect focal points in a backyard. After all, nothing screams 'the best summer night' more than the sound of a crackling campfire.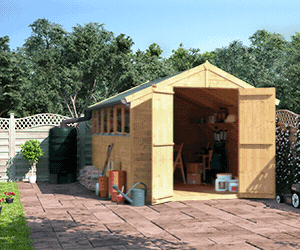 Get ready to chill with friends and family late into the evening!
3. Simply, hang a hammock
Big trees and pergola posts make the perfect spots to hang a hammock. A straightforward and laid-back approach to backyard lounging, indeed.
Add a side table to hold your drinks, books, and sunglasses.
4. A pool house addition
Owning a backyard pool is a luxury; paired with a pool house is such a fancy dream. It doesn't have to be grand and big. A well-designed can make your summer more convenient with extra space for entertainment.
5. Open-air dining area
It doesn't take much to create the perfect alfresco dining area. When planning, consider the number of seats and the style of furniture.
A traditional wooden design is a wonderful choice for a dining set.

6. Install a multi-functional pergola
Garden pergola ideas are multi-functional structures that offer added style and shade. A pergola is also great for separating different areas of your yard. Take this inviting pergola corner, for example.
7. Elevate the space
Boost a part of your garden to showcase your outdoor living space. It can be a decked pod alongside your pathway, where your patio sets are situated.
Enjoy the fresh breeze of the air while relaxing! This method also works well if you're looking for garden decking ideas.
8. Get a greenhouse
A greenhouse can introduce you to the world of gardening this summer. This also means you can grow a variety of plants and vegetables year-round, no matter the season. A win-win investment!

9. Sit pretty on a bench
Garden bench ideas offer a sturdier seating option than hammocks. Style one next to shrubs or under a tree, or use it to highlight a certain view in your backyard.
10. Consider retaining walls
Retaining walls are an effective feature and solution to sloping garden ideas. Create a living stone wall with built-in planters.
Plants will then appreciate the moisture the stones provide in the summer months.
11. Play with your fence
Think of climbing plants as your fence accoutrements. By dressing your privacy wall idea with greenery, it can blend in more effectively with nature. Experiment with texture with an assortment of climbing plants and shrubs.
12. Refurbish your shed
A fresh lick of paint is all you need for a quick shed makeover. Whether you use it for storage or a potting shed alternative, it deserves some TLC this season.

13. Inject bright colours through furniture
Bright-colour furniture can add a cheery summer vibe to your patio in an instant. You can go for a DIY route and make use of your old wooden pieces, then paint them for a quick refresh.
Or opt for lively-coloured fabrics, cushions, rugs and displays.
14. Get tropical
Tropical garden ideas suit the summer season well. Using an evergreen backdrop is a natural and efficient way to make your space lush and green.
15. Consider a built-in corner bench
Warm up your corner garden with a deck, lush planting and a quiet nook to relax. A built-in bench makes a great alternative to rattan corner sofa sets.
16. Set the mood with outdoor lighting
Create a cosy glow in your summer garden after dark with outdoor lighting ideas. Here, the vine-covered pergola features globe lights to illuminate the space in style.
17. Invest in a tepee
Bring a festival feel this summer by setting up a tepee on your deck, patio or lawn space. It can create a fun atmosphere, making it ideal during a garden party or simply for relaxing.
18. Bring out the sun loungers
A lovely, relaxing addition to your garden is a sun lounger. Made from weather-resistant materials, this unit will add a whole new dimension to your space.

19. Container garden display
Create standout displays for your patio this summer with our container garden ideas. For an informal get-together, fill your deck with a variety of potted and container plants.
20. Add a water feature
Boost the sensory appeal of your outdoor space with a water feature. Even a small pond, for instance, can freshen up your backyard just in time for the summertime!
21. Lawn game setup
Plan the most epic summer backyard game with a list of outdoor game ideas for hosting! Challenge everyone with a tug-of-war or a giant bean bag toss/corn hole game.
If the yard is too small for regular lawn games, go for compact ones like card games, checkers, and Jenga.
22. Hang crates on trees
Find a place for everything by hanging DIY crates and boxes on a tree. This makes for practical storage for food and drinks, keeping everything off the ground.
23. Light up the path
Another way to boost the ambience of your front and back gardens is to light up the pathways. They'll look romantic and spectacular at night, perfect for a summer party.
24. Natural separation with hardscaping
Natural separation creates a beautifully defined outdoor living space. Take a cue from this concept; it creates contrast and visual interest.
25. A charming pathway to the garden
Concrete pavers and stones are perfect for creating a serene path in the narrow part of your yard. Surround the walkway with lush greenery and vegetation. This will bring a soothing colour, completing the calm atmosphere.
26. Sunken seating area
The sunken seating area brings a flash of drama to decks and patios. An outdoor setup like this will surely keep you and the whole family outside all summer!
27. Luxuriate with an outdoor hot tub
Our outdoor hot tub ideas will transform your plot into a blissed-out paradise. They make a great companion to a backyard pool or as an alternative. For a chic, spa-like setup, consider an in-ground hot tub.
28. A flower chandelier
Wisteria makes a natural and fragrant outdoor chandelier. This lovely hanging flower will look dazzling on a garden gate, pergola, or just as the tree itself.
You may also use hanging baskets or pots and take advantage of the vertical space.
29. Build an outdoor kitchen
BBQ tastes better when cooked outdoors – so enter outdoor kitchen ideas! And if a grill isn't enough, think of an actual kitchen plan when revamping your backyard. Add covers for year-round alfresco fun!
30. Dip into the pool
A swimming pool takes a backyard scheme to the next level. If you don't have enough time to build one, consider inflatable ones. Then make sure to prepare for the next summer with an actual pool!
31. Something for the kids
A DIY playhouse is an excellent summer weekend project for parents. The outcome, no matter the size and design, is sure to keep the kids occupied all summer long.
32. Add a Gallic flair
Take advantage of the warm weather and bring out your parasol to enjoy the outdoors more in the shade. Create an elegant atmosphere with manicured shrubs and a well-trimmed lawn. This will also give your yard an instant French vibe.
33. Grow a vegetable garden
Skip the trip to the farmer's market or grocery store – after all, you've got yourself a vegetable garden in your yard. For starters, consider a couple of rows of plant beds with gravel walkways between them.
34. Freshen up the furniture
Garden furniture cleaning is key to keeping your patio functional and fresh year-round. Suppose you own a rattan set –  a water hose, some cleaning solution and fibre cloth will do the job.
But consider the material (including the cushions) when looking for the best cleaning method.

35. Don't forget your garden tools
With all the upkeep tasks, from pruning to trimming and mowing, your garden tools may need an upgrade. The golden rule is to clean equipment after use.
Take this chance to check your mower's blade or if there's any tool that needs to be replaced, too.
36. Relax in a daybed
A day bed can offer the perfect place for a nap, as if you're sleeping in your bedroom, except that you're outdoors! Place one next to a pool or pond. The trickle of the water will soothe you for a midday snooze.
37. Summery arbour arrangement
Clusters of climbing roses and fresh summer blooms can transform a simple arbour. Use the structure as an entryway that leads into your backyard or another section, like a dining area.
Check our garden arbour ideas for more!

38. Kindle the fireplace
An outdoor fireplace is perfect for outside living. Even better, it may also increase the value of your home. Kindle the fire for a romantic atmosphere, from summer to early spring and late fall.
39. Build a treehouse
This one's a great summer treat for both children and adults alike! For design inspiration, you'll need our list of treehouse design ideas.
40. Stay on top of your summer garden
Keep on top of your summer garden upkeep, paired with our makeover ideas. That way, your outdoor space will look on point for the summer
Most importantly, allowing you to make the most out of the warm weather throughout the season.
Round-up
Summer is indeed the ideal season to spend more time in your garden. Also, a great excuse to invest in a new garden room to create a multi-functional space that you can enjoy year-round.
Set up the cosiest backyard retreat and fill your garden with the season's bounty of blooms! We hope our summer garden ideas will give you a successful start.