Cool garden ideas, you say. With millions of web results, including garden furniture sets, – where to begin?
If you've been reading our garden-related blogs, you already know where this post will lead you. Our team has searched for the canniest design ideas and put together a list to weigh off your shoulders.
We divided this guide into five (5) categories to reduce your research time. Here, we'll provide a variety of unique ideas for each element:
Some of these are simple DIY projects or require a bit of creativity to recreate the design. Others involve purchasing (but sure are worthy of investment!) decorative and functional outdoor pieces.
Keep reading!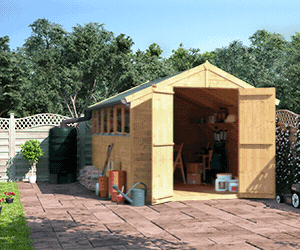 ---
Garden Themes
Garden themes vary widely, and coming up with one can be a challenging step. Even if you're going for a basic look, that concept is close to the minimalist side – still, a theme to consider. You get the gist.
The easiest way to devise a theme is to align it with your personality and taste. To give you a few ideas, here are the common yet exceptional theme gardens.
---
1. Wildlife garden
The key point of this garden concept is creating a haven both for you and the wildlife. A successful wildlife garden should consist of these four provisions:
Shelter and protection

Food sources

Water sources

Nesting areas
And with some thoughtful planning, your yard will be teaming up with insects, birds, and others in no time!

2. Tropical garden
This theme brings the Mediterranean to your yard, featuring colourful blooms and lush greenery. Exotic oasis and hideaway, as others describe it, but what if you live in colder climates?
Fret not, as this list has got you covered!

3. Minimalist garden
A minimalist garden is rather an aesthetic principle based on the stance that less is more. In this theme, plants are carefully selected, and hardscapes are used to define geometric shapes.
This approach expresses specific values in a clear manner, making its point without overwhelming the scene.

4. Desert garden
A desert-inspired garden is ideal for those who live in arid zones. Instead of lawns, drought-tolerant ground cover, rocks, and gravel cover the area.
The plants are native and adapted to the soil, weather, and arid conditions of desert zones.

5. Japanese garden
In every Japanese garden idea, there's art and craft behind that channels tranquillity. The key to this concept is to keep everything simple while imitating nature in the layout.

6. Chinese garden
Now, this theme revolves around three elements: water, stones, and plants. When combined in one place, they represent living, stability, beauty and meaning.
Chinese gardens featuring a pavilion also provide a place for reflection, conversation and refreshments.

7. English garden
Combine tradition and elegance with a sense of whimsy. Opt for meandering paths, meadow-life florals, iron gates and cottage-inspired garden features. These are usually what you see in an old-fashioned backyard in the British countryside.

8. Contemporary garden
Unlike the classic design, modern gardens are design statements with regard to architecture. It is an expansion and refinement of mid-century modernism.
The idea is perfect for adding style and function to your plot.

---
Garden Landscapes
Thoughtful landscape design is the key to creating a cool outdoor oasis. Without further ado, allow these ideas to pave the way to a better landscape design for your front and backyard.
---
9. Sloped garden
A sloped plot can be difficult to work with. But as seen in this garden, after some planning and labour, the yard now offers a show-stopping impact. Check out our sloping garden ideas for more!

10. Rock garden
A mini rockery garden positioned in your back or front yard is a beautiful idea. It isn't simply a garden filled with rocks. Rather, you're emphasising the use of different stones in combination with greenery.

11. Edible landscape
An edible oasis that doubles in beauty and sustainability! Veggies are rich in colours, but by adding fresh herbs and other greens, you can create a kaleidoscope of flush in your yard.

12. Vertical landscape
The vertical approach is a perfect way to utilise a tight space and still give you a lively outdoor scene. In this design, the plants are on top of each other and with patterns for added aesthetic.

13. Spiral zen
Make your garden a Zen space by incorporating the spiral style into the scene. Spirals are believed to give your outdoor area that peaceful, serene vibe, so that's a bonus point if you're into Zen or Japanese-style gardens!

14. Ceramic pots
Pick the right ceramic pots to flatter your garden landscape. Pots come in all shapes, sizes and colours – go for the design that can add character to the space.
Ceramic pots are also an easy way to construct a theme without using too much material or decoration. Perfect for a traditional, modern, or minimalist outdoor space!

15. Lush foliage
A colourful, lush yard perfect for the springtime! This concept features wavy garden beds with a grass path that adds canvas colour to the scene. Make sure to pick the perfect spring plant ideas to achieve this!

16. Hedging
Hedging is an excellent landscaping trick to carry out a fancy, well-polished backyard. And with the right garden tools, such as shears, the job will be a lot easier. Take a look at this garden hedge idea below to get inspired with.

---
Garden Centrepiece Features
The practical and effective way to boost the curb appeal and value of your garden is by accessorising it. Here are some ideas for you to get started.
---
17. Water feature
Garden water features like mini fountains can provide soothing sounds ideal for relaxation. Not only that, but water elements stand out against the greenery and foliage. They make a brilliant focal point around the garden.

18. Fire pits
A well-designed outdoor space shows future buyers what they could have at this home. And with fire pits, they're not only useful and fun to have, but they are a beautiful focal point to patios.
One can create an updated living area, increasing your home value for potential buyers.

19. BBQ grilling area
A BBQ grill is a perfect companion for alfresco dining. But to level up the look of your patio kitchen, a grilling area will add a total boost. This adds distinction to the space, allowing even to incorporate a garden bar!

20. Outdoor hot tub
Relaxing in a hot tub is the ultimate way to unwind after a long day. With inflatable hot tubs, spending evenings unwinding in style is no longer a fantasy if you have a limited space budget. Oh, to dip in your own garden – come rain or shine!

21. Garden lighting
Once you have ideas about outdoor lighting design, you'll feel more confident to plan a cool garden landscape. Besides adding ambience, the right garden lighting can make a huge difference to the look and feel of your yard.

22. Patio seating arrangement
A patio, porch, or balcony wouldn't be complete without a comfortable outdoor seating. The best furniture arrangement can make time spent on alfresco more enjoyable. Have a look at this sunken bench area in a tiered garden.

23. Pond for the wildlife
If you're aiming for a wildlife garden, a pond is a beneficial and attractive asset. It creates a valuable conservation area right in your landscape. Plus, having fish and wildlife in and around is a large part of the pleasure of owning a pond.

---
Outdoor Furniture
The best garden furniture can make your backyard into an outdoor living room, dining area, kitchen or bar – or a combination of all! Be inspired by these ideas and make yours a stylish place to lounge, dine and entertain.
---
24. Dining fire pit table
You're definitely missing out if you haven't heard about dining fire pit tables. A pit in an actual table; it's a piece of garden furniture that combines a fire pit and a patio table. Cool, right?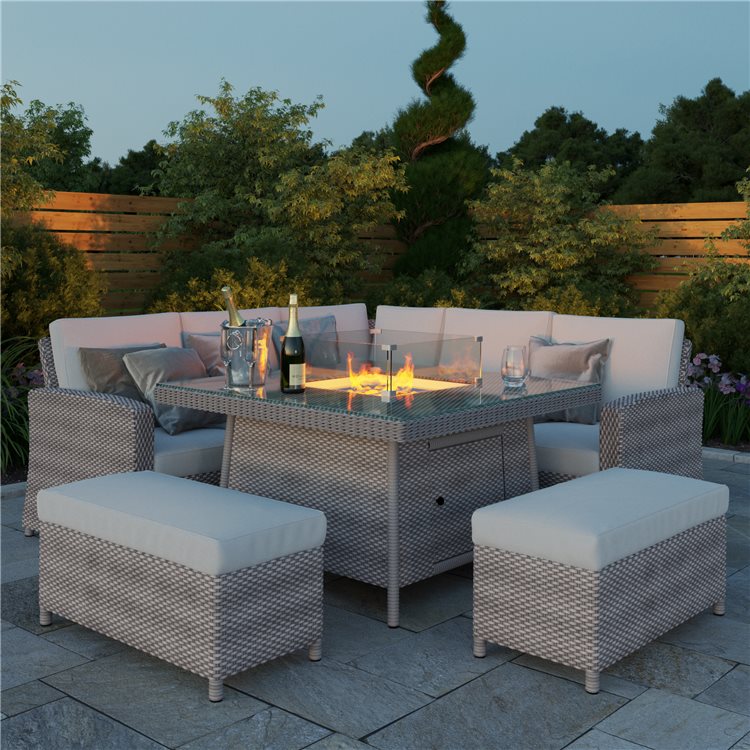 25. Loungers
Any backyard will benefit from loungers, particularly pool patios. Offering a reclining spot in maximum comfort and style, you can now have the ideal spot for unwinding in the sun.
Top tip: Opt for water-repellent, stain-resistant and antibacterial materials.

26. Electric patio heaters
Heating your patio with electric heaters will extend your outdoor entertaining season. Like fire pits, patio heaters are an effective heating source with attractive designs. They help enhance your outdoor living experience rather than cramping it.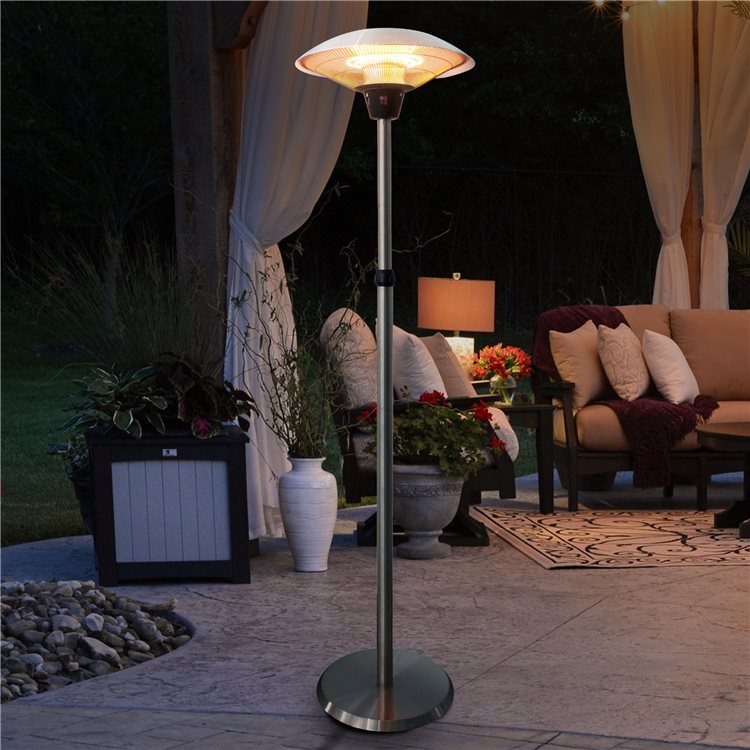 27. Armchairs and benches
Armchairs and benches in shades that pop work beautifully in bright sunlight. Think lively pink and fresh green shades to introduce more colour to the space. Here, the pieces add maximum punch and a modern effect, setting bold accents off against a dark backdrop.

28. Go rattan
A good quality rattan set with a coffee table is a perfect addition to any patios. These pieces help keep the conversation flowing while being seated in pure luxury.
A wonderful contrasting blend of graphite rattan-style weave like this set is a great example.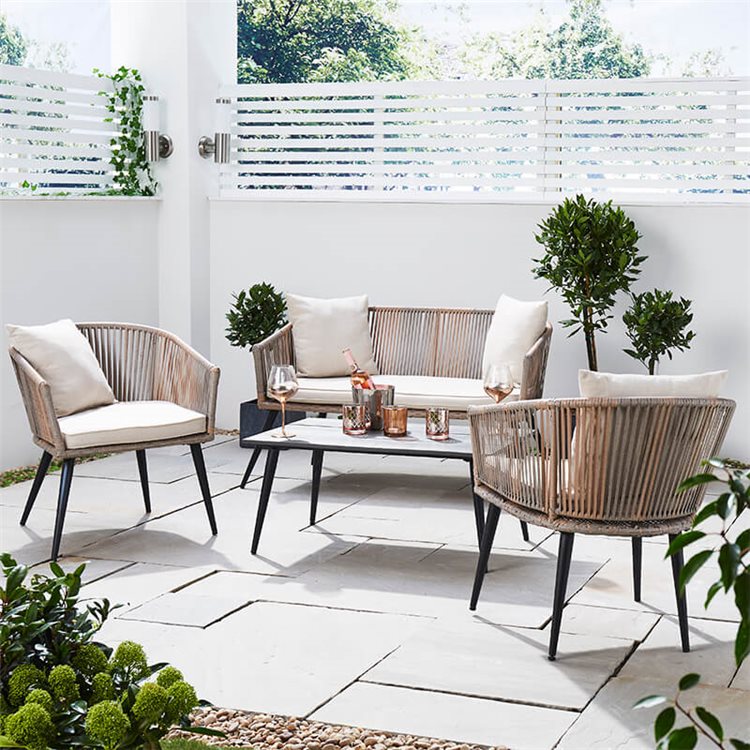 29. Wicker sets never fail
For a more rustic and natural style around the garden this year, why not consider a wicker set? If rattan is not quite what you are looking for, this material should really make a difference.
Take inspiration from this lovely set of 3 chairs and a polywood coffee table!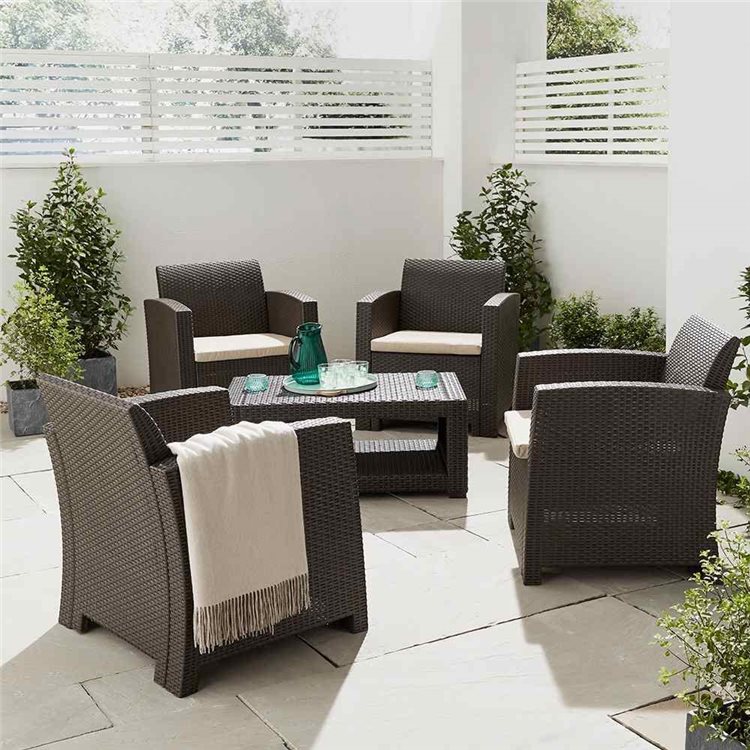 30. Fit in a bistro set
Bistro sets are standard fixtures of outdoor patio furniture, usually consisting of a round table and two chairs. They offer a perfect place for a quick bite to eat or somewhere to laze in the sun – ideal for smaller outdoor spaces.

---
Garden Rooms
One of the most valuable home improvement projects you can do as a property owner is to create separate living spaces. With garden room ideas, you can easily achieve this!
---
31. The guest room
Being the best host starts with creating the best guest room. With a log cabin, you can convert the outbuilding into a comfy retreat for your beloved guests.

32. She sheds
She sheds are a cosy little hideaway for ladies to call their own. You get to spend in a relaxing environment you created for yourself and have that much-needed "me" time.
Take this opportunity to create a spot for entertainment and relaxation reserved for women's use!

33. Man caves
Man caves provide personal sanctuary for indulging hobbies and guilty pleasures with freedom. A space uniquely designated for masculine energy and interests.
A place somewhere you can call your own – for relaxing, gaming, and entertainment for the men of the house.

34. Garage conversion
The idea is to add more living spaces to your home by converting your old shed garage into a garden room! A large window and double doors should keep the room bright and airy.
Potted plants and outdoor seating make the space attractive and welcoming.

35. 
Pool house
Complete your dream backyard retreat with a pool house! It makes it easier to throw a fun party. You can change in and out of swimsuits, go to the bathroom, take a nap, enjoy a beverage, and entertain.

Round-up
A successful garden layout is when each element perfectly complements the other. Pleasing to the eyes, the outdoor space has been all designed in one cohesive sprint.
There are plenty of ideas out there to get you started on the path to your dream garden. And that's our goal! With this ultimate guide, we aim to help you kick off and build a one-of-a-kind backyard.
In case we've missed out on anything, such as answers to your questions, we put up these handy FAQs for you. Make sure to check them out!
Shop Fire Pits
FAQs